20+ Books to Read in the Fall
Fall is one of my favorite seasons to read.
As the weather gets cooler outside I don't have to feel guilty for pulling out all the blankets and throws, putting on a comfy sweater and curling up on my favorite chair with a good book.
For most of my life I haven't cared about what kind of book I read in the fall but last year I was a little more intentional with the books I read in this season and I really enjoyed reading books that had a colder feel to them.
I personally think this is a good season for some mystery, fantasy, historical fiction and a good number of classics, all of which you will find on this list.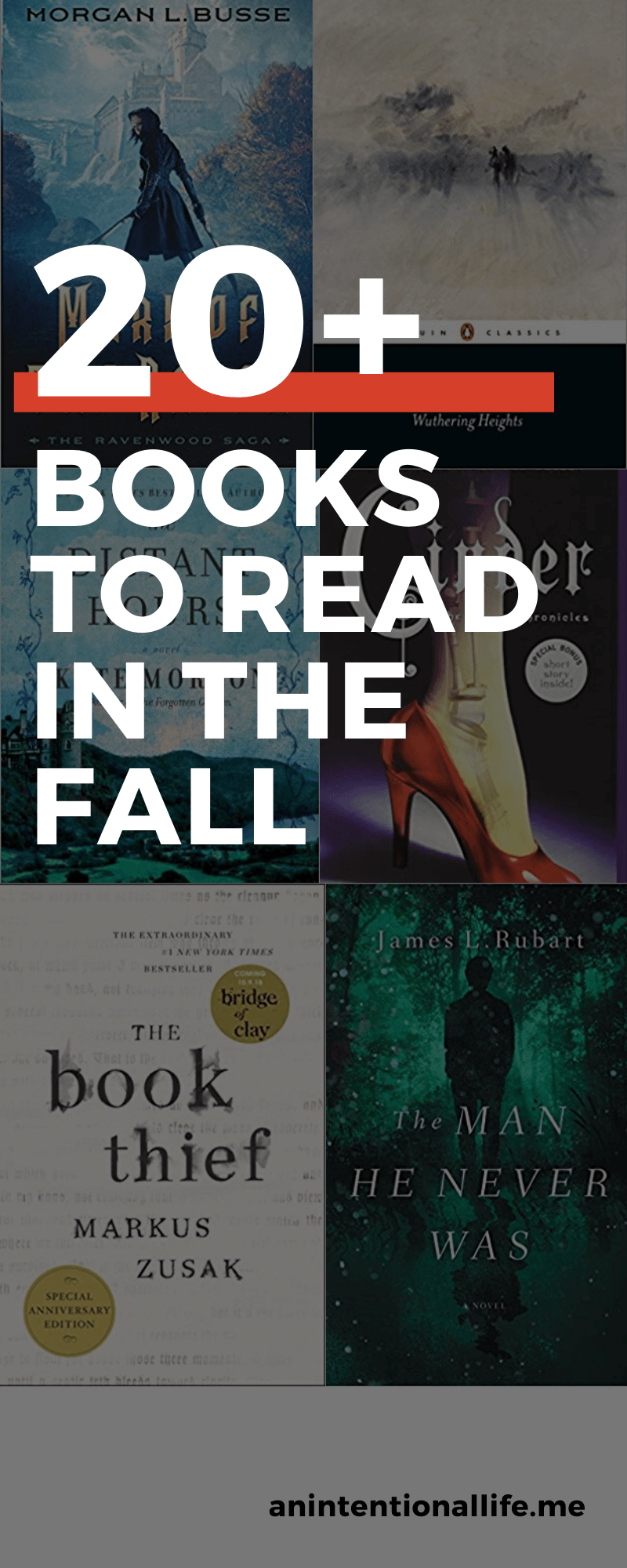 20+ BOOKS THAT ARE PERFECT TO READ IN FALL
Okay, now let's get on to the actually list of books! If I miss any that you think should definitely be on this list, let me know, I always like to be introduced to more books!
This is currently one of my favorite non-fiction books ever! If you are at all interested in fantasy I would highly recommend this one. Plus it has that perfect fall vibe to it.
Lady Selene is the heir to the Great House of Ravenwood and the secret family gift of dreamwalking. As a dreamwalker, she can enter a person's dreams and manipulate their greatest fears or desires. For the last hundred years, the Ravenwood women have used their gift of dreaming for hire to gather information or to assassinate.
As she discovers her family's dark secret, Selene is torn between upholding her family's legacy–a legacy that supports her people–or seeking the true reason behind her family's gift.
Her dilemma comes to a head when she is tasked with assassinating the one man who can bring peace to the nations, but who will also bring about the downfall of her own house.
One path holds glory and power, and will solidify her position as Lady of Ravenwood. The other path holds shame and execution. Which will she choose? And is she willing to pay the price for the path chosen?
I read this book for the first time last fall and was so surprised at how much I enjoyed it! Reading about the moors in the fall was just perfect.
Lockwood, the new tenant of Thrushcross Grange, situated on the bleak Yorkshire moors, is forced to seek shelter one night at Wuthering Heights, the home of his landlord. There he discovers the history of the tempestuous events that took place years before. What unfolds is the tale of the intense love between the gypsy foundling Heathcliff and Catherine Earnshaw. Catherine, forced to choose between passionate, tortured Heathcliff and gentle, well-bred Edgar Linton, surrendered to the expectations of her class. As Heathcliff's bitterness and vengeance at his betrayal is visited upon the next generation, their innocent heirs must struggle to escape the legacy of the past.
This was one of those books that I wish I had been introduced to years ago, I love when historical fiction teaches me so much about actual history.
In 1936 Nazi darkness descends upon Europe. Every person is only one step away from being swept into the nightmarish tide of evil. Blond Elisa Lindheim, a violinist with the Vienna Philharmonic Orchestra, adopts an Aryan stage name for protection. But her closest friend, Leah, a talented Jewish cellist, is in perilous position.
There are those who choose to fight Hitler's madness. Elisa's father Theo. A courageous American reporter, John Murphy. Winston Churchill, the British statesman. A farm family in the Tyrolean Alps. The Jewish Underground. But will all their efforts be enough to stop the coming Holocaust?
And now Elisa must decide. If she becomes part of the Underground, she will risk everything… and puts everyone she loves in danger.
Can one write a fall book list and NOT include this one? I don't think so. The last time I read this book was when I was in university, I have it on my list to re-read this year!
Frankenstein tells the story of committed science student Victor Frankenstein. Obsessed with discovering the cause of generation and life and bestowing animation upon lifeless matter, Frankenstein assembles a human being from stolen body parts but; upon bringing it to life, he recoils in horror at the creature's hideousness. Tormented by isolation and loneliness, the once-innocent creature turns to evil and unleashes a campaign of murderous revenge against his creator, Frankenstein.
This author was recommended to my by one of my readers a few months ago and I quickly devoured the book. This book (or maybe the author's writing style? I've so far only read this book by him) reminded me a lot of a less dark version of Frank Peretti or Ted Dekker.
Toren Daniels vanished eight months back, and his wife and kids have moved on—with more than a little relief. Toren was a good man but carried a raging temper that often exploded without warning. So when he shows up on their doorstep out of the blue, they're shocked to see him alive. But more shocked to see he's changed. Radically.
His anger is gone. He's oddly patient. Kind. Fun. The man he always wanted to be. Toren has no clue where he's been but knows he's been utterly transformed. He focuses on three things: Finding out where he's been. Finding out how it happened. And winning back his family.
But then shards of his old self start to rise from deep inside—like the man kicked out of the NFL for his fury—and Toren must face the supreme battle of his life.
In this fresh take on the classic Dr. Jekyll and Mr. Hyde, James L. Rubart explores the war between the good and evil within each of us—and one man's only chance to overcome the greatest divide of the soul.
Honestly, I would recommend any of Agatha Christie's books for fall! I chose to recommend this specific one because it is a little less popular than some of hers that people may have already read. If you've read this one then feel free to pick up any book of hers, I have yet to be disappointed!
Roger Ackroyd knew too much. He knew that the woman he loved had poisoned her brutal first husband. He suspected also that someone had been blackmailing her. Then, tragically, came the news that she had taken her own life with a drug overdose.
But the evening post brought Roger one last fatal scrap of information. Unfortunately, before he could finish reading the letter, he was stabbed to death.
I enjoy fairy tale retellings (when done well) and Marissa Meyer takes such a different twist with this series. I read through the entire series in an embarrassingly short amount of time a few years ago and can't wait to re-read them.
Humans and androids crowd the raucous streets of New Beijing. A deadly plague ravages the population. From space, a ruthless lunar people watch, waiting to make their move. No one knows that Earth's fate hinges on one girl. . . .
Cinder, a gifted mechanic, is a cyborg. She's a second-class citizen with a mysterious past, reviled by her stepmother and blamed for her stepsister's illness. But when her life becomes intertwined with the handsome Prince Kai's, she suddenly finds herself at the center of an intergalactic struggle, and a forbidden attraction. Caught between duty and freedom, loyalty and betrayal, she must uncover secrets about her past in order to protect her world's future.
With high-stakes action and a smart, resourceful heroine, Cinder is a Cinderella retelling that is at once classic and strikingly original.
This book was powerful, I actually felt hungry while reading about the hunger during the war and Kristin Hannah made me see certain parts of the war through a different light.
France, 1939 – In the quiet village of Carriveau, Vianne Mauriac says goodbye to her husband, Antoine, as he heads for the Front. She doesn't believe that the Nazis will invade France … but invade they do, in droves of marching soldiers, in caravans of trucks and tanks, in planes that fill the skies and drop bombs upon the innocent. When a German captain requisitions Vianne's home, she and her daughter must live with the enemy or lose everything. Without food or money or hope, as danger escalates all around them, she is forced to make one impossible choice after another to keep her family alive.
Vianne's sister, Isabelle, is a rebellious eighteen-year-old girl, searching for purpose with all the reckless passion of youth. While thousands of Parisians march into the unknown terrors of war, she meets Gäetan, a partisan who believes the French can fight the Nazis from within France, and she falls in love as only the young can … completely. But when he betrays her, Isabelle joins the Resistance and never looks back, risking her life time and again to save others.
I realize there are lots of different Sherlock stories, my personal favorites are the short stories, but really, you should make sure you read all of the Sherlock stories at some point in your life.
Sherlock Holmes is a fictional detective of the late 19th and early 20th centuries, who first appeared in publication in 1887. He is the creation of Scottish born author and physician Sir Arthur Conan Doyle. A brilliant London-based detective, Holmes is famous for his intellectual prowess, and is renowned for his skillful use of deductive reasoning (somewhat mistakenly – see inductive reasoning) and astute observation to solve difficult cases. He is arguably the most famous fictional detective ever created, and is one of the best known and most universally recognizable literary characters in any genre.
Conan Doyle wrote four novels and fifty-six short stories that featured Holmes. All but four stories were narrated by Holmes' friend and biographer, Dr. John H. Watson, two having been narrated by Holmes himself, and two others written in the third person.
I read this book for the first time earlier this year and can't believe I hadn't read it before! It's a super short book so if you are looking for a quick read, this one is for you. (Unless, like me you continue on with the series, then it gets a little longer.)
The haunting story centers on twelve-year-old Jonas, who lives in a seemingly ideal, if colorless, world of conformity and contentment. Not until he is given his life assignment as the Receiver of Memory does he begin to understand the dark, complex secrets behind his fragile community.
One thing Kate Morton does not do is write short books. I almost always feel completely confused until the end of the book, some people will like her writing style and others won't but I think it is worth sticking through. The Distant Hours is not my favorite of her books but it is the creepiest and most fall appropriate.
A long lost letter arrives in the post and Edie Burchill finds herself on a journey to Milderhurst Castle, a great but moldering old house, where the Blythe spinsters live and where her mother was billeted 50 years before as a 13 year old child during WW II. The elder Blythe sisters are twins and have spent most of their lives looking after the third and youngest sister, Juniper, who hasn't been the same since her fiance jilted her in 1941.
Inside the decaying castle, Edie begins to unravel her mother's past. But there are other secrets hidden in the stones of Milderhurst, and Edie is about to learn more than she expected. The truth of what happened in 'the distant hours' of the past has been waiting a long time for someone to find it.
This is one of the few books on this list that I haven't read. I have been looking for a used copy of this book for over a year and have yet to find one. If I can't get my hands on one in the next two months I might just have to buy a new copy of it because I've been wanting to read it forever.
"Last night I dreamt I went to Manderly again."
With these words, the reader is ushered into an isolated gray stone mansion on the windswept Cornish coast, as the second Mrs. Maxim de Winter recalls the chilling events that transpired as she began her new life as the young bride of a husband she barely knew. For in every corner of every room were phantoms of a time dead but not forgotten—a past devotedly preserved by the sinister housekeeper, Mrs. Danvers: a suite immaculate and untouched, clothing laid out and ready to be worn, but not by any of the great house's current occupants. With an eerie presentiment of evil tightening her heart, the second Mrs. de Winter walked in the shadow of her mysterious predecessor, determined to uncover the darkest secrets and shattering truths about Maxim's first wife—the late and hauntingly beautiful Rebecca.
This is one of those books that is great in any format: book, movie and audiobook. Actually, for this one I would recommend the audiobook because the narrator does a great job with the German words that I just skip over when I read myself.
When Death has a story to tell, you listen.
It is 1939. Nazi Germany. The country is holding its breath. Death has never been busier, and will become busier still.
Liesel Meminger is a foster girl living outside of Munich, who scratches out a meager existence for herself by stealing when she encounters something she can't resist–books. With the help of her accordion-playing foster father, she learns to read and shares her stolen books with her neighbors during bombing raids as well as with the Jewish man hidden in her basement.
This is actually one of L. M. Montgomery's series' that I haven't read yet! I did start the first book a few years ago and didn't finish, this year I would like to. I know it is a little darker than most of her other writing so it seems perfect for this time of year.
Similar to her earlier and more famous Anne of Green Gables series, the Emily novels depicted life through the eyes of a young orphan girl, Emily Starr, who is raised by her relatives after her father dies of consumption. The series was less romanticized and more realistic than the Anne novels. Montgomery considered Emily to be a character much closer to her own personality than Anne, and some of the events which occur in the Emily series happened to Montgomery herself.
I started this series earlier this year and realized that fall and winter are the perfect time to finish it. So far I think it's written well, it's just more on the wordy side and I need a decent chunk of time for each reading. Also, I have this cool leather-looking edition which I really like.
"One Ring to rule them all, One Ring to find them, One Ring to bring them all and in the darkness bind them."
In ancient times the Rings of Power were crafted by the Elven-smiths, and Sauron, the Dark Lord, forged the One Ring, filling it with his own power so that he could rule all others. But the One Ring was taken from him, and though he sought it throughout Middle-earth, it remained lost to him. After many ages it fell by chance into the hands of the hobbit Bilbo Baggins.
From Sauron's fastness in the Dark Tower of Mordor, his power spread far and wide. Sauron gathered all the Great Rings to him, but always he searched for the One Ring that would complete his dominion.
When Bilbo reached his eleventy-first birthday he disappeared, bequeathing to his young cousin Frodo the Ruling Ring and a perilous quest: to journey across Middle-earth, deep into the shadow of the Dark Lord, and destroy the Ring by casting it into the Cracks of Doom.
The Lord of the Rings tells of the great quest undertaken by Frodo and the Fellowship of the Ring: Gandalf the Wizard; the hobbits Merry, Pippin, and Sam; Gimli the Dwarf; Legolas the Elf; Boromir of Gondor; and a tall, mysterious stranger called Strider.
I was totally surprised at how much I liked this book and even though I haven't read all of Fredrik Backman's book this one totally made me a fan.
Meet Ove. He's a curmudgeon—the kind of man who points at people he dislikes as if they were burglars caught outside his bedroom window. He has staunch principles, strict routines, and a short fuse. People call him "the bitter neighbor from hell." But must Ove be bitter just because he doesn't walk around with a smile plastered to his face all the time?
Behind the cranky exterior there is a story and a sadness. So when one November morning a chatty young couple with two chatty young daughters move in next door and accidentally flatten Ove's mailbox, it is the lead-in to a comical and heartwarming tale of unkempt cats, unexpected friendship, and the ancient art of backing up a U-Haul. All of which will change one cranky old man and a local residents' association to their very foundations.
I love it when authors take a fairly common topic (like WWII) and take a completely different spin on it as Anthony Doerr does in this book.
Marie-Laure lives in Paris near the Museum of Natural History, where her father works. When she is twelve, the Nazis occupy Paris and father and daughter flee to the walled citadel of Saint-Malo, where Marie-Laure's reclusive great uncle lives in a tall house by the sea. With them they carry what might be the museum's most valuable and dangerous jewel.
In a mining town in Germany, Werner Pfennig, an orphan, grows up with his younger sister, enchanted by a crude radio they find that brings them news and stories from places they have never seen or imagined. Werner becomes an expert at building and fixing these crucial new instruments and is enlisted to use his talent to track down the resistance. Deftly interweaving the lives of Marie-Laure and Werner, Doerr illuminates the ways, against all odds, people try to be good to one another.
This is one that has been on my TBR list for awhile and I am determined to read it this fall!
For a thousand years the ash fell and no flowers bloomed. For a thousand years the Skaa slaved in misery and lived in fear. For a thousand years the Lord Ruler, the "Sliver of Infinity," reigned with absolute power and ultimate terror, divinely invincible. Then, when hope was so long lost that not even its memory remained, a terribly scarred, heart-broken half-Skaa rediscovered it in the depths of the Lord Ruler's most hellish prison. Kelsier "snapped" and found in himself the powers of a Mistborn. A brilliant thief and natural leader, he turned his talents to the ultimate caper, with the Lord Ruler himself as the mark.
Kelsier recruited the underworld's elite, the smartest and most trustworthy allomancers, each of whom shares one of his many powers, and all of whom relish a high-stakes challenge. Only then does he reveal his ultimate dream, not just the greatest heist in history, but the downfall of the divine despot.
But even with the best criminal crew ever assembled, Kel's plan looks more like the ultimate long shot, until luck brings a ragged girl named Vin into his life. Like him, she's a half-Skaa orphan, but she's lived a much harsher life. Vin has learned to expect betrayal from everyone she meets, and gotten it. She will have to learn to trust, if Kel is to help her master powers of which she never dreamed.
This saga dares to ask a simple question: What if the hero of prophecy fails?
If you are already in an emotional state I wouldn't recommend reading this one as it may wreck you. At the same time, I highly recommend reading this book at some point, it is so powerful.
Berlin, 1942: When Bruno returns home from school one day, he discovers that his belongings are being packed in crates. His father has received a promotion and the family must move to a new house far, far away, where there is no one to play with and nothing to do. A tall fence stretches as far as the eye can see and cuts him off from the strange people in the distance.
But Bruno longs to be an explorer and decides that there must be more to this desolate new place than meets the eye. While exploring his new environment, he meets another boy whose life and circumstances are very different from his own, and their meeting results in a friendship that has devastating consequences.
This is one I have had on my TBR for awhile now after hearing so much good about it but I haven't been able to find it anywhere (well, except buying it), but I was super excited to find it on Scribd, I've got it all queued up and ready for the fall!
Dara Ruminor is a competitive duelist about to take the kingdom of Vertigon by storm. In a world where swords are used for sport and athletes live like kings as long as the crowds love them, all she needs is a wealthy patron to help her achieve dueling glory.
Instead, she gets Prince Siv, the heir to the throne.
She's supposed to train with him, but it isn't as easy as it seems. Handsome, charming, and utterly infuriating, he refuses to take the sport—or her—seriously.
But Prince Siv might not be learning the sword just for fun. As threats emerge from the shadows, with the careless prince as their target, Dara will have to raise her sword to protect him—but even her skill might not be enough to keep them both alive.
I haven't read this book since high school – you know, just a few years ago 😉 – and I am totally due for a re-read. This is one of those books that has stuck with me over the years (actually, all his books were like that).
Ashton is just a typical small town. But when a skeptical reporter and a prayerful, hardworking pastor begin to investigate mysterious events, they suddenly find themselves caught up in a hideous New Age plot to enslave the townspeople, and eventually the entire human race. The physical world meets the spiritual realm as the battle rages between forces of good and evil.
This Present Darkness is a gripping story that brings keen insight into spiritual warfare and the necessity of prayer.
My friend Nancy recommended this book and her recommendations have yet to disappointed. Her only disclaimer was: "Just don't read it when you're home alone (or you're going to be home alone for the night." I'm hoping to read this one in October!
Abigail Foster is the practical daughter. She fears she will end up a spinster, especially as she has little dowry, and the one man she thought might marry her seems to have fallen for her younger, prettier sister.
Facing financial ruin, Abigail and her father search for more affordable lodgings, until a strange solicitor arrives with an astounding offer: the use of a distant manor house abandoned for eighteen years. The Fosters journey to imposing Pembrooke Park and are startled to find it entombed as it was abruptly left: tea cups encrusted with dry tea, moth-eaten clothes in wardrobes, a doll's house left mid-play…
The handsome local curate welcomes them, but though he and his family seem acquainted with the manor's past, the only information they offer is a stern warning: Beware trespassers drawn by rumors that Pembrooke Park contains a secret room filled with treasure.
This catches Abigail's attention. Hoping to restore her family's finances–and her dowry–Abigail looks for this supposed treasure. But eerie sounds at night and footprints in the dust reveal she isn't the only one secretly searching the house.
Then Abigail begins receiving anonymous letters, containing clues about the hidden room and startling discoveries about the past.
As old friends and new foes come calling at Pembrooke Park, secrets come to light. Will Abigail find the treasure and love she seeks…or very real danger?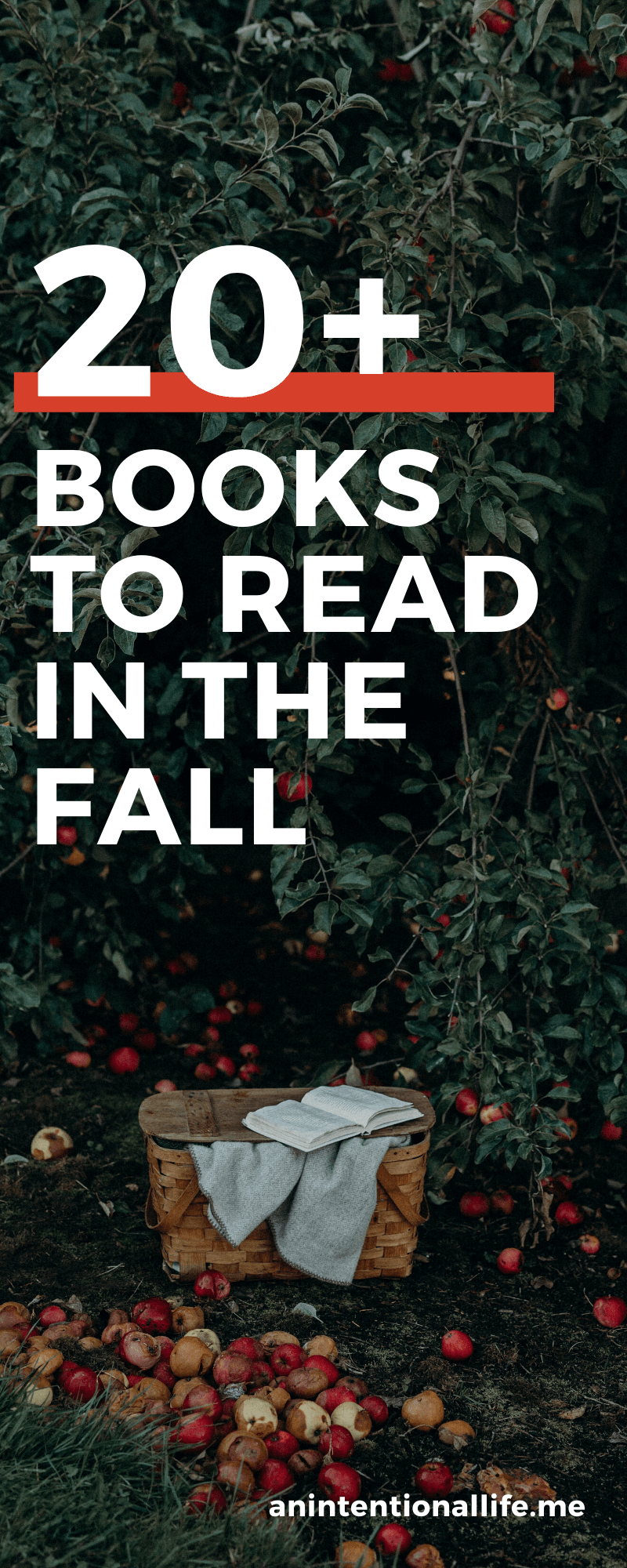 Do you have some great fall recommendations? I would love to hear them!