Homeschool Week in Review – Volume Four
A few words I would use to describe our homeschool this week: worn out, uninspired and boring.
Ha! Sounds too good to pass up, doesn't it? Don't worry, not every week is like this one!
Most of the reason for the feeling worn out was due to our two foster boys, I was just plain out overwhelmed this week and that feeling just flowed over into our homeschool.
Since we are Canadian I can't even blame our lack of academics this week on Thanksgiving like my American friends can . . . 😉
Even though it feels like we didn't do a whole lot this week I still like to review the week here.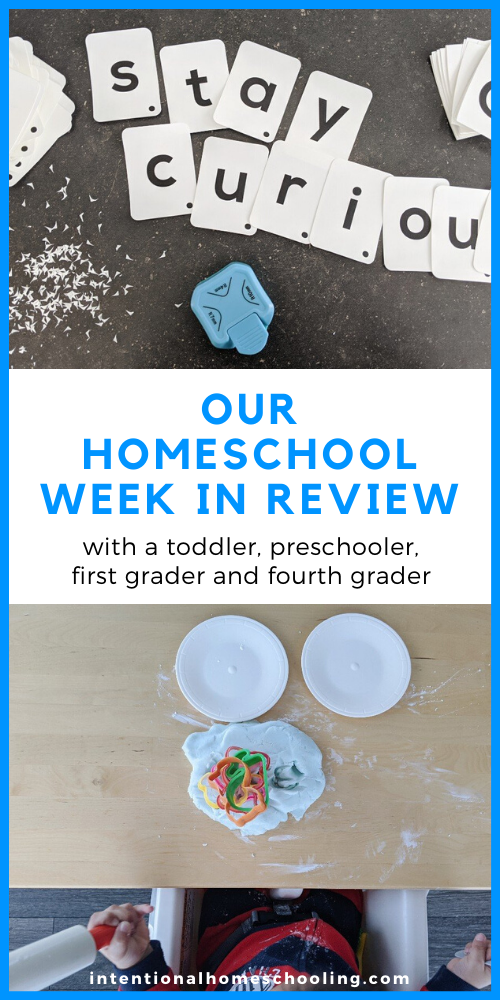 OUR HOMESCHOOL WEEK IN REVIEW
For reference, here's the low down on all the kids:
The Daughter – she's 9 and in grade 4
The Son – he's 6 and in grade 1
The Preschooler – he's 3
The Toddler – he's 1 (almost 2)
Here's a recap of our week:
+ On Monday my husband had his EDO so he took the six year old to a local free homeschool skating. In the past we've gone almost every week in the winter but now with two littles without skates we hadn't gone at all. Hopefully the two of them can go a few times throughout the winter.
+ The preschooler seemed to really be lacking in sleep this week and he didn't do a whole lot of work. That being said, I introduced him to the Starfall app and he spent some time going through some of the letters of the alphabet on there.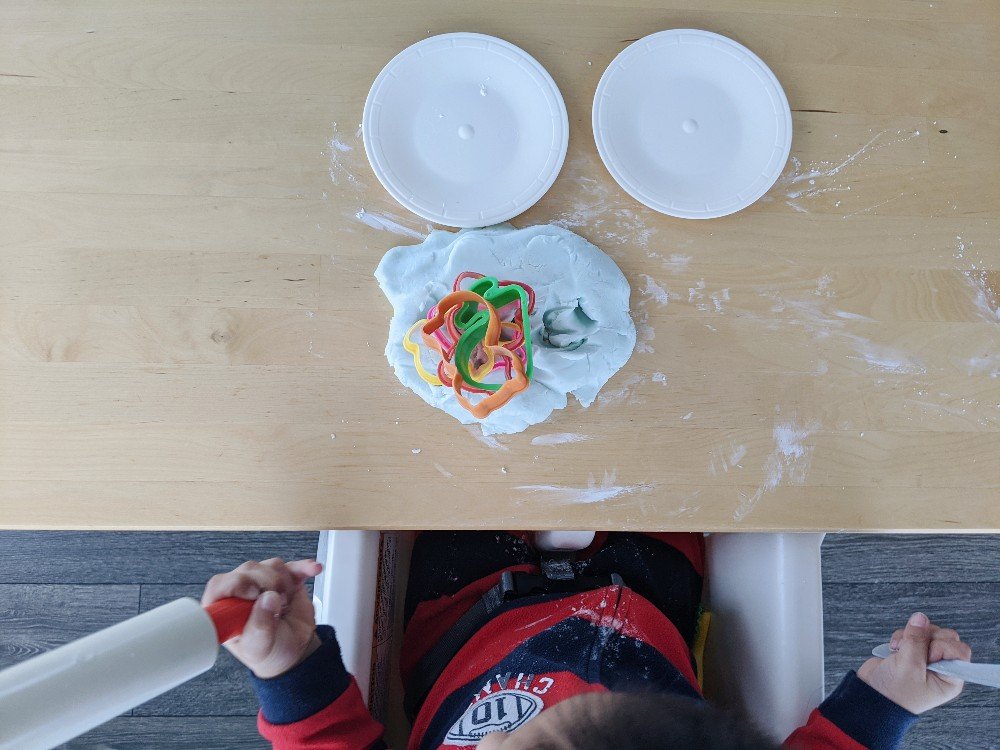 + Playdough is always a good toddler distractor when we are trying to get things done. I have a super simple gluten free recipe that I use though after it's been in the bag for awhile it needs some more corn starch added (thus all the white powder in the photo).
+ I've been attending a weekly women's Bible study that wrapped up this week. The kids like it because there are some other homeschooled kids that are there so they get to hang out together each week.
+ My son did a decent amount of reading this week. We worked a little bit out of TYCTR but mostly he read out of Little Bear.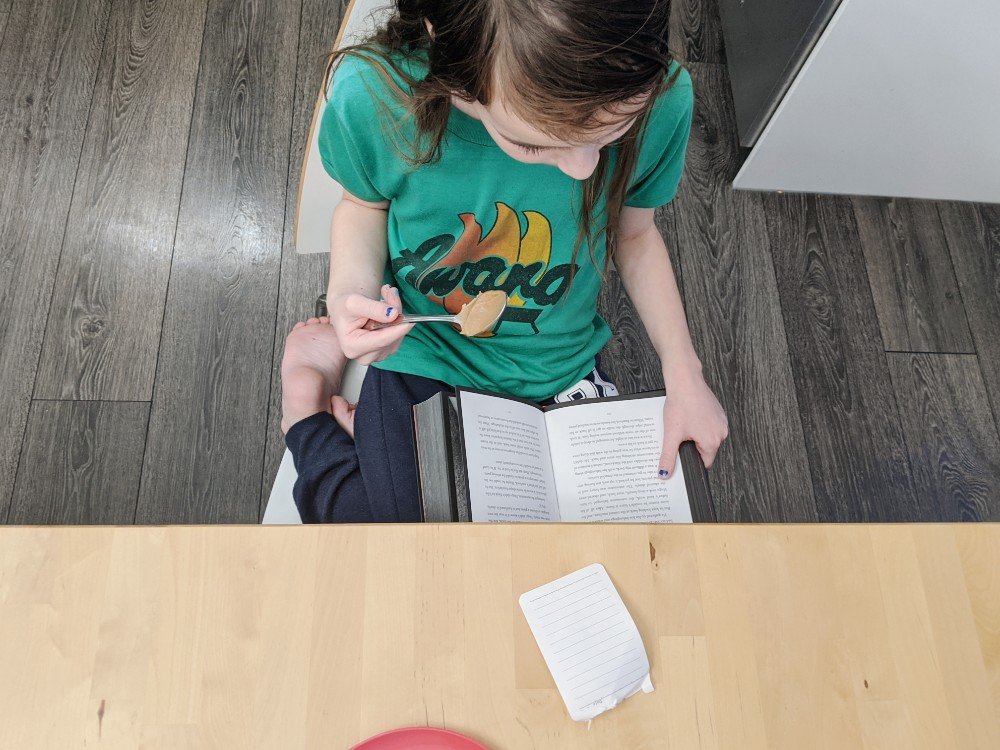 + One of the books my daughter is currently reading (not for the first time, I have no idea how many times she's read it) is Hugo Cabret. It is one of the few books she considers a five star book and if you've never seen inside of it you need to get your hands on it, it is over 500 pages long and alternates between written chapters and pages of pictures.
+ My daughter has been writing in the journal she started a couple of weeks ago nearly every day, it's good writing practice and it seems to be good for her mentally to get some of the thoughts out of her head (just like her mother . . .).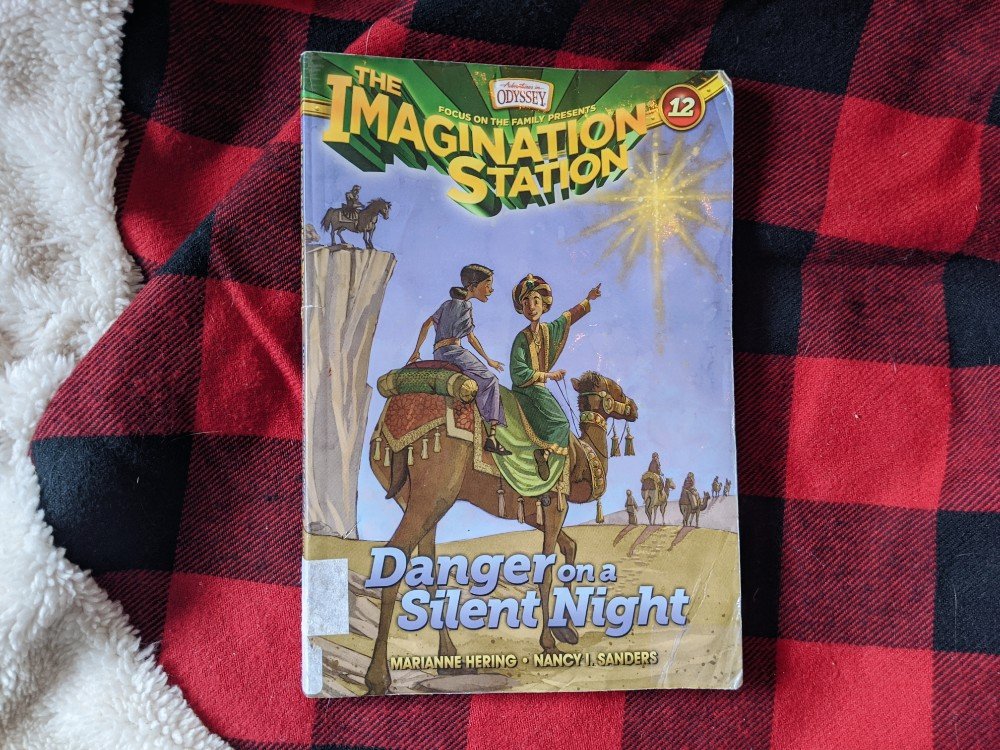 INTENTIONS FOR NEXT WEEK
I pretty much failed at last week's intentions, let's hope I can do better this week. My over all goal for the month of December is pretty much to focus on Advent/Christmas.
+ I got Danger on a Silent Night at my library in the used book section and am planning on getting my daughter to read it this month (it will probably only take her a day or two).
+ We'll be reading through one story a day from The Jesus Storybook Bible and I may get the kids to do some Bible journaling as we do so.
How was your homeschool week? Do you have any good resources you think we should check out in the upcoming weeks?