HUGE BOOK HAUL 📚 new books, thrifted books, gifted books and Little Free Library books!
It's been awhile since I shared a book haul and I've been stockpiling them to bring you this huge book haul!
The books in this haul have been acquired everywhere, this time there are:
new books
thrifted books
little free library books AND
gifted books
Now I need to get reading!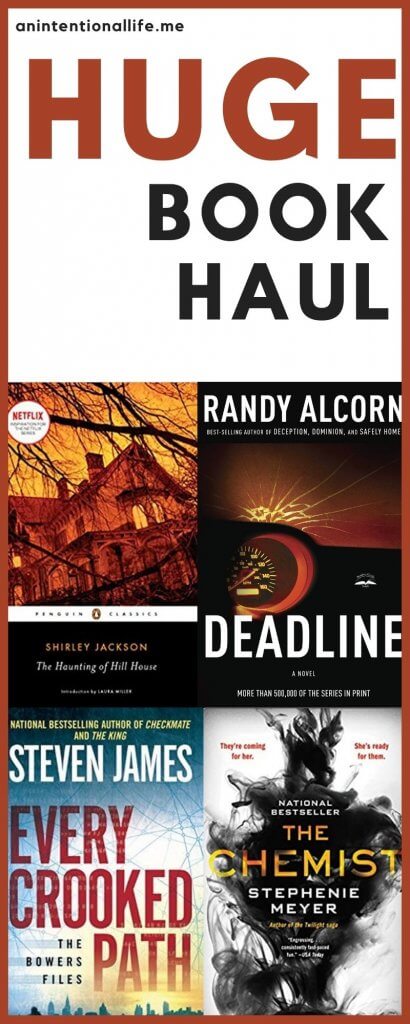 ✨ MORE VIDEOS YOU MAY LIKE ✨
HUGE BOOK HAUL
Here's all the books I recently got/purchased . . .
At the age of five, little orphan Heidi is sent to live with her grandfather in the Alps. Everyone in the village is afraid of him, but Heidi is fascinated by his long beard and bushy grey eyebrows. She loves her life in the mountains, playing in the sunshine and growing up amongst the goats and birds. But one terrible day, Heidi is collected by her aunt and is made to live with a new family in town. Heidi can't bear to be away from her grandfather; can she find a way back up the mountain, where she belongs?
Laura Stoddart has a devoted following who love the humor and idiosyncrasy of her exquisite, tiny drawings. Now, in this prettiest and wittiest of anthologies, she puts drudgery in its place and elevates the charms of lolling about to new heights. What could be more pleasurable than puttering into the garden, trowel in hand? Perhaps puttering back out, with a cool drink in place of said trowel. Ms. Stoddart's droll little figures toil and tarry their way across page after page of ironic quotations and elegant verse. From Jane Austen to Benjamin Franklin, from Oscar Wilde to oft-quoted "Anonymous"–everyone has something to say about the pleasures of a well-kept house, the charms of an overgrown garden, and the surprisingly refreshing effect that five minutes spent on a patch of green grass can produce. This delightful primer on all things sweet is the perfect house gift–guaranteed to gain all indulgent souls direct entree to la dolce vita!
A toxic river divides nineteen-year-old Violet Bates's world by gender.
Women rule the East. Men rule the West.
Welcome to the lands of Matrus and Patrus.
Ever since the disappearance of her beloved younger brother, Violet's life has been consumed by an anger she struggles to control. Already a prisoner to her own nation, now she has been sentenced to death for her crimes.
But one decision could save her life.
To enter the kingdom of Patrus, where men rule and women submit.
Everything about the patriarchy is dangerous for a rebellious girl like Violet. She cannot break the rules if she wishes to stay alive. But abiding by rules has never been her strong suit, and when she is thrust into more danger than she could have ever predicted, Violet is forced to sacrifice many things in the forbidden kingdom … including forbidden love.
In a world divided by gender, only the strongest survive…
When evil arises from the bowels of the earth, a community experiences the stain of innocent bloodshed and corruption. A farmer, Buster Troye is called to warn the people of the town. Can this simple farmer defeat evil with no wealth or resources. Is his genealogy his strength or the foundation of the evil?
First published in 1959, Shirley Jackson's The Haunting of Hill House has been hailed as a perfect work of unnerving terror. It is the story of four seekers who arrive at a notoriously unfriendly pile called Hill House: Dr. Montague, an occult scholar looking for solid evidence of a "haunting"; Theodora, his lighthearted assistant; Eleanor, a friendless, fragile young woman well acquainted with poltergeists; and Luke, the future heir of Hill House. At first, their stay seems destined to be merely a spooky encounter with inexplicable phenomena. But Hill House is gathering its powers–and soon it will choose one of them to make its own.
There's a corpse in the bathtub, wearing nothing but a pair of pince-nez spectacles. Enter Lord Peter Wimsey, the original gentleman sleuth. Urged to investigate by his mother, the Dowager Duchess of Denver, Lord Peter quickly ascertains that the sudden disappearance of a well-known financier is in some way connected to the body in the bathroom. But discovering exactly which way they're related leads the amateur detective on a merry chase.
Written by a master of the detective story, this atmospheric tale abounds in the cozy delights of an English murder mystery. Dorothy L. Sayers ranks with Agatha Christie as a defining author of the genre. A novelist, essayist, and medieval scholar, Sayers was among the first women to receive an Oxford degree, and her translations of Dante remain in wide circulation. This novel marks the debut of her most popular creation, Lord Peter Wimsey, whose continuing adventures unfold amid the lively world of upper-crust British society in the 1920s.
Containing one of the best known and best loved detective novels of all time – The Murders in the Rue Morgue – this entertaining collection of Poe's work shows why he was considered a master of mystery. Also included in the book is The Mystery of Marie Rogêt, which was a sequel to the thrilling Murders in the Rue Morgue, as well as three other tales of detection and adventure, including "Thou Art the Man!", "The Purloined Letter" and "The Unparelleled Adventure of One Hans Pfaall". Such was the influence of these works that the Mystery Writers of America named their awards after Poe and called them the Edgars.
Wonderfully sardonic and slyly humorous, the writings of landmark American feminist and socialist thinker Charlotte Perkins Gilman were penned in response to her frustrations with the gender-based double standard that prevailed in America as the twentieth century began. Perhaps best known for her chilling depiction of a woman's mental breakdown in her unforgettable 1892 short story 'The Yellow Wall-Paper', Gilman also wrote Herland, a wry novel that imagines a peaceful, progressive country from which men have been absent for two thousand years. Both are included in this volume, along with a selection of Gilman's major short stories and her poems. New York Times bestselling author Kate Bolick contributes an illuminating introduction that explores Gilman's fascinating yet complicated life.
When tragedy strikes those closest to him, Jake Woods must draw upon all his resources to uncover the truth about the suspicious accident. Soon he finds himself swept up in a murder investigation that is both complex and dangerous. Unaware of the threat to his own life, Jake is drawn in deeper and deeper as he desperately searches for the answers to the immediate mystery at hand and—ultimately—the deeper meaning of his own existence.
Things turn sour at Privilege House, Jacob Two-Two's private school, when the headmaster, Mr. Goodbody, is replaced by the despicable I.M. Greedyguts. Now everything is unbearable, from geography class to the ghastly lunches made by Perfectly Loathsome Leo Louse. Worse yet, nobody's parents believe how bad it really is. Fortunately, Jacob has a new friend he can turn to for help: X. Barnaby Dinglebat, Master Spy.
A sinister Problem has occurred in London: all nature of ghosts, haunts, spirits, and specters are appearing throughout the city, and they aren't exactly friendly. Only young people have the psychic abilities required to see-and eradicate-these supernatural foes. Many different Psychic Detection Agencies have cropped up to handle the dangerous work, and they are in fierce competition for business.
What if you could visit heaven and hell, traveling when and wherever you wish . . . without ever dying? What if your teenage daughter, the joy of your life, had died a tragic death and you discovered a way to visit her?What if there were people and beings, on both sides of the grave, who want to stop your return?These are the questions facing novelist David Kauffman. As a single parent he is devastated when his young daughter meets an untimely death. Desperate to contact her, he meets Gita Patekar, a beautiful and committed Christian with a scarred and shame-ridden past. She works for "Life After Life"―an organization dedicated to tracking and recording the experiences of the soul once it leaves the body. Despite Gita's warnings that God is opposed to contacting the dead, David uses the organization's computer to try to find his daughter. In the process they discover Gita's organization has some very deep and dark secrets. A suspense-filled game of cat and mouse begins―both on earth and beyond the grave―as the couple work together, fall in love, and struggle to expose the truth . . . until they come face to face with the ultimate Love and Truth.
Every Living Thing: The Warm and Joyful Memoirs of the World's Most Beloved Animal Doctor is a perfect opportunity for existing fans of Herriot's work to reacquaint themselves with his writing, and for those who've never read him to see what generations of animal lovers have already discovered: James Herriot is that rarest of creatures, a genuine master storyteller.
Three years ago, Lift asked a goddess to stop her from growing older–a wish she believed was granted. Now, in Edgedancer, the barely teenage nascent Knight Radiant finds that time stands still for no one. Although the young Azish emperor granted her safe haven from an executioner she knows only as Darkness, court life is suffocating the free-spirited Lift, who can't help heading to Yeddaw when she hears the relentless Darkness is there hunting people like her with budding powers. The downtrodden in Yeddaw have no champion, and Lift knows she must seize this awesome responsibility.
On holiday on the Cornish Riviera, Hercule Poirot is alarmed to hear pretty Nick Buckley describe her recent "accidental brushes with death." First, on a treacherous Cornish hillside, the brakes on her car failed. Then, on a coastal path, a falling boulder missed her by inches. Later, an oil painting fell and almost crushed her in bed.
So when Poirot finds a bullet hole in Nick's sun hat, he decides that this girl needs his help. Can he find the would-be killer before he hits his target?
She used to work for the U.S. government, but very few people ever knew that. An expert in her field, she was one of the darkest secrets of an agency so clandestine it doesn't even have a name. And when they decided she was a liability, they came for her without warning.
Now she rarely stays in the same place or uses the same name for long. They've killed the only other person she trusted, but something she knows still poses a threat. They want her dead, and soon. When her former handler offers her a way out, she realizes it's her only chance to erase the giant target on her back. But it means taking one last job for her ex-employers.
To her horror, the information she acquires only makes her situation more dangerous. Resolving to meet the threat head-on, she prepares for the toughest fight of her life but finds herself falling for a man who can only complicate her likelihood of survival. As she sees her choices being rapidly whittled down, she must apply her unique talents in ways she never dreamed of.
Jonah, Katherine, Chip, and another boy, Alex, have no preparation before they are sent back to 1483 at the Tower of London, with the promise that they can return to the present if they can repair history. They quickly discover that Chip and Alex's true identities are the 13-year-old King Edward V and his 10-year-old brother, Richard, Duke of York. But before Chip can enjoy being the king of England, they discover that they are virtually prisoners—and that their uncle wants them dead. How can the kids repair time and return home when according to history, Chip and Alex were murdered?
It is now six years since the secret disaster at Jurassic Park, six years since the extraordinary dream of science and imagination came to a crashing end–the dinosaurs destroyed, the park dismantled, the island indefinitely closed to the public.
There are rumors that something has survived. . . .
As relevant now as when it was first published, Elizabeth Gaskell's North and South skillfully weaves a compelling love story into a clash between the pursuit of profit and humanitarian ideals. This Penguin Classics edition is edited with an introduction by Patricia Ingham. When her father leaves the Church in a crisis of conscience, Margaret Hale is uprooted from her comfortable home in Hampshire to move with her family to the North of England. Initially repulsed by the ugliness of her new surroundings in the industrial town of Milton, Margaret becomes aware of the poverty and suffering of local mill workers and develops a passionate sense of social justice. This is intensified by her tempestuous relationship with the mill-owner and self-made man John Thornton, as their fierce opposition over his treatment of his employees masks a deeper attraction. In North and South Gaskell skillfully fused individual feeling with social concern, and in Margaret Hale created one of the most original heroines of Victorian literature. In her introduction Patricia Ingham examines Elizabeth Gaskell's treatment of geographical, economic and class differences, and the male and female roles portrayed in the novel.
It's been five years since the Sweep disappeared. Orphaned and alone, Nan Sparrow had no other choice but to work for a ruthless chimney sweep named Wilkie Crudd. She spends her days sweeping out chimneys. The job is dangerous and thankless, but with her wits and will, Nan has managed to beat the deadly odds time and time again.

When Nan gets stuck in a chimney fire, she fears the end has come. Instead, she wakes to find herself unharmed in an abandoned attic. And she is not alone. Huddled in the corner is a mysterious creature—a golem—made from soot and ash.

Sweep is the story of a girl and her monster. Together, these two outcasts carve out a new life—saving each other in the process. Lyrically told by one of today's most powerful storytellers, Sweep is a heartrending adventure about the everlasting gifts of friendship and wonder.
As book three of the Greystone Secrets series opens, the Greystone kids have their mother back from the evil alternate world, and so does their friend Natalie. But no one believes the danger is past.
Then mysterious coins begin falling from unexpected places. They are inscribed with codes that look just like what the Greystones' father was working on before he died. And with the right touch, those symbols transform into words: PLEASE LISTEN. And FIND US, SEE US, HELP US. . . .
The coins are messengers, telling the Greystones and their allies that their friends in the alternate world are under attack—and that the cruel, mind-controlling forces are now invading the better world, too.
After another spinning, sliding journey across worlds, the Greystone kids must solve mysteries that have haunted them since the beginning: what happened when the Gustanos were kidnapped, what created the alternate world, and how a group of mismatched kids can triumph once and for all against an evil force that seems to have total control.
Bone is a stray dog, all alone in the world, looking for a safe place to call home. Charlie is devastated by the death of his older brother, but at least he has his brother's dog to comfort him. All Henry wants is a dog of his own, and even when his best friend moves away, his parents still won't let him have one. Bone, Charlie, and Henry don't know each other, but their lives are about to connect in a very surprising way. Because dogs, and dog lovers, have a way of finding each other . . .
Reporter Hudson Ambrose hears an early morning call on his police scanner about an injured person at a bus stop on Las Vegas Boulevard and rushes to the scene. His world is blown off its axis when he discovers a murdered homeless man with a bankbook in his pocket showing a balance of almost one million dollars.
Should Hudson wait for the police, knowing the case will get lost in reams of red tape, or swipe the bankbook and take the investigation—and perhaps a chunk of the money—into his own hands?
With sirens bearing down on the scene, Hudson makes an impulse decision that whisks him on a frantic search for answers.
Uncovering bizarre links between a plane crash, a Las Vegas pit boss, a dirty cop, and a widowed Atlanta business mogul, Hudson is forced to find out: who was Chester Holte, what was he doing on the streets, and why are his homeless friends convinced he was an angel in disguise?
Humans and androids crowd the raucous streets of New Beijing. A deadly plague ravages the population. From space, a ruthless lunar people watch, waiting to make their move. No one knows that Earth's fate hinges on one girl. . . .
Cinder, a gifted mechanic, is a cyborg. She's a second-class citizen with a mysterious past, reviled by her stepmother and blamed for her stepsister's illness. But when her life becomes intertwined with the handsome Prince Kai's, she suddenly finds herself at the center of an intergalactic struggle, and a forbidden attraction. Caught between duty and freedom, loyalty and betrayal, she must uncover secrets about her past in order to protect her world's future.
With high-stakes action and a smart, resourceful heroine, Cinder is a Cinderella retelling that is at once classic and strikingly original.
Who is the Piper? . . .

Special Agent Patrick Bowers returns in an electrifying prequel to the Bowers Chess series from critically acclaimed, national bestselling novelist Steven James.

A mysterious suicide and a series of abductions draw Patrick into a web of intrigue involving an international conspiracy where no one is who they appear to be and the stakes have never been higher.

Soon, Patrick discovers that the secret to stopping the Piper's current crime spree lies in unlocking answers from an eight-year-old cold case—and the only way to do that is by entering the terrifying world of the conspirators himself.

Dark, probing, and chilling, Every Crooked Path takes an unflinching look at the world of today's cybercrimes and delves into a parent's worst nightmare as it launches a new chapter of Patrick Bowers thrillers.