Nine More Books with Great Imagination to Spark Your Child's Imagination
The most popular book list I've shared so far as been Nine Books To Spark a Child's Imagination, for good reason too, it includes some of my absolute favorite picture books.
Today I wanted to share nine more books to spark your child's imagination.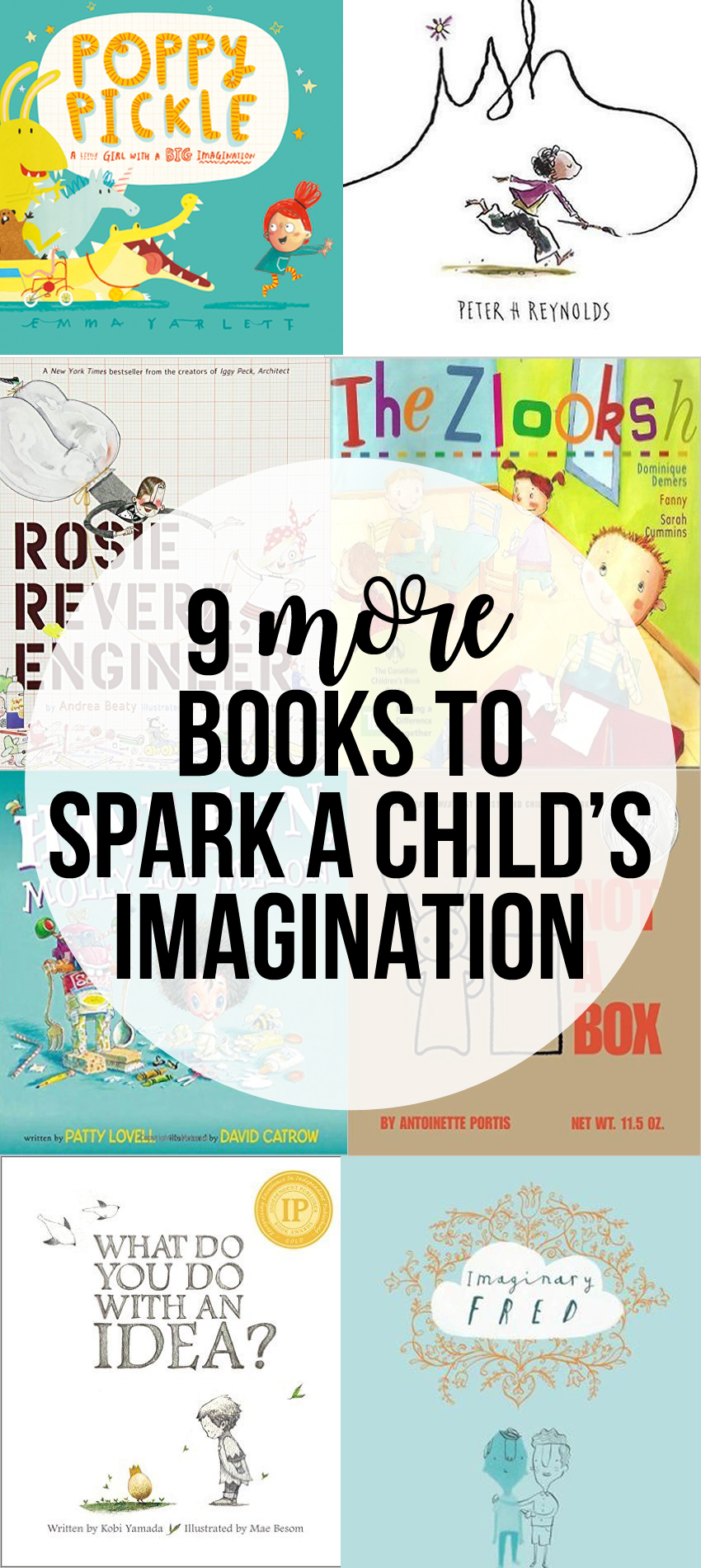 NINE BOOKS WITH GREAT IMAGINATION
TO SPARK YOUR CHILD'S IMAGINATION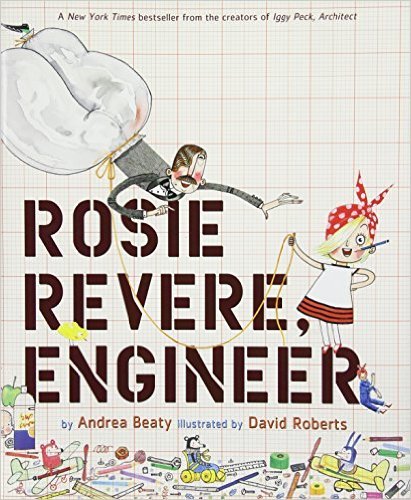 Rosie may seem quiet during the day, but at night she's a brilliant inventor of gizmos and gadgets who dreams of becoming a great engineer. When her great-great-aunt Rose (Rosie the Riveter) comes for a visit and mentions her one unfinished goal—to fly—Rosie sets to work building a contraption to make her aunt's dream come true. But when her contraption doesn't fly but rather hovers for a moment and then crashes, Rosie deems the invention a failure. On the contrary, Aunt Rose insists that Rosie's contraption was a raging success: you can only truly fail, she explains, if you quit.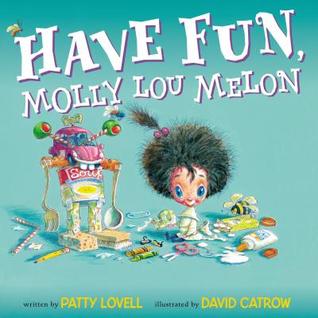 Molly Lou Melon's grandma taught her to be happy with herself no matter what, but that's not all she learned. Molly Lou heard all about how her grandma didn't have fancy store-bought toys when she was little. She made dolls out of twigs and flowers and created her own fun in her backyard. So Molly Lou does just that, proving that the best thing to play with is a huge imagination!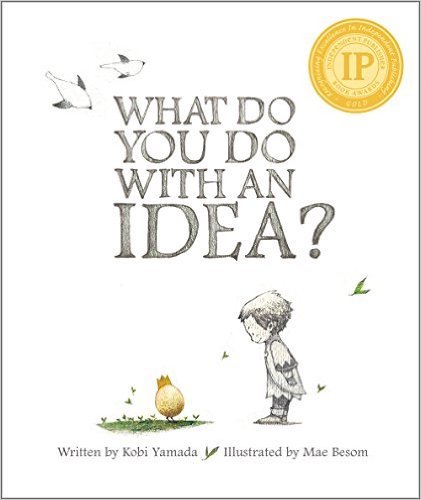 This is the story of one brilliant idea and the child who helps to bring it into the world. As the child's confidence grows, so does the idea itself. And then, one day, something amazing happens. This is a story for anyone, at any age, who's ever had an idea that seemed a little too big, too odd, too difficult. It's a story to inspire you to welcome that idea, to give it some space to grow, and to see what happens next. Because your idea isn't going anywhere. In fact, it's just getting started.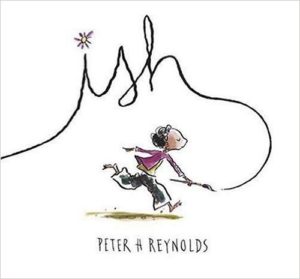 Drawing is what Ramon does. It¹s what makes him happy. But in one split second, all that changes. A single reckless remark by Ramon's older brother, Leon, turns Ramon's carefree sketches into joyless struggles. Luckily for Ramon, though, his little sister, Marisol, sees the world differently. She opens his eyes to something a lot more valuable than getting things just "right." Combining the spareness of fable with the potency of parable, Peter Reynolds shines a bright beam of light on the need to kindle and tend our creative flames with care.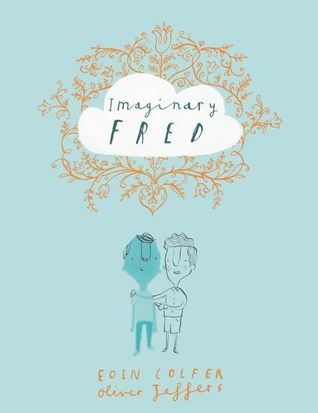 Did you know that sometimes, with a little electricity, or luck, or even magic, an imaginary friend might appear when you need one? An imaginary friend like Fred. Fred floated like a feather in the wind until Sam, a lonely little boy, wished for him and, together, they found a friendship like no other.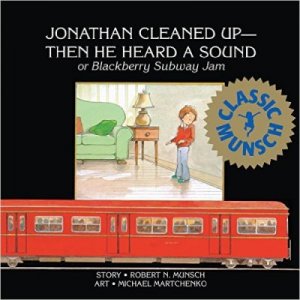 Jonathan's really, really trying to keep his apartment clean – but how can he keep on top of the mess when a subway unexpectedly stops in and lets out thousands of people? It's up to Jonathan to figure out how to solve this strange and mysterious problem.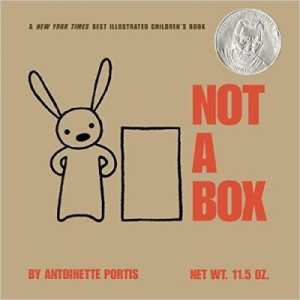 A box is just a box . . . unless it's not a box. From mountain to rocket ship, a small rabbit shows that a box will go as far as the imagination allows. Inspired by a memory of sitting in a box on her driveway with her sister, Antoinette Portis captures the thrill when pretend feels so real that it actually becomes real—when the imagination takes over and inside a cardboard box, a child is transported to a world where anything is possible.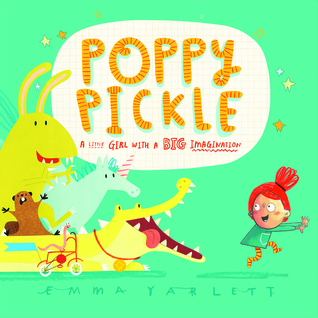 Poppy has the most extraordinary imagination. When she is sent upstairs to clean her room, she just can't help imagining, and suddenly . . . her imagination literally comes alive. Soon her room is jam-packed with all kinds of weird and wonderful creatures. There are a few problems, though: the mammoth puts his foot through the floor, and the hungry crocodile thinks Poppy would make a tasty snack. Poppy needs to get rid of all these creatures fast. But how?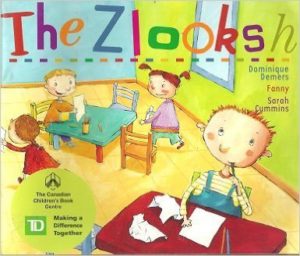 A charming story about a young boy named Zachary who, when asked by his teacher to draw a picture of his favorite animal, uses his imagination to create an animal that can't be found in a zoo.