Pirate Mini Unit Study Resources
One of the units I had on my list to study this year was pirates. And since September 19th is Talk Like a Pirate Day I thought we would learn about them leading up to that day.
We've only done a few unit studies so far this year but this one was our favorite one yet.
Pirates are a fun topic to study but it does involve a fair amount of weeding through fact and fiction.
The kids totally got into pirate mode and dressed up in some old Halloween costumes.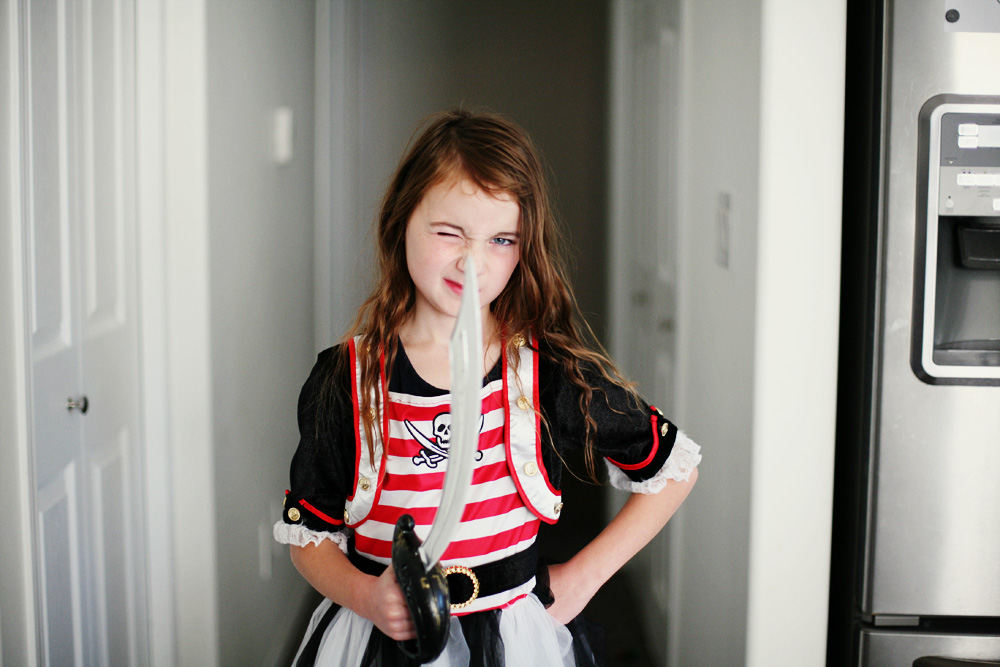 There are so many great books, videos and resources for a pirate study, we could have studied the topic all year!
But since there are other topics we want to study it can't last forever.
Today I want to share some of the resources we used for this study. We actually will continue to learn about it all this week yet so if I come across any more as the week goes by I'll add them in here.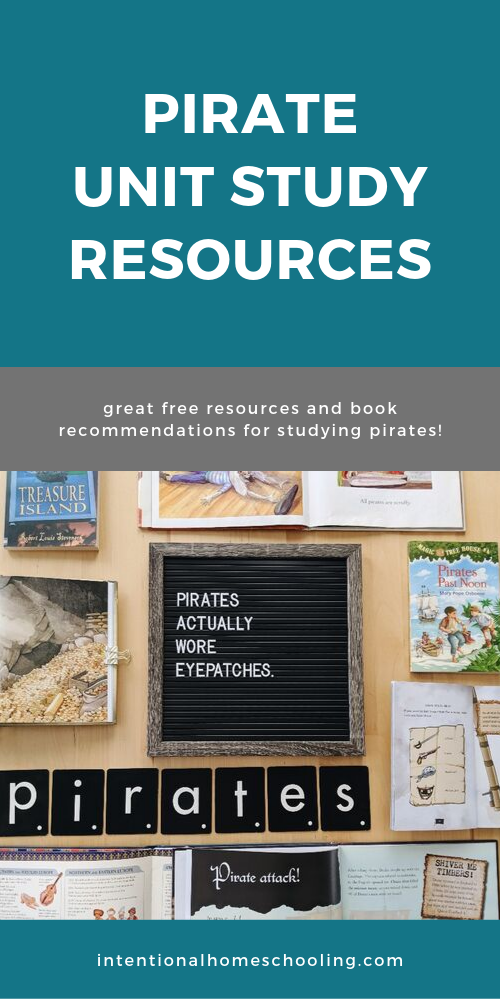 PIRATE UNIT STUDY RESOURCES
I like to do my own version of strewing* when it comes to our unit studies.
*Not sure what strewing is? It is simply just laying out a number of materials for your children to discover and letting them pick up the ones they find most interesting.
The evening before (or in the morning before the kids are up) I get a lot of our resources out and display them on the table along with a fact related to the topic.
Like this: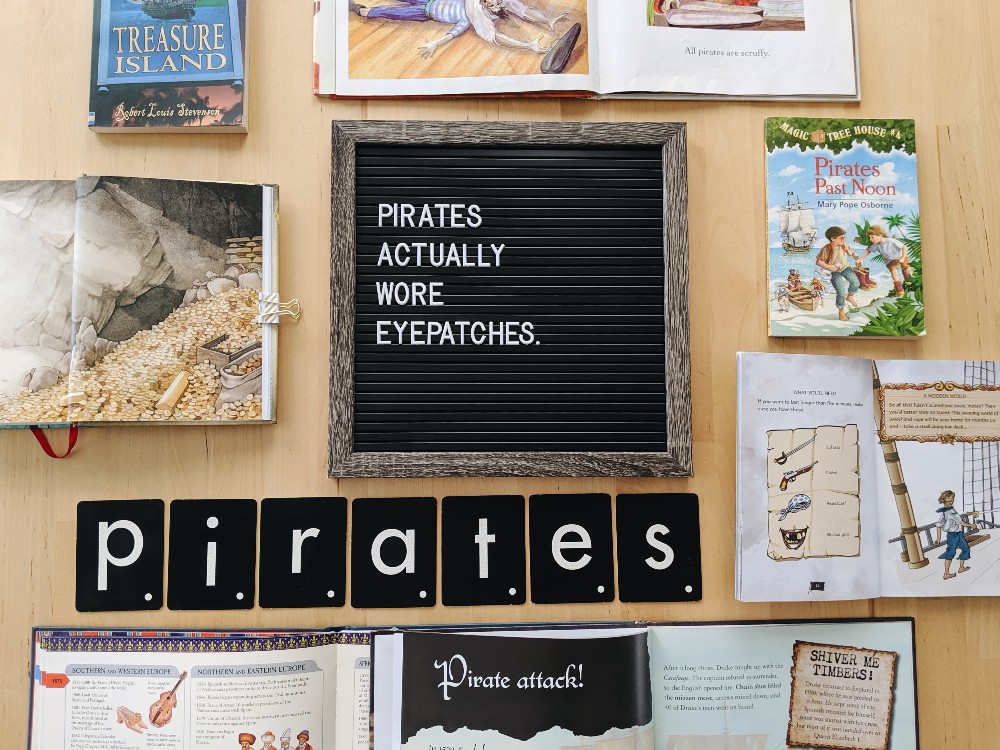 Then I see what peaks their interest first.
This time it was the fact that I had displayed:
Pirates actually wore eyepatches.
I explained to each of my kids (separately because they wake up at very different times) that they did not wear an eyepatch because they were missing an eye but I would explain to them later the reasoning behind it.
Well, that piqued their interest!
When it came time for our unit study I explained that pirates actually wore an eyepatch to help with fighting in the dark, like at night or below deck.
Mythbusters even tried this out and found it to be very effective:
Of course, when you happen to have an actual eye patch from the days of correcting your son's eye muscles, it not only becomes a great addition to a costume, it also helps in testing the theory.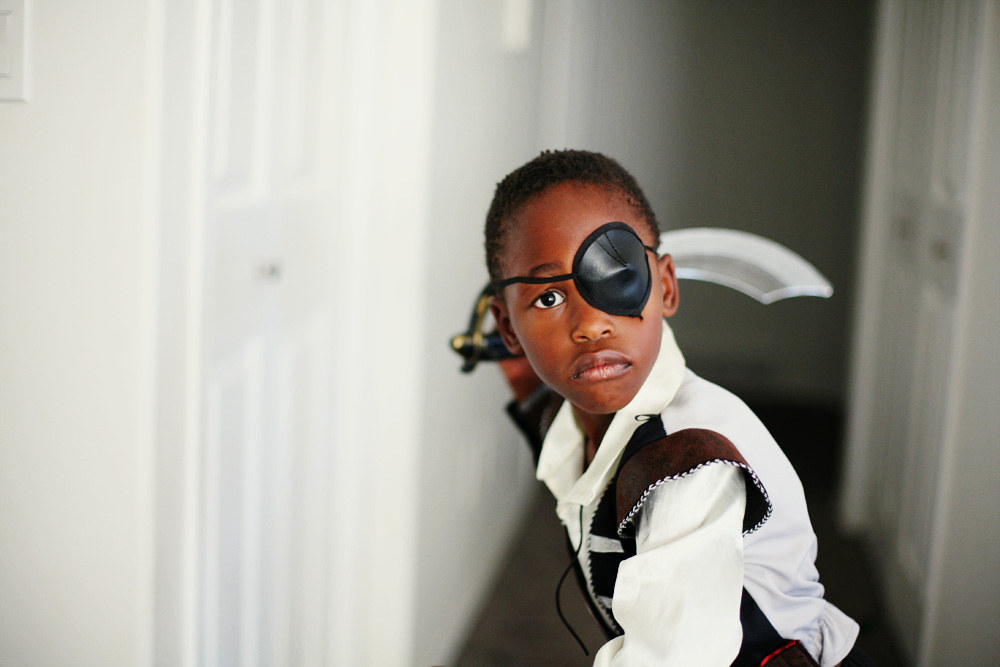 My intention behind strewing with out unit studies is just to lay out a number of different materials on the topic and dive into the ones that interest them the most. I often get resources from the library and just search our house for books and items on the topic.
Here's a list of the different books I had out:
Tough Boris – our favorite Mem Fox picture book!
Boris von der Borch is a mean, greedy old pirate–tough as nails, through and through, like all pirates. Or is he? When a young boy sneaks onto Boris's ship, he discovers that Boris and his mates aren't quite what he expected.
Small Saul – another ones of our favorite pirate picture books (also, I love that the French version is Petite Paul).
When Small Saul joins the crew of The Rusty Squid, it doesn't take long for the other pirates to notice something is very different about this tiny fellow. He was born to sing sea shanties, bake pineapple upside down cakes and redecorate, not to hold a sword and plunder. Being rough and tough just isn't in his nature.
Pirate Handbook – this was one of our favorite books, we read through most of it, learning about different ways to be a "good" pirate, some of the myths and truths and some information about actual pirates.
This is a humorous guide to life on the high seas packed with intriguing historical detail that no self-respecting sea-dog should leave port without. Young landlubbers can become the fiercest of pirates by finding out how to keep their ship in tip-top shape, the best way to settle an argument with a shipmate and how to survive a storm at sea. It reveals the true nature of piracy to be more fascinating than the myths of peg legs, eye patches and parrots.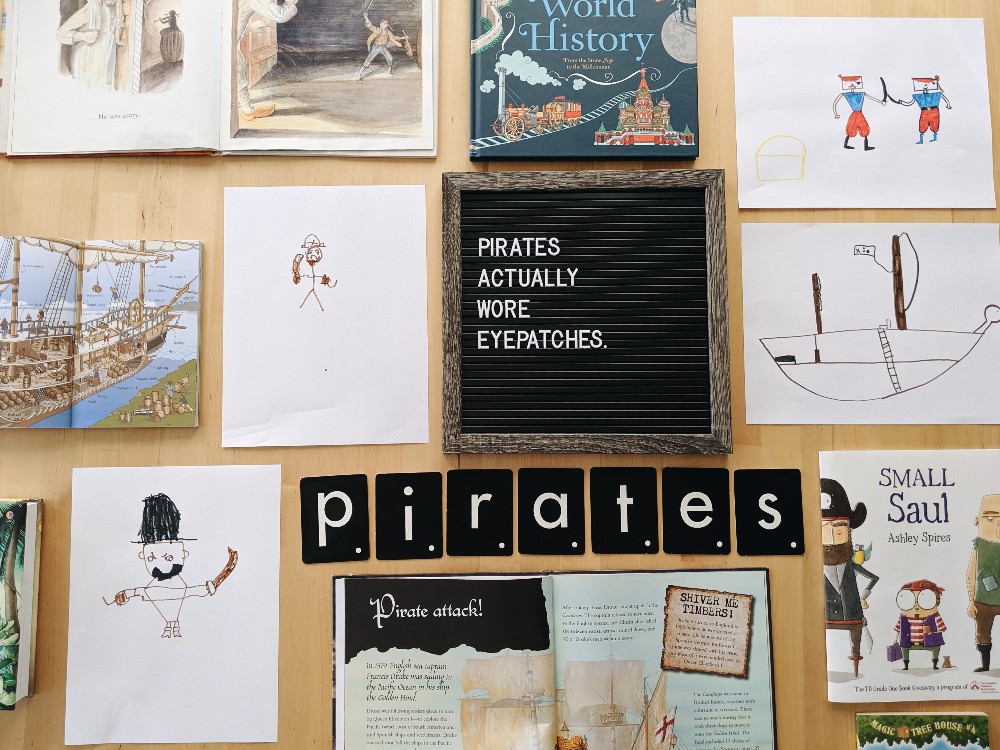 Pirates Past Noon – my kids love all things Magic Tree House, this book included!
It's a treasure trove of trouble! Jack and Annie are in for a high-seas adventure when the Magic Tree House whisks them back to the days of deserted islands, secret maps—and ruthless pirates! Will they discover a buried treasure? Or will they be forced to walk the plank?
Usborne Illustrated Unabridged Treasure Island – I love the books in this series!
Usborne Abridged Treasure Island – I couldn't find this one to link it but I think it's a good chapter book for kids to read on their own if they are interested in the book before they are ready for the full thing.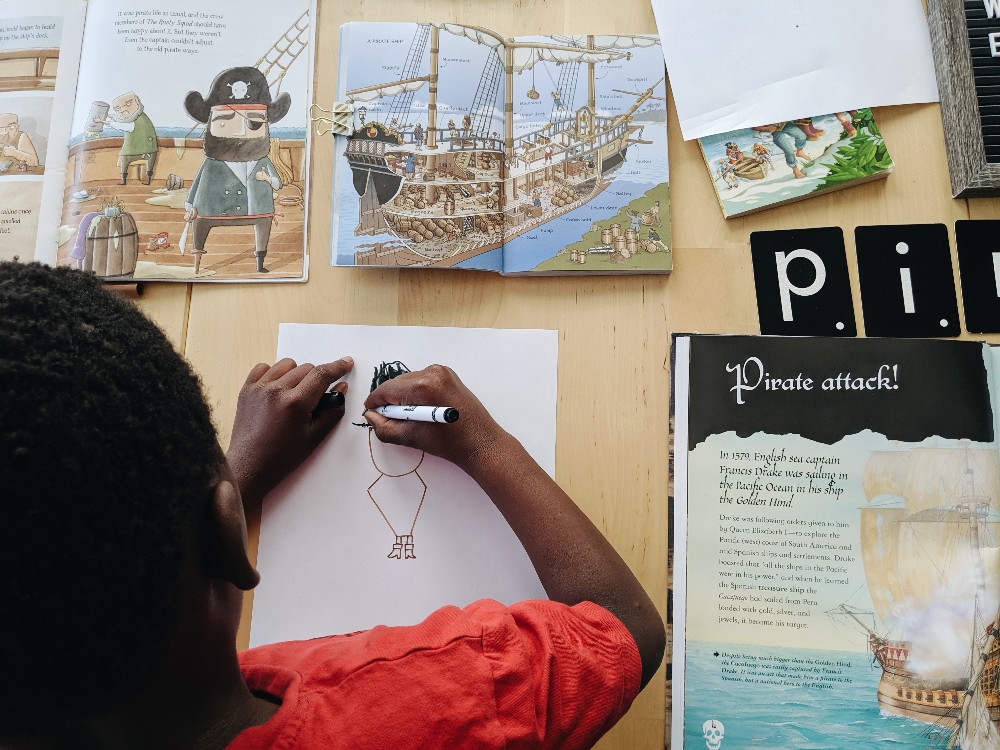 Frances Drake and the Sea Rovers of the Spanish Main – I remember learning about Sir Frances Drake in elementary school so I was excited to find this one.
Usborne Timelines of World History – I found some references to Frances Drake and it was nice to see it on a bit of a visual timeline.
A gorgeously illustrated guide to the history of the world, from wars and revolutions to ground-breaking inventions, discoveries and artistic movements. With over 3,500 key dates from the Stone Age to the year 2000, organised geographically so readers can compare what was happening in different parts of the world.
You can check out more great pirate books here.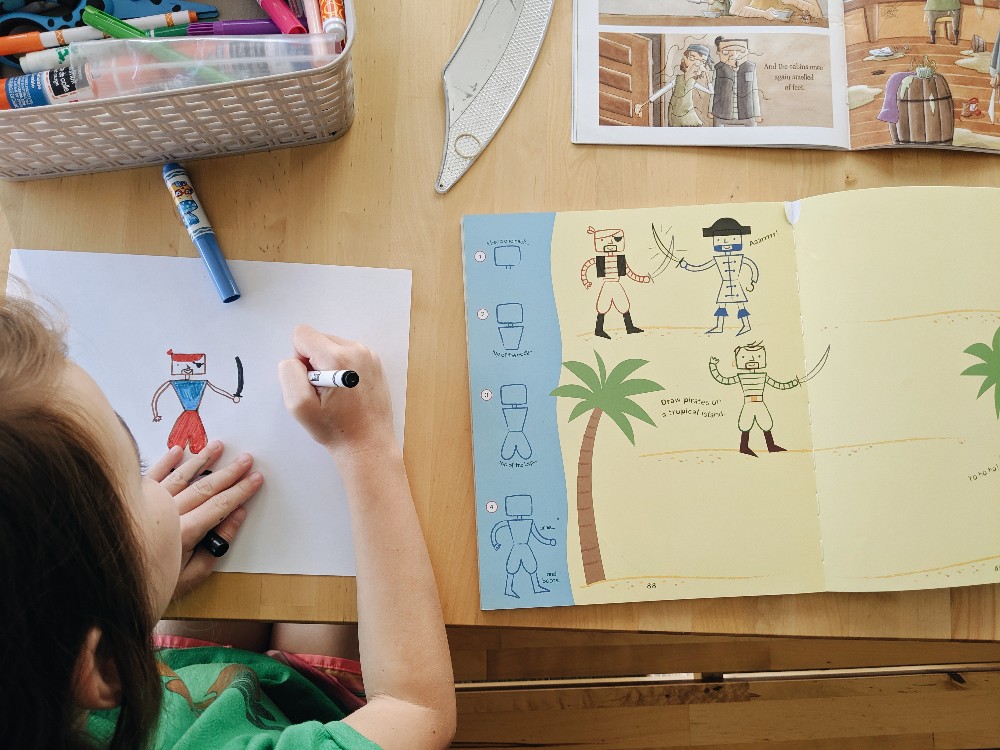 We also used two of our step-by-step drawing books to draw some piratey pictures. This book and this one are our favorites.
While we used the drawing books a bit the kids also decided to draw some of their own pirate creations as well.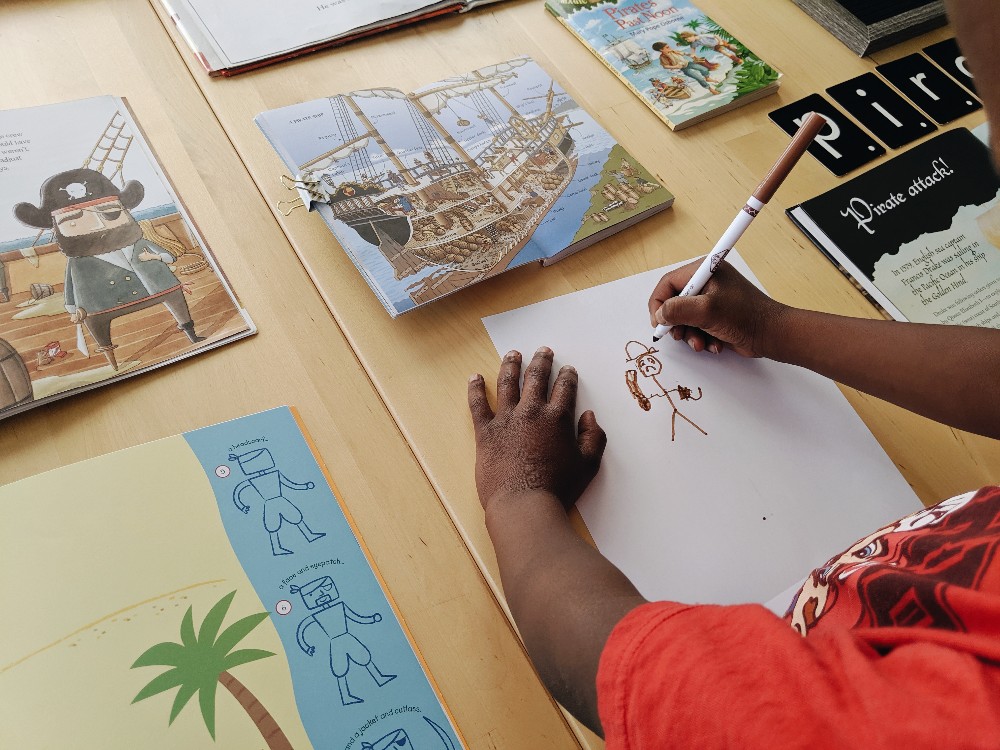 Of course, if you prefer to use a drawing video you can always turn to Art for Kids Hub, this pirate drawing video looks fun.
Of course it was fun to learn that there actually were some women pirates as well since the only ones I had heard about previously were men, here's some information on two real-life pirates you've probably never heard of.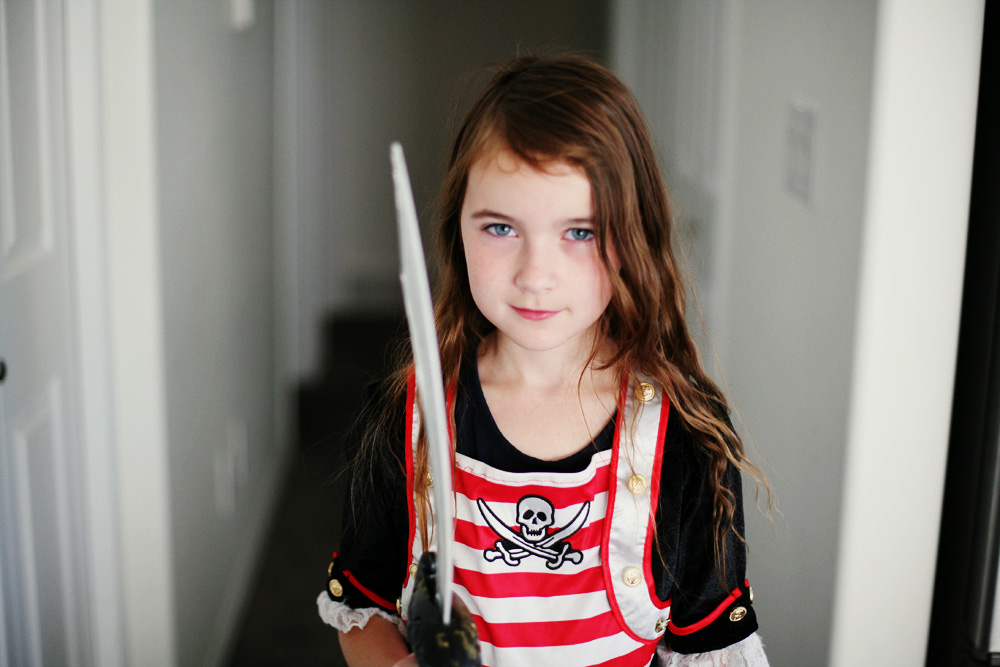 Fellow homeschool mom and blogger Monique Willms recommended we listen to Lives of the Pirates which our library has on audio, it includes short stories on actual pirates. We're a few stories in and enjoying it.
And of course, we can't study pirates going into Talk Like a Pirate Day and not have a handy dandy pirate talk sheet! I found this free one online. As well as this free find your pirate name sheet.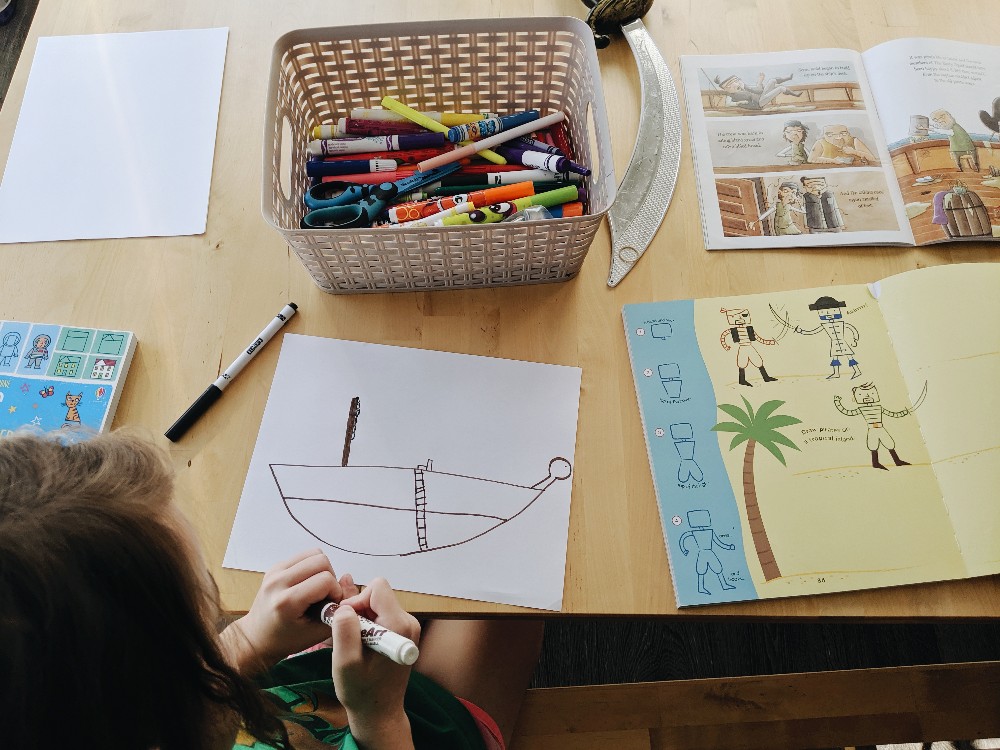 There really was so much more we could have learned about pirates but for a short less-than-a-week study I think we did pretty good!
We're actually going to continue studying pirates for the next couple of days so I may add a few more resources to this post if we find some good ones!
Have some great pirate resources to share? Leave them in the comments below!