2021 ANTICIPATED RELEASES 📅 books coming out January-June that I am excited about! 📅
2021 is going to be such a great year for books!
There are a number I am excited about that are being released from January-June and I thought I would share them with you!
I plan on doing a part two later in the year where I share about books coming out in the second half of the year, stay tuned for that.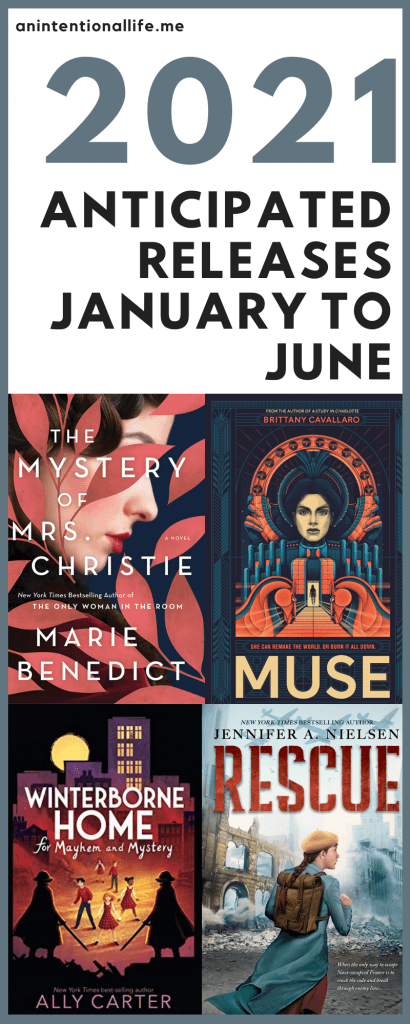 December 30
In December 1926, Agatha Christie goes missing. Investigators find her empty car on the edge of a deep, gloomy pond, the only clues some tire tracks nearby and a fur coat left in the car—strange for a frigid night. Her World War I veteran husband and her daughter have no knowledge of her whereabouts, and England unleashes an unprecedented manhunt to find the up-and-coming mystery author. Eleven days later, she reappears, just as mysteriously as she disappeared, claiming amnesia and providing no explanations for her time away.
The puzzle of those missing eleven days has persisted. With her trademark historical fiction exploration into the shadows of the past, acclaimed author Marie Benedict brings us into the world of Agatha Christie, imagining why such a brilliant woman would find herself at the center of such murky historical mysteries.
What is real, and what is mystery? What role did her unfaithful husband play, and what was he not telling investigators?
Agatha Christie novels have withstood the test of time, due in no small part to Christie's masterful storytelling and clever mind that may n
January 5
Following the death of her closest friend in summer 1968, Meryl Lee Kowalski goes off to St. Elene's Preparatory Academy for Girls, where she struggles to navigate the venerable boarding school's traditions and a social structure heavily weighted toward students from wealthy backgrounds. In a parallel story, Matt Coffin has wound up on the Maine coast near St. Elene's with a pillowcase full of money lifted from the leader of a criminal gang, fearing the gang's relentless, destructive pursuit. Both young people gradually dispel their loneliness, finding a way to be hopeful and also finding each other.
January 7
When Alice and Leo move into a newly renovated house in The Circle, a gated community of exclusive houses, it is everything they've dreamed of. But appearances can be deceptive…
As Alice is getting to know her neighbours, she discovers a devastating secret about her new home, and begins to feel a strong connection with Nina, the therapist who lived there before.
Alice becomes obsessed with trying to piece together what happened two years before. But no one wants to talk about it. Her neighbors are keeping secrets and things are not as perfect as they seem…
February 2
Texas, 1934. Millions are out of work and a drought has broken the Great Plains. Farmers are fighting to keep their land and their livelihoods as the crops are failing, the water is drying up, and dust threatens to bury them all. One of the darkest periods of the Great Depression, the Dust Bowl era, has arrived with a vengeance.
In this uncertain and dangerous time, Elsa Martinelli―like so many of her neighbors―must make an agonizing choice: fight for the land she loves or go west, to California, in search of a better life. The Four Winds is an indelible portrait of America and the American Dream, as seen through the eyes of one indomitable woman whose courage and sacrifice will come to define a generation.
February 2
The year is 1893, and war is brewing in the First American Kingdom. But Claire Emerson has a bigger problem. Claire's father is a sought-after inventor, but he believes his genius is a gift granted to him by his daughter's touch, so he keeps Claire under his control.
As their province prepares for war, Claire plans to escape, even as her best friend, Beatrix, tries to convince her to stay and help with the growing resistance movement that wants to see a woman on the throne.
When her father's weapon fails to fire on the World's Fair's opening day, Claire is taken captive by Governor Remy Duchamp, St. Cloud's young, untried ruler. Remy believes that Claire's touch bestows graces he's never had, and with political rivals planning his demise, Claire might be his only ally.
The last thing that Claire has ever wanted is to be someone else's muse, but she finally has a choice: Will she quietly remake her world from the shadows—or bring it down in flames?
March 2
Six hundred and fifty-seven days ago, Meg Kenyon's father left their home in France to fight for the Allies in World War II, and that was the last time Meg saw him. Recently, she heard he was being held prisoner by the Nazis, a terrible sentence from which Meg fears he'll never return. All she has left of him are the codes he placed in a jar for her to decipher, an affectionate game the two of them shared. But the codes are running low, and soon there'll be nothing left of Papa for Meg to hold on to at all.
Suddenly, an impossible chance to save her father falls into Meg's lap. After following a trail of blood in the snow, Meggie finds an injured British spy hiding in her grandmother's barn. Captain Stewart tells her that a family of German refugees must be guided across Nazi-occupied France to neutral Spain, whereupon one of them has promised to free Meg's father. Captain Stewart was meant to take that family on their journey, but too injured to complete the task himself, he offers it to Meg, along with a final code from Papa to help complete the mission — perhaps the most important, and most difficult, riddle she's received yet.
As the Nazis flood Meg's village in fierce pursuit, she accepts the duty and begins the trek across France. Leading strangers through treacherous territory, Meg faces danger and uncertainty at every turn, all the while struggling to crack her father's code. The message, as she unravels it, reveals secrets costly enough to risk the mission and even her own life. Can Meg solve the puzzle, rescue the family, and save her father?
March 2
Five orphans. Two sword-wielding vigilantes. One mansion. No rules.
April thought she had her happy ending. After all, she has her new house and new friends and new guardian. But she also has a very big new secret.
The kids of Winterborne House are the only ones who know that Gabriel Winterborne—famous billionaire and terrible cook—is really a sword-wielding vigilante.
What they don't know is that he's not the only one.
When a masked figure breaks in, looking for something—or someone—it's clear that Gabriel has met his match, and now no one is safe. April and her friends will have to solve a decades-old mystery in order to hang on to the most important thing in the world: each other.
March 16
With the Marigold ship free of her father, Fable and its crew were set to start over. That freedom is short-lived when she becomes a pawn in a notorious thug's scheme. In order to get to her intended destination she must help him to secure a partnership with Holland, a powerful gem trader who is more than she seems.
As Fable descends deeper into a world of betrayal and deception, she learns that the secrets her mother took to her grave are now putting the people Fable cares about in danger. If Fable is going to save them then she must risk everything, including the boy she loves and the home she has finally found.
Ten Words to Live By: Delighting in and Doing What God Commands – Jen Wilkin
March 30
In Ten Words to Live By, Jen Wilkin reminds readers of the life-giving power of God's perfect law for the believer. The Ten Commandments are words God spoke to a nation recently set free. They are words about obedience and holiness–timeless in their importance and wisdom. Yet today these same words are often misunderstood, forgotten, or simply ignored.
Wilkin teaches readers how the Ten Commandments come to bear on their lives today, helping them to love God and others, live in joyful freedom, and long for that future day when God will be rightly worshiped for eternity. Ancient and timeless, these words cannot be overlooked. They serve as the rightful delight and daily meditation of those who call on the name of the Lord.
May 11
A devastating explosion.
Three best friends are at the venue just to hear their favorite band . . . but only one of them makes it out alive.
A trunk full of planted evidence.
When police stop Dustin with a warrant to search his trunk, he knows it's just a mistake. He's former military and owns a security firm. But he's horrified when they find explosives, and he can't fathom how they got there.
An attorney who will risk it all for a friend.
Criminal attorney Jamie Powell was Dustin's best friend growing up. They haven't spoken since he left for basic training, but she's the first one he thinks of when he's arrested. Jamie knows she's putting her career on the line by defending an accused terrorist, but she'd never abandon him. Someone is framing Dustin to take the fall for shocking acts of violence . . . but why?
June 1
1885.
Adria Fontaine has been sent to recover goods her father pirated on the Great Lakes during the war. But when she arrives at Foxglove Manor–a stone house on a cliff overlooking Lake Superior–Adria senses wickedness hovering over the property. The mistress of Foxglove is an eccentric and seemingly cruel old woman who has filled her house with dangerous secrets, ones that may cost Adria her life.
Present day.
Kailey Gibson is a new nurse's aide at a senior home in a renovated old stone manor. Kidnapped as a child, she has nothing but locked-up memories of secrets and death, overshadowed by the chilling promise from her abductors that they would return. When the residents of Foxglove start sharing stories of whispers in the night, hidden treasure, and a love willing to kill, it becomes clear this home is far from a haven. She'll have to risk it all to banish the past's demons, including her own.
Nowhere – Skyward #3 – Brandon Sanderson
No Release Date Yet
There's no info whatsoever about this book, just that Sanderson says it should be released this year, I am so excited!
What books are coming out in 2021 that you are excited about?
Check back later in the year for a second part where I share books that are coming out in the second half of the year that I am excited about!