The Best Grade Two Chapter Books for Free Reading
Part of my plan for our grade two year is to have some dedicated reading time in our day.
Raeca doesn't need me to tell her to take time to read each day, she does it naturally already but I wanted to add in a little bit of time where she could read a few books I've picked out for her.
One of my regrets when it comes to my reading as a child was that no one introduced me to so many great books. I spent most of my grade three to six years reading ALL the Baby-Sitters Club books. Which is fine, there is nothing wrong with the Baby-Sitters Club books, but I missed out on so many other good ones and I just want to expose my kids to a variety of good books while I still have some influence.
My plan is to keep a couple of these books in our homeschool cart at a time (post on our cart coming soon!) and as Raeca finishes a book I'll add another one in. That way she has a few options and can pick a book that looks the most interesting to her at the moment.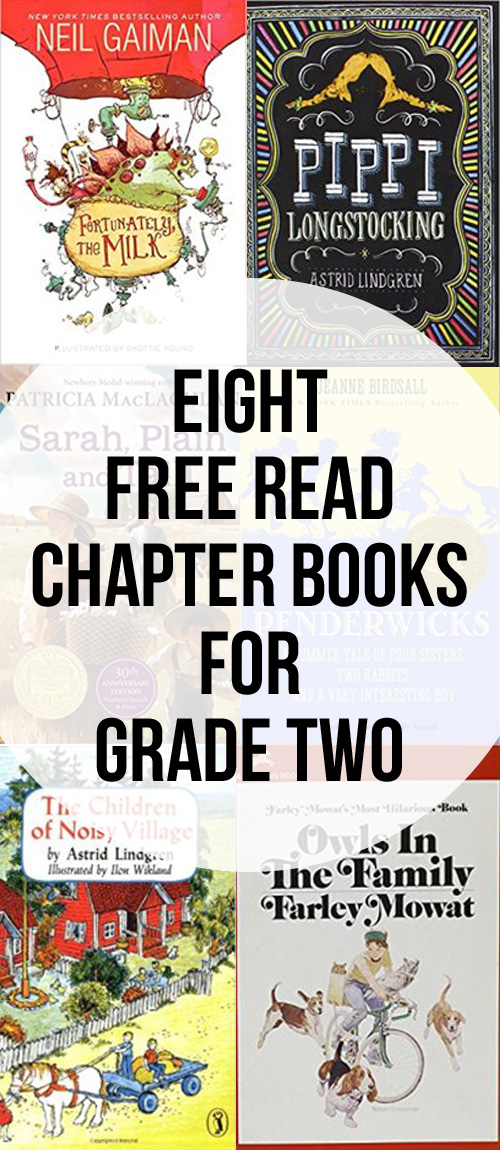 EIGHT
GRADE TWO FREE READS
This book is a family favorite. We've listened to the audio multiple times (read by the author himself, it's so good), and when I found it second hand this summer I knew this was going to end up on the free reads pile. Raeca is really into fantasy books and this one is fun and funny to boot.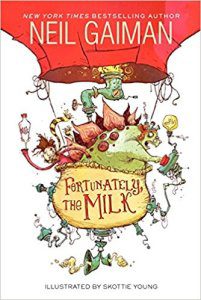 "I bought the milk," said my father. "I walked out of the corner shop, and heard a noise like this: t h u m m t h u m m. I looked up and saw a huge silver disc hovering in the air above Marshall Road."
"Hullo," I said to myself. "That's not something you see every day. And then something odd happened."
Find out just how odd things get in this hilarious New York Times bestselling story of time travel and breakfast cereal, expertly told by Newbery Medalist and bestselling author Neil Gaiman and illustrated by Skottie Young.

This is one I never read as a child and think I would have really enjoyed!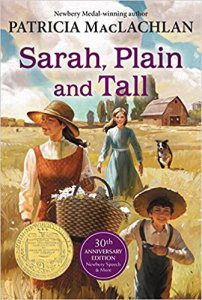 Set in the late nineteenth century and told from young Anna's point of view, Sarah, Plain and Tall tells the story of how Sarah Elisabeth Wheaton comes from Maine to the prairie to answer Papa's advertisement for a wife and mother. Before Sarah arrives, Anna and her younger brother Caleb wait and wonder. Will Sarah be nice? Will she sing? Will she stay?
This children's literature classic is perfect for fans of Laura Ingalls Wilder's Little House on the Prairie books, historical fiction, and timeless stories using rich and beautiful language. Sarah, Plain and Tall gently explores themes of abandonment, loss and love.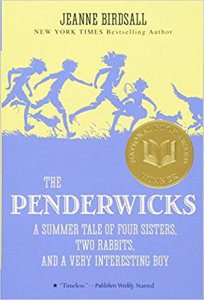 This is such a good, modern day story that could be set in nearly any period of time.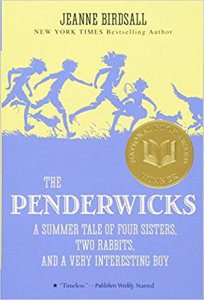 This summer the Penderwick sisters have a wonderful surprise: a holiday on the grounds of a beautiful estate called Arundel. Soon they are busy discovering the summertime magic of Arundel's sprawling gardens, treasure-filled attic, tame rabbits, and the cook who makes the best gingerbread in Massachusetts. But the best discovery of all is Jeffrey Tifton, son of Arundel's owner, who quickly proves to be the perfect companion for their adventures.
The icy-hearted Mrs. Tifton is not as pleased with the Penderwicks as Jeffrey is, though, and warns the new friends to stay out of trouble. Which, of course, they will—won't they? One thing's for sure: it will be a summer the Penderwicks will never forget.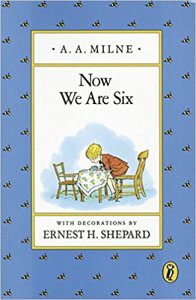 Raeca is turning seven in a month and I thought this would be fun for her to read now while she is still six!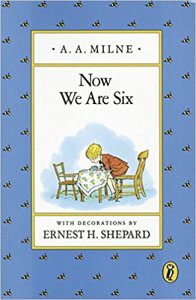 Whether you're six, sixty-six, or anywhere in between, this enchanting collection of verses about Christopher Robin and, of course, Winnie-the-Pooh, will enchant.
Filled with gentle humor and playful rhythms, Now We Are Six contains some of the best-loved poems for children. Between its pages, readers will delight in the always accessible, sun-filled realm of the imagination, perfectly rendered in Ernest Shepard's beautiful illustrations. The essential book for that all-important birthday, Now We Are Six is a classic in its own right, treasured by every new generation of readers.
Let the beloved author of Pippi Longstocking take you on an adventure to Noisy Village!
Go crayfishing in the summer at Nocken, "dipping in the pot" at Christmastime with Lisa and Karl, and join Britta and Anna who know the best way to go about "nutting" for the New Year. In this gently humorous tale, master storyteller Astrid Lindgren takes us through a year in the lives and customs of six Swedish children living on a group of three farms in the countryside.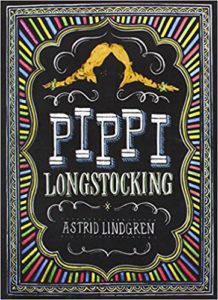 Who doesn't love the silly adventures of Pippi! Raeca already read this book and of course, loved it.
Tommy and Annika have a new neighbor: red-haired, freckle-faced Pippi Longstocking, who has upside-down braids and no parents to tell her what to do. The three children have the most rollicking adventures on their own, with horses and monkeys, the circus, and more!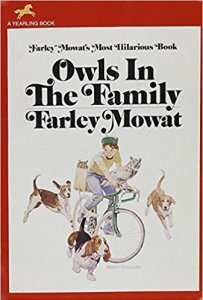 This book is set right in our area (which doesn't happen very often!), so it's a must-read for us, though I know so many people that love this book (and they aren't from around here).
Every child needs to have a pet. No one could argue with that.
But what happens when your pet is an owl, and your owl is terrorizing the neighbourhood?
In Farley Mowat's exciting children's story, a young boy's pet menagerie—which includes crows, magpies, gophers and a dog—grows out of control with the addition of two cantankerous pet owls. The story of how Wol and Weeps turn the whole town upside down s warm, funny, and bursting with adventure and suspense.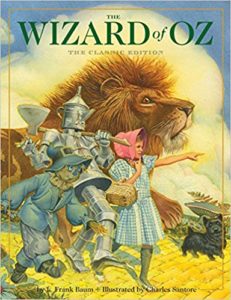 Readers of all ages will follow the Yellow Brick Road on an unforgettable journey that takes them from Dorothy's gray Kansas home into the blue Munchkin land; the sparkling bejeweled Emerald City; the dark, foreboding forest; and the ruby-red throne room of Glinda the Good Witch.
Do you have any books you would add to this list?