AUTUMN BOOK RECOMMENDATIONS – great mystery & suspense, classics, science fiction & YA books!
Last year I realized that autumn is my absolute favorite season.
In previous years autumn had always been overshadowed by the fact that our cold Canadian prairie winters were coming.
But last year I was able to appreciate autumn for all that it is: sweaters and wearing layers, the changing color of the trees, the leaves on the ground, the crisp mornings, hot cocoa and curling up with a good book by the fireplace.
This year I am just as excited, or possibly a little more, for my autumn reading.
Last year I created a list of some great autumnal reads and this year I wanted to make another list – with completely different books and I'm excited to share them with you! This list includes classics, young adult, mystery & suspense as well as science fiction books.
(You can also check out last year's list of autumnal reads here.)
Also, be sure to subscribe to my BookTube channel here!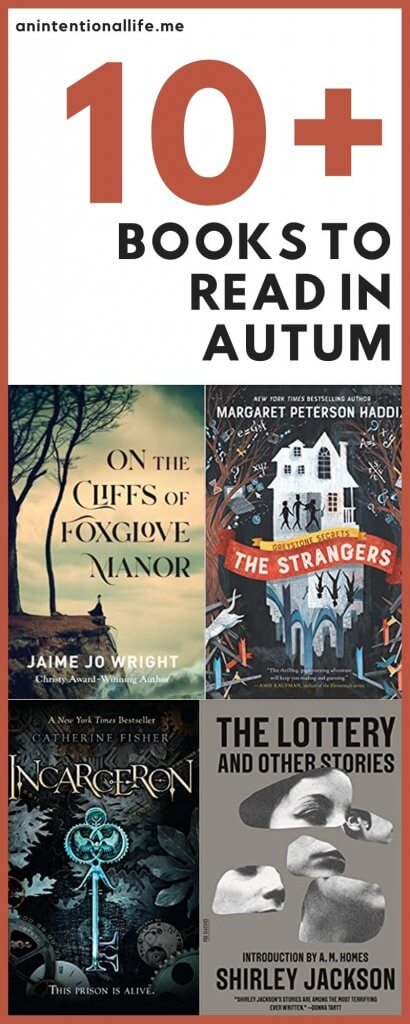 AUTUMN BOOK RECOMMENDATIONS
I've separated the books into four categories: classics, young adult, mystery & suspense and science fiction.
CLASSICS
I read The Lottery in high school and it is a story that has stuck with me. I've since read more of Shirley Jackson's short stories and have really enjoyed them.
The Lottery and Other Stories, the only collection of stories to appear during Shirley Jackson's lifetime, unites "The Lottery" with twenty-four equally unusual short stories. Together they demonstrate Jackson's remarkable range―from the hilarious to the horrible, the unsettling to the ominous―and her power as a storyteller.
I mentioned this book in the video but it is not an official recommendation, this one is one I want to read this autumn!
Shirley Jackson's beloved gothic tale of a peculiar girl named Merricat and her family's dark secret.
Taking readers deep into a labyrinth of dark neurosis, We Have Always Lived in the Castle is a deliciously unsettling novel about a perverse, isolated, and possibly murderous family and the struggle that ensues when a cousin arrives at their estate.
G. K. Chesterton's Father Brown may seem a pleasantly doddering Roman Catholic priest, but appearances deceive. With keen observation and an unerring sense of man's frailties–gained during his years listening to confessions–Father Brown succeeds in bringing even the most elusive criminals to justice.
Following Anne of Green Gables (1908), the book covers the second chapter in the life of Anne Shirley. This book follows Anne from the age of 16 to 18, during the two years that she teaches at Avonlea school. It includes many of the characters from Anne of Green Gables, as well as new ones like Mr Harrison, Miss Lavendar Lewis, Paul Irving, and the twins Dora and Davy.
YOUNG ADULT
Anidori-Kiladra Talianna Isilee, Crown Princess of Kildenree, spends the first years of her life listening to her aunt's stories and learning the language of the birds, especially the swans. As she grows up, Ani develops the skills of animal speech, but she never feels quite comfortable speaking with people.
So when Ani's mother sends her away to be married in a foreign land, she finds herself at the mercy of her silver-tongued lady in waiting, who leads a mutiny that leaves her alone, destitute, and fleeing for her life. To survive, Ani takes on work as a royal goose girl, hiding in plain sight while she develops her forbidden talents and works to discover her own true, powerful voice.
Incarceron is a prison so vast that it contains not only cells and corridors, but metal forests, dilapidated cities, and wilderness. It has been sealed for centuries, and only one man has ever escaped. Finn has always been a prisoner here. Although he has no memory of his childhood, he is sure he came from Outside. His link to the Outside, his chance to break free, is Claudia, the warden's daughter, herself determined to escape an arranged marriage. They are up against impossible odds, but one thing looms above all: Incarceron itself is alive . . .
MYSTERY & SUSPENSE
"A Murder is Announced" is a staple of crime fiction and often considered as the best Miss Marple novel. The villagers of Chipping Cleghorn, including Jane Marple who is staying nearby, are agog with curiosity over an advertisement in the local gazette which reads: 'A murder is announced and will take place on Friday October 29th, at Little Paddocks at 6.30 p.m.'
Is this a childish practical joke? Or a hoax intended to scare poor Letitia Blacklock? Unable to resist the mysterious invitation, a crowd gathers at Little Paddocks at the appointed time when, without warning, the lights go out…
1885.
Adria Fontaine has been sent to recover goods her father pirated on the Great Lakes during the war. But when she arrives at Foxglove Manor–a stone house on a cliff overlooking Lake Superior–Adria senses wickedness hovering over the property. The mistress of Foxglove is an eccentric and seemingly cruel old woman who has filled her house with dangerous secrets, ones that may cost Adria her life.
Present day.
Kailey Gibson is a new nurse's aide at a senior home in a renovated old stone manor. Kidnapped as a child, she has nothing but locked-up memories of secrets and death, overshadowed by the chilling promise from her abductors that they would return. When the residents of Foxglove start sharing stories of whispers in the night, hidden treasure, and a love willing to kill, it becomes clear this home is far from a haven. She'll have to risk it all to banish the past's demons, including her own.
A powerful family with dark secrets.
After personal tragedy, Piper Boone retreats to her childhood home—a secluded mansion for the wealthy Boone family, who are practically American royalty. When catastrophe strikes, her family is put in the spotlight, and the line between victim and suspect gets blurred.
A forensic artist with his own haunting past.
Tucker Landry is drawn to Piper in the midst of the trauma, but the connections being made to her family might prove to be their undoing. With a hurricane beating down on the private island, there isn't much time to find answers.
The truth will determine whether she lives or dies.
Kaely Quinn's talents as an FBI behavior analyst are impossible to ignore, no matter how unorthodox her methods. But when a reporter outs her as the daughter of an infamous serial killer, she's demoted to field agent and transferred to St. Louis.
When the same reporter who ruined her career claims to have received an anonymous poem predicting a string of murders, ending with Kaely's, the reporter's ulterior motives bring his claim into question. But when a body is found that fits the poem's predictions, the threat is undeniable, and the FBI sends Special Agent Noah Hunter to St. Louis.
Initially resentful of the assignment, Noah is surprised at how quickly his respect for Kaely grows, despite her oddities. But with a brazen serial killer who breaks all the normal patterns on the loose, Noah and Kaely are tested to their limits to catch the murderer before anyone else–including Kaely herself–is killed.
SCIENCE FICTION
The Greystone kids thought they knew. Chess has always been the protector over his younger siblings, Emma loves math, and Finn does what Finn does best—acting silly and being adored. They've been a happy family, just the three of them and their mom.
But everything changes when reports of three kidnapped children reach the Greystone kids, and they're shocked by the startling similarities between themselves and these complete strangers. The other kids share their same first and middle names. They're the same ages. They even have identical birthdays. Who, exactly, are these strangers?
Before Chess, Emma, and Finn can question their mom about it, she takes off on a sudden work trip and leaves them in the care of Ms. Morales and her daughter, Natalie. But puzzling clues left behind lead to complex codes, hidden rooms, and a dangerous secret that will turn their world upside down.
Stephen Leeds is perfectly sane. It's his hallucinations who are mad.
A genius of unrivaled aptitude, Stephen can learn any new skill, vocation, or art in a matter of hours. However, to contain all of this, his mind creates hallucinatory people―Stephen calls them aspects―to hold and manifest the information. Wherever he goes, he is joined by a team of imaginary experts to give advice, interpretation, and explanation. He uses them to solve problems . . . for a price.
His brain is getting a little crowded and the aspects have a tendency of taking on lives of their own. When a company hires him to recover stolen property―a camera that can allegedly take pictures of the past―Stephen finds himself in an adventure crossing oceans and fighting terrorists. What he discovers may upend the foundation of three major world religions―and, perhaps, give him a vital clue into the true nature of his aspects.
Be sure to check out my previous autumn recommendations list here!
And hop over to subscribe to my BookTube channel here!