Eight Middle Grade Novel Recommendations
I have been really into middle grade novels in the last few years. At first I was embarrassed about it, I'm in my thirties after all, but then I just decided to roll with it and I've come to learn that I am not alone in my love for middle grade novels!
There is so much I love about middle grade novels, I plan on making that a separate post in the future so keep any eye out for that.
Anyway, I did make a list nearly two years ago with another eight middle grade novels I thought adults would love, today's list actually does have a little overlap and there is no theme other than middle grade. I do want to create more specific middle grade lists (fantasy, novels in verse, coming of age, etc) but that will be awhile yet. For the next few months I am just going to share general mid-grade books I would recommend.
If you have middle grade books you enjoy I would love for you to leave a comment at the bottom of the page – I am always looking for great books to read!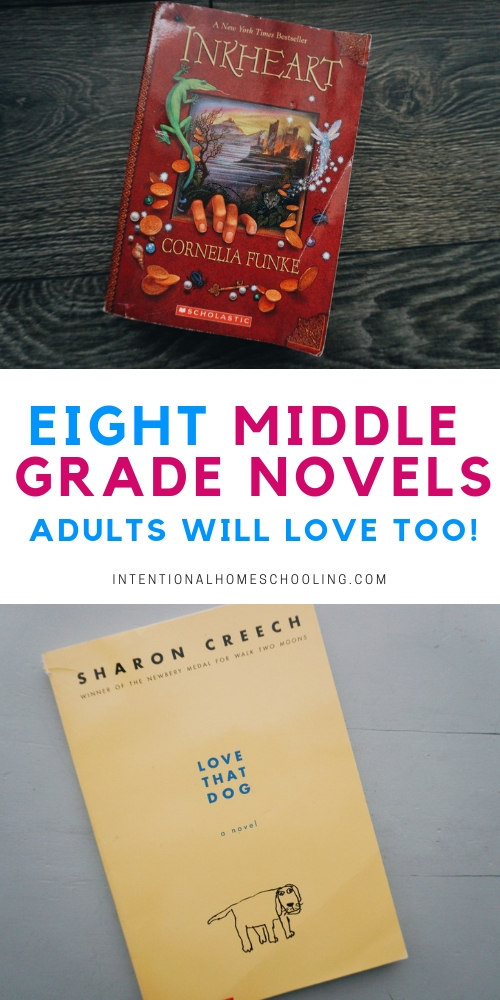 BOOKS MENTIONED IN THE VIDEO
Orphan, clock keeper, and thief, Hugo lives in the walls of a busy Paris train station, where his survival depends on secrets and anonymity. But when his world suddenly interlocks with an eccentric, bookish girl and a bitter old man who runs a toy booth in the station, Hugo's undercover life, and his most precious secret, are put in jeopardy. A cryptic drawing, a treasured notebook, a stolen key, a mechanical man, and a hidden message from Hugo's dead father form the backbone of this intricate, tender, and spellbinding mystery.
Love That Dog shows how one boy named Jack finds his voice with the help of a teacher, a pencil, some yellow paper, and of course, a dog. Written as a series of free-verse poems from Jack's point of view, and with classic poetry included in the back matter, this novel is perfect for kids and teachers, too.
Jack hates poetry. Only girls write it and every time he tries to, his brain feels empty. But his teacher, Miss Stretchberry, won't stop giving her class poetry assignments—and Jack can't avoid them. But then something amazing happens. The more he writes, the more he learns that he does have something to say.
"I guess it does
look like a poem
when you see it
typed up
like that."
Miri lives on a mountain where, for generations, her ancestors have lived a simple life. Then word comes that the king's priests have divined her village the home of the future princess. In a year's time, the prince will choose his bride from among the village girls.
The king's ministers set up an academy on the mountain, and every teenage girl must attend and learn how to become a princess. Soon Miri finds herself confronted with a harsh academy mistress, bitter competition among the girls, and her own conflicting desires. Winning the contest could give her everything she ever wanted–but it would mean leaving her home and family behind.
Meet Holling Hoodhood, a seventh-grader at Camillo Junior High, who must spend Wednesday afternoons with his teacher, Mrs. Baker, while the rest of the class has religious instruction. Mrs. Baker doesn't like Holling—he's sure of it. Why else would she make him read the plays of William Shakespeare outside class? But everyone has bigger things to worry about, like Vietnam. His father wants Holling and his sister to be on their best behavior: the success of his business depends on it. But how can Holling stay out of trouble when he has so much to contend with? A bully demanding cream puffs; angry rats; and a baseball hero signing autographs the very same night Holling has to appear in a play in yellow tights! As fate sneaks up on him again and again, Holling finds Motivation—the Big M—in the most unexpected places and musters up the courage to embrace his destiny, in spite of himself.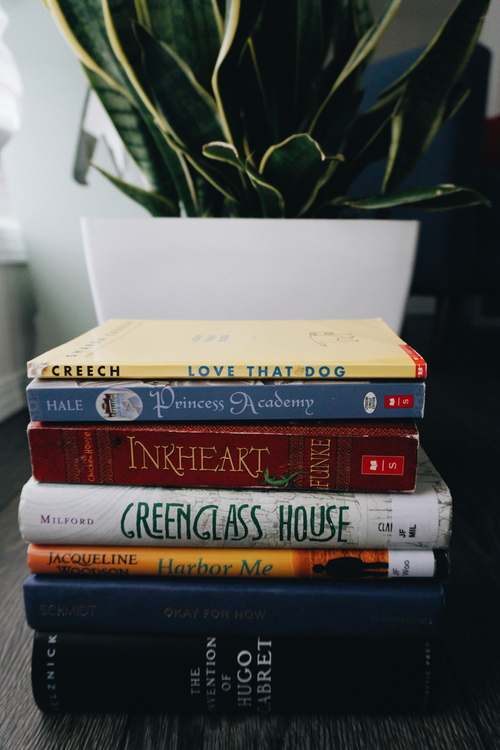 In this companion novel to The Wednesday Wars, Doug struggles to be more than the "skinny thug" that some people think him to be. He finds an unlikely ally in Lil Spicer, who gives him the strength to endure an abusive father, the suspicions of a town, and the return of his oldest brother, forever scarred, from Vietnam. Schmidt expertly weaves multiple themes of loss and recovery in a story teeming with distinctive, unusual characters and invaluable lessons about love, creativity, and survival.
One cruel night, Meggie's father reads aloud from a book called INKHEART– and an evil ruler escapes the boundaries of fiction and lands in their living room. Suddenly, Meggie is smack in the middle of the kind of adventure she has only read about in books. Meggie must learn to harness the magic that has conjured this nightmare. For only she can change the course of the story that has changed her life forever.
It's wintertime at Greenglass House. The creaky smuggler's inn is always quiet during this season, and twelve-year-old Milo, the innkeepers' adopted son, plans to spend his holidays relaxing. But on the first icy night of vacation, out of nowhere, the guest bell rings. Then rings again. And again. Soon Milo's home is bursting with odd, secretive guests, each one bearing a strange story that is somehow connected to the rambling old house. As objects go missing and tempers flare, Milo and Meddy, the cook's daughter, must decipher clues and untangle the web of deepening mysteries to discover the truth about Greenglass House—and themselves.
It all starts when six kids have to meet for a weekly chat–by themselves, with no adults to listen in. There, in the room they soon dub the ARTT Room (short for "A Room to Talk"), they discover it's safe to talk about what's bothering them–everything from Esteban's father's deportation and Haley's father's incarceration to Amari's fears of racial profiling and Ashton's adjustment to his changing family fortunes. When the six are together, they can express the feelings and fears they have to hide from the rest of the world. And together, they can grow braver and more ready for the rest of their lives.