An Overview of Our Homemade Grade 1 & Preschool Curriculums
Today is our official start to our first year homeschooling!
I have been waiting for this day for about 3 years and I'm kind of nervous that it will all blow up in our faces, I don't think it will but that fear is definitely there.
When I started thinking about what I all wanted the kids to learn this year part of me got overwhelmed and just wanted to buy a full pre-made curriculum. BUT one of the reasons we are homeschooling is to have more flexibility in our days and our learning and I knew that wouldn't be the best way for us.
So, I decided to hack together a bit of a curriculum (have you watched the hackschooling Tedx talk, so good!). I definitely have a bit of an unschoolers heart but at the same time I want to be able to have a bit of an idea of what we have learned. Plus, at this point my daughter really want to know when we are "doing school" so we are taking a bit of a Charlotte Mason/Unschooling/not sure what else approach. Over all our curriculum is very literature (and notebooking) heavy, we love books here and it's the perfect way for us to learn about subjects we are interested in.
Below I've shared an overview of our curriculum and many of these subjects I have full posts on (or will soon) so you can follow those links as well.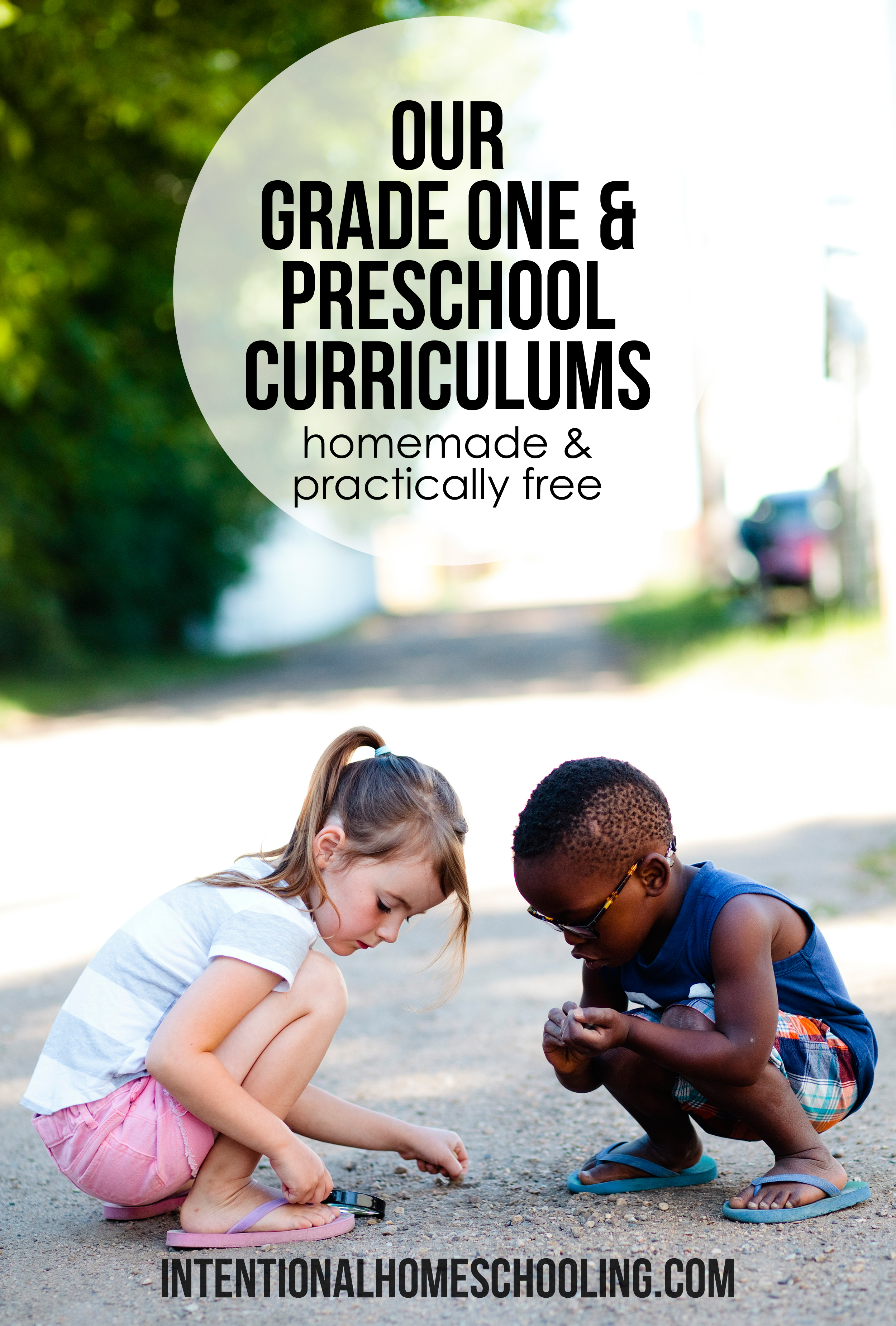 GRADE ONE CURRICULUM
BIBLE
We will be following the Ambleside Online weekly Bible reading schedule for Year 1. Later in the year we will also be reading some missionary biographies.
LANGUAGE ARTS
READING – Our language arts will mostly be a lot of reading, including me reading aloud, audio books and a lot of reading practice for Raeca (I plan on sharing my list of read alouds for this year soon and you can always find out which books we did read in our monthly books we read posts). I also plan on incorporating poetry through a weekly poetry tea time.
WRITING – we will do some work in a Handwriting Without Tears workbook to work on technique and then we will be notebooking for most of our other subjects.
MATH
We have a grade 1 math workbook we will be going through because my daughter loves workbooks but we will also be incorporating a lot of math into real life. You can read our full math plan here.
SCIENCE
I am following the grade 1 science plan from The Well-Trained Mind. For grade 1 that means we will study animals, the human body and plants. Here's our science overview!
HISTORY
For history, every 2-3 months we will learn about a different time periods in history; Ancient Times, Middle Ages, Early Modern Era and Modern Era. We will be reading a number of books in each time period, putting them on a timeline and doing a lot of notebooking. I am working on a full post for this that will be coming soon, for now you can check out our elementary ancient times book list.
GEOGRAPHY
Geography was something that I was never really taught in school, it was my personal interest in travel (and reading) that lead me to learn where countries are in the world. My enthusiasm has affected my children because I am always showing them where places are on the map, every time we read or hear about a place.
We are keeping geography super simple this year by focusing on a different country or city each month and reading lots of books about them. We will also learn about landmarks, some of the different foods, special holidays and more. We have actually started to read/learn about Paris so that's our first city for the year, I'll have a list of Paris picture books up on Friday and I hope to have a full post to share about our Paris studies soon!
ART
I was tempted to make art very formal and complicated but decided to take it easy, it's grade 1 after all. I plan on purchasing a good art book where we can talk about a few artists and pieces of artwork and maybe try to copy a few here and there. We also plan on utilizing Art Hub for Kids' free YouTube videos. I will share a post with more details in a few weeks.
MUSIC
For music we are focusing on three things: theory study, composer study and piano. You can see the detailed music post here.




SPANISH
Spanish is something we will just be doing a little bit. I've been learning it a bit on my own (via Duolingo) and because of that Raeca has been picking up on a few things and wanting to learn more. Our full Spanish plan is here.
PHYSICAL EDUCATION
I don't have a actual plan for physical education but we hope to put Raeca into gymnastics this fall, we have a family swim pass and plan on just generally spending time outdoors playing in nature and riding bikes.
As for a schedule, my plan right now is to do Bible, language arts and math each day. Then Monday and Wednesday we will also add in science, Tuesday will be geography and Thursday will be history. Friday will be more of a fun day and we will work on music and art and then possibly learn through some computer games or videos. I still don't have time slots for our Spanish or poetry tea time, I'm going to see after the first week or two where it fits in best.

PRESCHOOL
Ephraim is 3 years old and definitely different than Raeca was at 3. He doesn't like to sit still for long, has little interest in coloring and even less interest in writing, so I don't have huge expectations for the year but I do have a few goals.
For most of the reading I do with Raeca he will be sitting with us and probably doing something with his hands like playing with Lego or Playdough. I also want a bit of a learning plan for him so that he can be busy doing something while Rae is working on her work because as a highly sensitive child she needs it to be fairly quiet when she is working.
Originally my plan was to use one of the free curriculums I found online for preschool but they were all so much more intensive than I wanted. Since he doesn't enjoy sitting for very long and doesn't have the hand muscles to write yet, the last thing I want to do is try to do too much with him and turn him off. All I was looking for was something that would tell me one thing to do with him each day and I just couldn't find something like that, so I did what I always do in that situation: DIY.
I've started to create a nice simple three-year-old curriculum with one thing for us to do together each day. Since I'm making this up for myself I decided to share it for anyone else that wants to use it as well. So far I have the first month planned out but I'm hoping to sit down and plan out till Christmas soon.
The curriculum (using that term very loosely) that I am creating will follow the goals that I have for Ephraim for this preschool year:
know uppercase and lowercase letters
count and recognize numbers to 20
correctly hold and use scissors
be able to correctly count objects
draw basic shapes
learn nursery rhymes (I've been slacking with him!)
recognize and print his name
begin learning letter sounds
Check out the free preschool curriculum here! (I am actually kind of tempted to write out our grade 1 curriculum in this way as well, if that would be helpful for you let me know!)
And that's the gist of our plans for grade 1 & preschool!
Here's to the first day of the school year!