Monthly Scripture Writing Challenge: Orphan Care
With November being Adoption Awareness Month and Ephraim's adoption anniversary it seems like the perfect month for an orphan care Scripture writing challenge.
I don't think that every Christian needs to adopt or foster (but I'm not opposed to the idea either!) but we are all called to help the fatherless and needy.
You'll notice that the verses for this challenge are not all orphan specific, there are a lot of verses about doing good that don't specifically point out orphan care. It plainly says in the Bible that people will know we are Christians by the way we treat those around us and one of the ways we can do this is by caring for the orphan.
If you are interested in looking at previous Scripture Writing Challenges I've created a couple of others so far.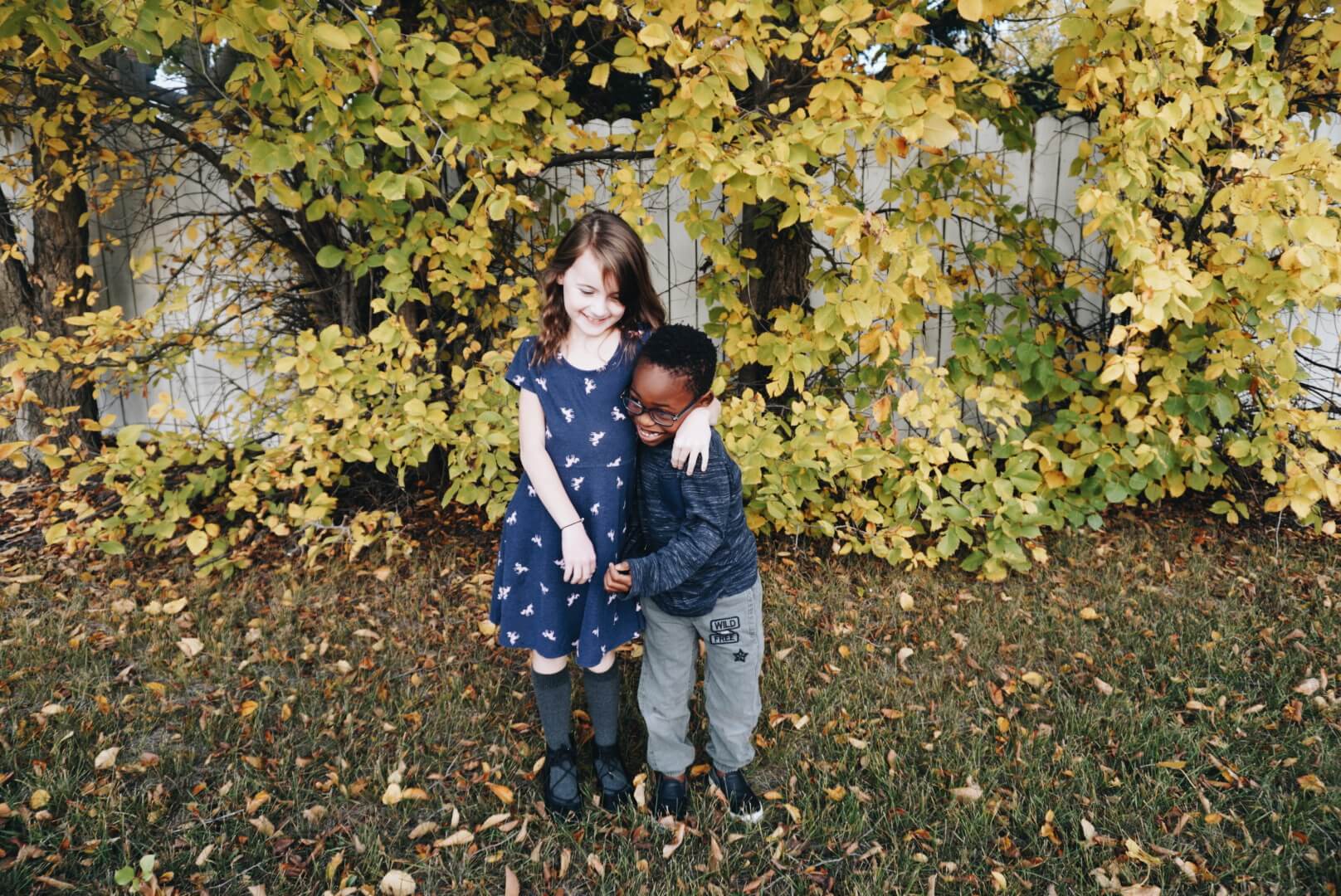 You definitely don't have to write out the verses every single day to take part in the challenge. I understand that life happens and we get behind.
One of my pastors once used this illustration for daily Bible reading, he said something to the effect of: if you missed breakfast and lunch one day, you don't need to first eat breakfast and lunch before you can have supper.
The same thing applies to Bible reading and Scripture writing. Just continue on with where you should be, you don't need to go back and do all the previous days.
October was the first month since July that I didn't stay on top of my Scripture writing, I got sick and still had good intentions, I got my Bible and notebook out and looked at the verses and my brain just couldn't make sense of any of it so I had to wait a few days before starting back up, it happens. Then we got our first foster care placement and had to do two full days of first aid and CPR training on very little sleep, so I missed a few days there as well.
Don't focus on the missed days, focus on the days you got into the Word.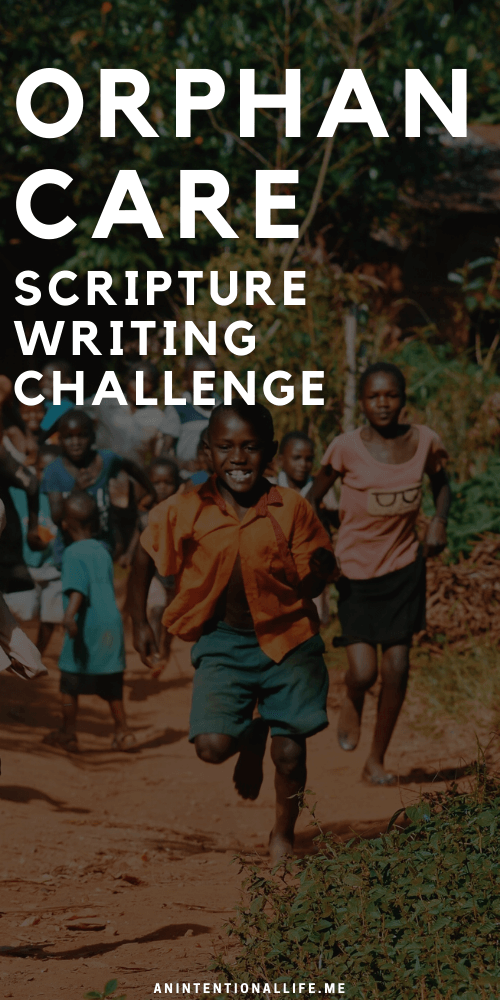 I am really excited about the theme for this month because it is a topic I have felt very passionately about since I was fifteen.
I am hoping to do some adoption awareness posts both on Instagram and here on the blog but am not really committing to anything specific at this time since life feels a little crazy at the moment though I do plan on concentrating most of my posts here (because I like blogging more than I like Instagram).
If you are interested in reading more on topic you can check out our adoption timeline and adoption posts as well as our fostering timeline and fostering posts.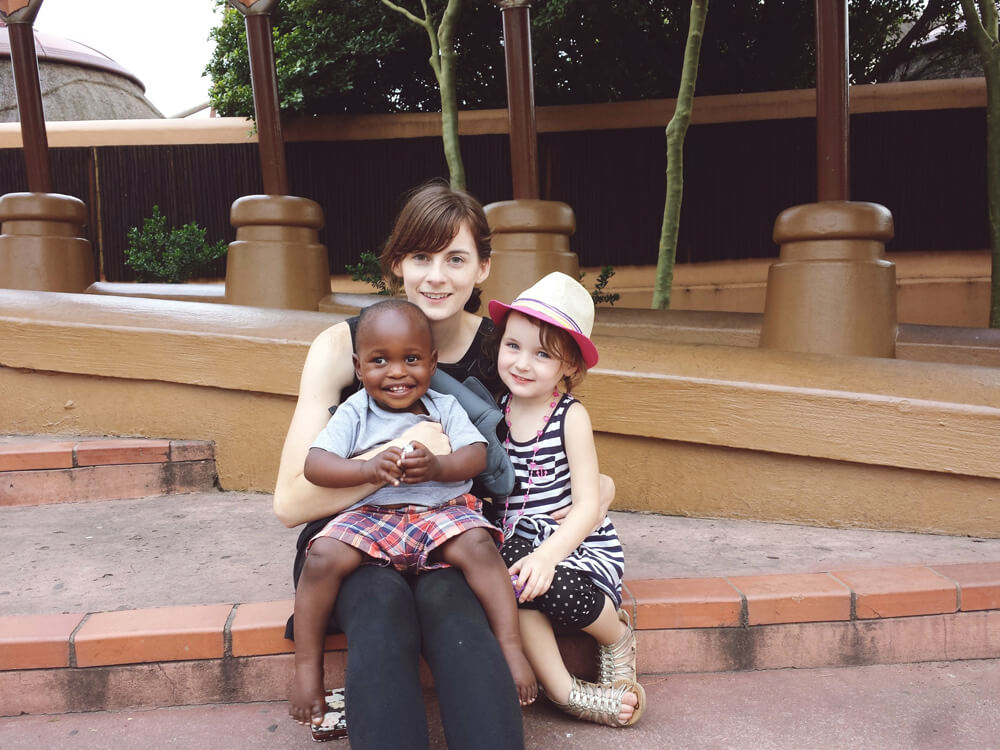 Look at this flashback to a couple weeks after we adopted Ephraim! <3
As with all my Scripture Writing Challenges I've left them just numbered with no days of the week and there are thirty-one verses/passages. I always feel the need on months where there aren't thirty-one days to point out that yes, I do know there are not thirty-one days in the month, but I want to have that many verses in case people decided to do the challenge in a month where there is thirty-one days. See, I am (a little) smart.
To get the printable Scripture writing challenge just sign up here and you'll get an email with info on how to access all the freebies on this site:
BIBLE VERSES ABOUT ORPHAN CARE AND CARING FOR OTHERS
I also wanted to try something different this month and include the actual verses here instead of just the printable. I like making the printable because you can use your preferred version of the Bible and actually go to each passage but for this month I wanted to try having the full verses here. These are all in the ESV unless otherwise noted.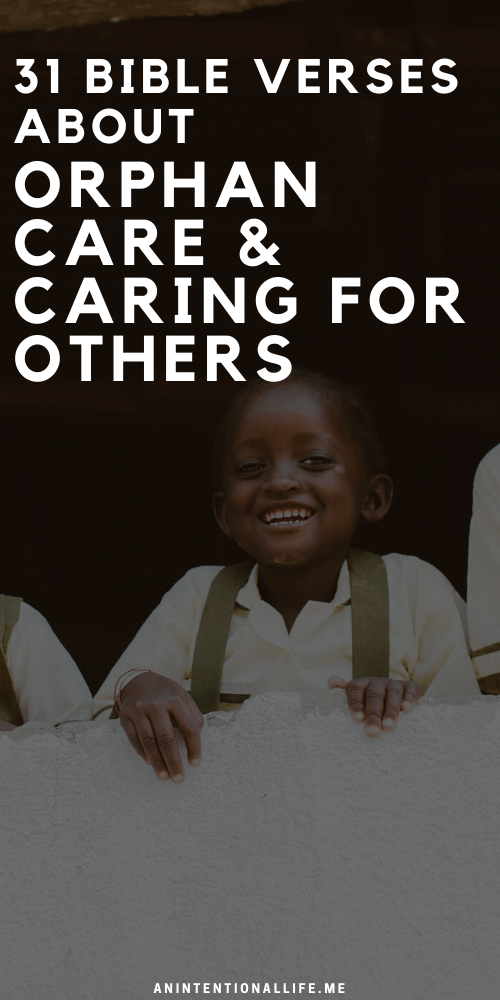 James 1:27 (NLT)
Pure and genuine religion in the sight of God the Father means caring for orphans and widows in their distress and refusing to let the world corrupt you.
Isaiah 1:17
Learn to do good;
seek justice,
    correct oppression;
bring justice to the fatherless,
    plead the widow's cause.
Ezekiel 16:48-50
As I live, declares the Lord God, your sister Sodom and her daughters have not done as you and your daughters have done. Behold, this was the guilt of your sister Sodom: she and her daughters had pride, excess of food, and prosperous ease, but did not aid the poor and needy. They were haughty and did an abomination before me. 

Jeremiah 22:15-16
Do you think you are a king
    because you compete in cedar?
Did not your father eat and drink
    and do justice and righteousness?
    Then it was well with him.
He judged the cause of the poor and needy;
    then it was well.
Is not this to know me?
    declares the Lord.
Psalm 68:5-6
Father of the fatherless and protector of widows
    is God in his holy habitation.
God settles the solitary in a home;
    he leads out the prisoners to prosperity,
    but the rebellious dwell in a parched land.
1 Thessalonians 3:11-13
Now may our God and Father himself, and our Lord Jesus, direct our way to you, and may the Lord make you increase and abound in love for one another and for all, as we do for you,  so that he may establish your hearts blameless in holiness before our God and Father, at the coming of our Lord Jesus with all his saints.
John 14:18
"I will not leave you as orphans; I will come to you."
Galatians 2:10
Only, they asked us to remember the poor, the very thing I was eager to do.
Luke 12:33-34
Sell your possessions, and give to the needy. Provide yourselves with moneybags that do not grow old, with a treasure in the heavens that does not fail, where no thief approaches and no moth destroys. For where your treasure is, there will your heart be also.
Matthew 25:35-36
For I was hungry and you gave me food, I was thirsty and you gave me drink, I was a stranger and you welcomed me, I was naked and you clothed me, I was sick and you visited me, I was in prison and you came to me.
James 2:15-16
If a brother or sister is poorly clothed and lacking in daily food, and one of you says to them, "Go in peace, be warmed and filled," without giving them the things needed for the body, what good is that?
Isaiah 58:6-10
"Is not this the fast that I choose:
to loose the bonds of wickedness,
to undo the straps of the yoke,
to let the oppressed go free,
and to break every yoke?
Is it not to share your bread with the hungry
and bring the homeless poor into your house;
when you see the naked, to cover him,
and not to hide yourself from your own flesh?
Then shall your light break forth like the dawn,
and your healing shall spring up speedily;
your righteousness shall go before you;
the glory of the Lord shall be your rear guard.
Then you shall call, and the Lord will answer;
you shall cry, and he will say, 'Here I am.'
If you take away the yoke from your midst,
the pointing of the finger, and speaking wickedness,
if you pour yourself out for the hungry
and satisfy the desire of the afflicted,
then shall your light rise in the darkness
    and your gloom be as the noonday.

Matthew 18:5
Whoever receives one such child in my name receives me.

Proverbs 28:27
Whoever gives to the poor will not want,
    but he who hides his eyes will get many a curse.

Psalm 82:3-4
Give justice to the weak and the fatherless;
maintain the right of the afflicted and the destitute.
Rescue the weak and the needy;
    deliver them from the hand of the wicked.

1 Samuel 2:8
He raises up the poor from the dust;
he lifts the needy from the ash heap
to make them sit with princes
and inherit a seat of honor.
For the pillars of the earth are the Lord's,
    and on them he has set the world.

Matthew 19:21
Jesus said to him, "If you would be perfect, go, sell what you possess and give to the poor, and you will have treasure in heaven; and come, follow me."

Psalm 146:9
The Lord watches over the sojourners;
he upholds the widow and the fatherless,
    but the way of the wicked he brings to ruin.

Deuteronomy 10:18
He executes justice for the fatherless and the widow, and loves the sojourner, giving him food and clothing.

Proverbs 31:8-9
Open your mouth for the mute,
for the rights of all who are destitute.
Open your mouth, judge righteously,
    defend the rights of the poor and needy.

Matthew 25:40
And the King will answer them, 'Truly, I say to you, as you did it to one of the least of these my brothers, you did it to me.'

Philippians 2:4
Let each of you look not only to his own interests, but also to the interests of others.

Galatians 6:2
Bear one another's burdens, and so fulfill the law of Christ.

Romans 12:10
Love one another with brotherly affection. Outdo one another in showing honor.

Proverbs 21:13
Whoever closes his ear to the cry of the poor
    will himself call out and not be answered.

Ephesians 4:32
Be kind to one another, tenderhearted, forgiving one another, as God in Christ forgave you.

Matthew 5:16
In the same way, let your light shine before others, so that they may see your good works and give glory to your Father who is in heaven.

Ephesians 5:1-2
Therefore be imitators of God, as beloved children. And walk in love, as Christ loved us and gave himself up for us, a fragrant offering and sacrifice to God.

Colossians 3:23-24
Whatever you do, work heartily, as for the Lord and not for men,knowing that from the Lord you will receive the inheritance as your reward. You are serving the Lord Christ.

John 13:34-35
A new commandment I give to you, that you love one another: just as I have loved you, you also are to love one another.By this all people will know that you are my disciples, if you have love for one another.

1 John 3:17-18
But if anyone has the world's goods and sees his brother in need, yet closes his heart against him, how does God's love abide in him? Little children, let us not love in word or talk but in deed and in truth.