Monthly Scripture Writing Challenge: Parenting
I mentioned in my last post that I have really been enjoying Scripture writing over the last number of months (and on and off over the last number of years).
I have been printing off a monthly Scripture writing challenge for the last few months which has been good but that particular site basis their verses off of the Bible study they are currently going through and because I don't pay for the Bible study the monthly Scripture writing can feel a little all over the place.
So, I decided to do what I always decide to do in this kind of situation: make my own.
If I were really on the ball I would have had this all ready to go at the beginning of the month but I only had the idea a couple of days ago so here we are, almost a week into the month. I could let my Type A side beat myself up over that fact or I could just get over it since it's the Bible and people can copy it whenever they want.
I decided to ignore the Type A side.
Because we are in the "start" of our homeschool year ("start" because we homeschool light all year round and a little more intensely in the colder months) I thought I would go with a parenting theme for this month.
If I were to be honest, and I am, parenting has been the hardest thing I have ever done in my entire life.
It has been challenging, humbling and has made me grow more than any other thing in my life.
I thought I had my life pretty much together, and then I had kids.
It turns out I am incredibly selfish and didn't even realize it until my time was no longer my own.
But man, parenting is so incredibly rewarding. It is worth every sleepless night.
(Which is a good thing because we are getting ready to start all over again.)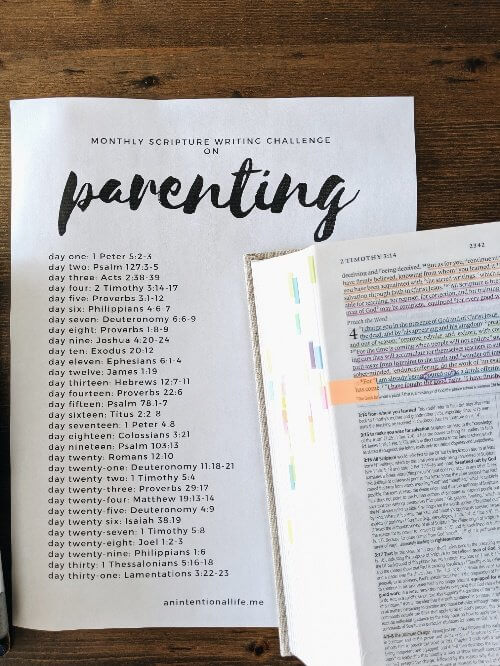 So, for the next month I am going to be copying out verses and passages all related to parenting (and because I'm starting a few days late I will double up on some days).
I have created a printable if you would like to join me. You can jump in this month or any time you want because it's the Bible and you can copy it any time you want.
To get the free Scripture writing challenge just sign up here and you'll get an email with info on how to access all the freebies on this site:
Because my brain likes to work over time I already have plans to have a Thanksgiving one for October (because: Canadian!), an adoption one for November (because: adoption month) and an Advent one for December (because: Christmas!). Since I actually have those ideas already they should be up a few days before that month happens. I will be emailing when the new ones are up so make sure you are signed up for my newsletter to be in the know.
If you are going to do the Scripture writing challenge, either this month or any other, I would love it if you would leave me a comment and let me know so I can be praying for you and your family during the month.