10 Gorgeous Books To Go With A Chic Nursery
Did you know that books can not only be great to read but also gorgeous decor in a nursery?
While I have no intentions of ever decorating a nursery ever again, I think these books would make cute gifts for any little girl's room!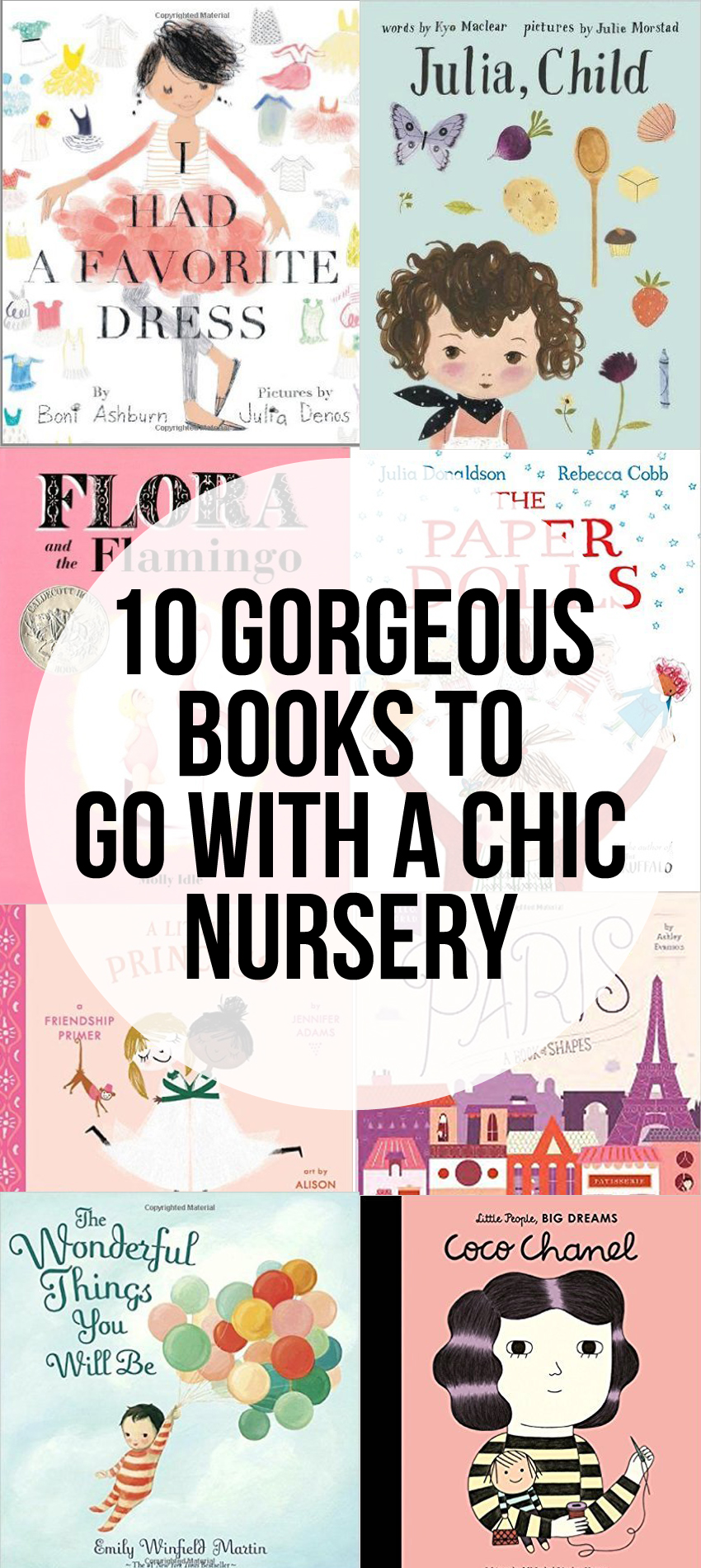 10 GORGEOUS BOOKS
TO DECORATE A GIRLS ROOM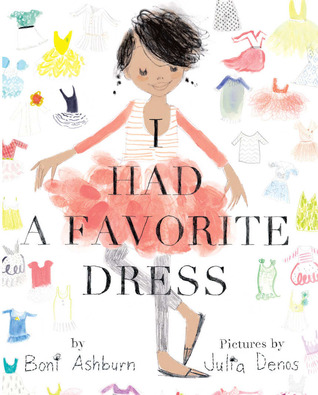 We loved this book!
Open up a fresh and stylish story about growing up and keeping hold of your favorite memories. As the year passes, the narrator's favorite dress goes through a series of creative changes, from dress to shirt to tank top to scarf and so on, until all that's left of it is a good memory. Assisted by her patient and crafty mama, the narrator finds that when disaster strikes her favorite things, she doesn't need to make mountains out of molehills—she "makes molehills out of mountains" instead! Structured around the days of the week, the story is also illustrated to show the passing of the seasons, a perfect complement to the themes of growing older and keeping hold (and letting go) of special mementos.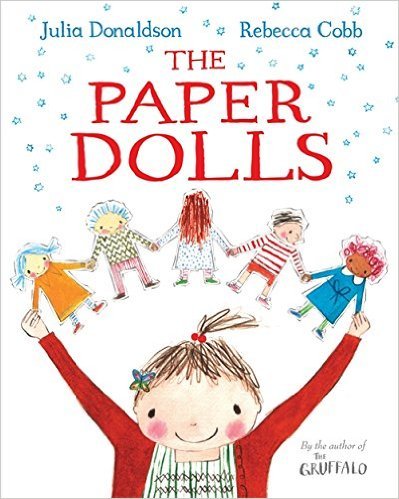 This is one of our all time favorites! Every girl should own this one.
A string of paper dolls go on a fantastical adventure through the house and out into the garden. They soon escape the clutches of the toy dinosaur and the snapping jaws of the oven-glove crocodile, but then a very real pair of scissors threatens.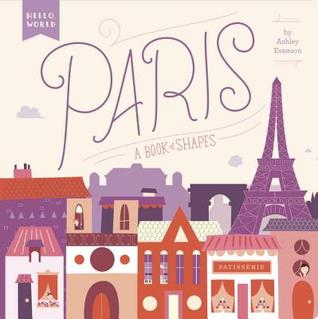 Introducing Hello, World, an exciting new board book series that pairs early learning concepts with colorful, stylish illustrations of cities around the world. Paris is a treasure trove of fascinating shapes: there are triangles at the Louvre Museum, rectangles at Notre-Dame Cathedral, arches at the Arc de Triomphe, and stars in a beautiful Parisian night sky. Explore shapes all over Paris in this gorgeous board book!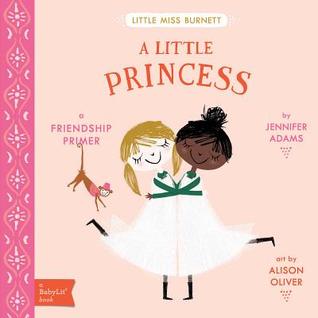 Eek, how cute is this? I'm a fan of the novel and the movie, and this looks so sweet!
Adams and Oliver team up again to teach literary-minded tots the importance of friendship in A Little Princess: A BabyLit® Friendship Primer. Each page introduces Sarah's friends with text from the original novel, A Little Princess, showing little ones that friends can be found in surprising places.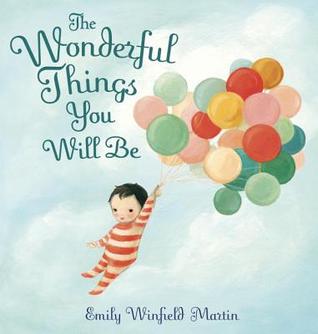 From brave and bold to creative and clever, Emily Winfield Martin's rhythmic rhyme expresses all the loving things that parents think of when they look at their children. With beautiful, and sometimes humorous, illustrations, and a clever gatefold with kids in costumes, this is a book grown-ups will love reading over and over to kids—both young and old. A great gift for any occasion, but a special stand-out for baby showers, birthdays, and graduation. The Wonderful Things You Will Be has a loving and truthful message that will endure for lifetimes.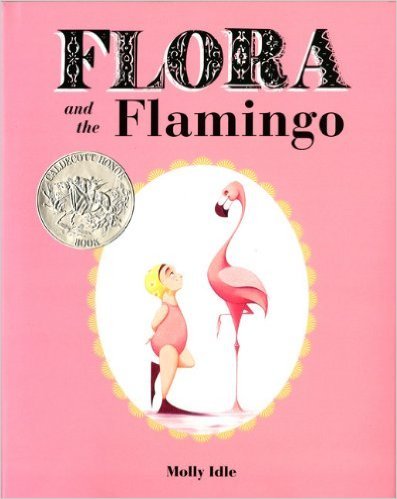 This wordless book is so sweet and is written like a dance. It's really fun for little girls to act it out along with the book.
In this innovative wordless picture book with interactive flaps, Flora and her graceful flamingo friend explore the trials and joys of friendship through an elaborate synchronized dance. With a twist, a turn, and even a flop, these unlikely friends learn at last how to dance together in perfect harmony. Full of humor and heart, this stunning performance (and splashy ending!) will have readers clapping for more!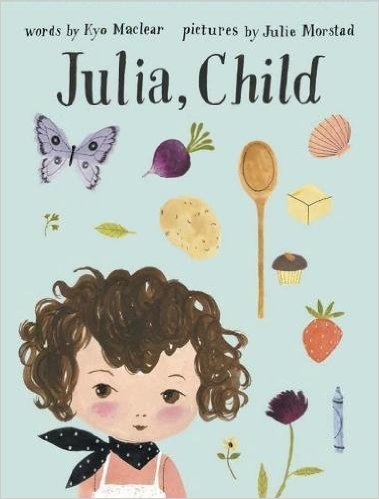 Julia and Simca are two young friends who agree that you can never use too much butter — and that it is best to be a child forever. Sharing a love of cooking and having no wish to turn into big, busy people who worry too much and dawdle too little, they decide to create a feast for growing and staying young. A playful, scrumptious celebration of the joy of eating, the importance of never completely growing up and mastering the art of having a good time, Julia, Child is a fictional tale loosely inspired by the life and spirit of the very real Julia Child — a story that should be taken with a grain of salt and a generous pat of butter.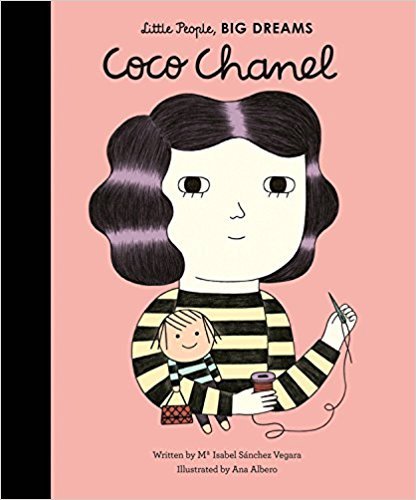 In this new series, discover the lives of outstanding people from designers and artists to scientists. All of them went on to achieve incredible things, yet all of them began life as a little child with a dream. The first book follows Coco Chanel, from her early life in an orphanage–where she is a genius with needle and thread–to her time as a cabaret singer, hat maker, and, eventually, international fashion designer. This inspiring and informative little biography comes with extra facts about Coco's life at the back.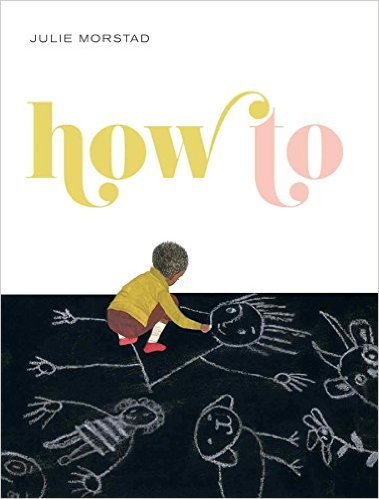 This imaginative 'how to' book explores whimsical ways of doing a host of different tasks, including 'how to wonder', 'how to see the breeze', and 'how to be brave'. With text and images by award-winning illustrator Julie Morstad, this book will be beloved by all ages.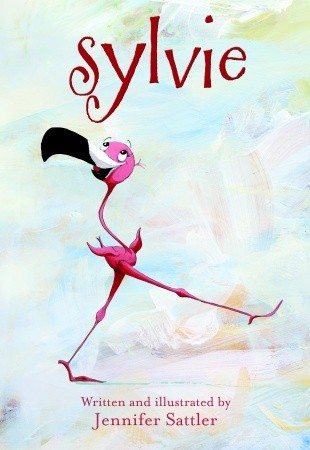 Meet a flamingo of a different stripe. When all-too-curious Sylvie learns that the reason she is pink is because of her diet, she decides to do a little experimenting! At first, Sylvie likes trying out different colors and patterns, but ultimately she learns the valuable lesson that sometimes it's best to just be yourself.