Our DIY Charlotte Mason Homeschool Schedule – Part Two
Welcome back to what is turning out to be an entire series on Charlotte Mason homeschooling!
In case you missed them and want to check out the other posts, here's where you can find them:
Like I've mentioned in my previous posts I have always loved the idea of the Charlotte Mason method but have struggled with how it actually works. Obviously I have a bit of troubles taking something abstract and turning it into a concrete plan.
A few months ago I took a few weeks to really try to figure this out and I think I've come up with something fairly straightforward and yet will be really great for our family.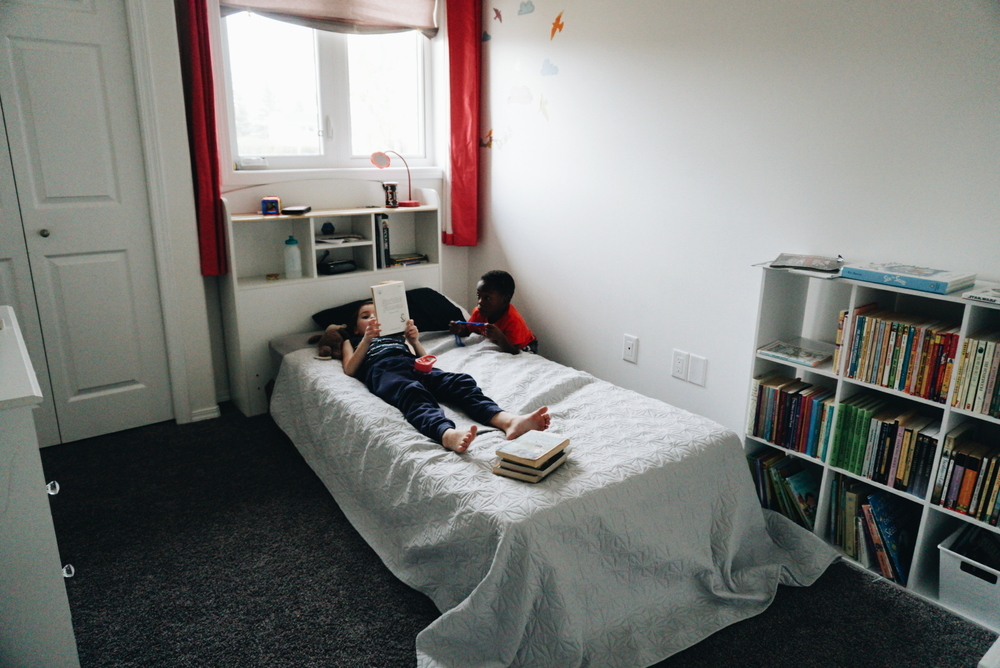 In this post I am going to tell you how I am taking all our lists of books and resources and turning them into a daily/weekly schedule. You can totally do the same thing if you want to make your own DIY CM schedule. You would just take a look at the different subjects and gather different books and resources and then plug them in as I share in this post and voila; your personalized Charlotte Mason curriculum.
One thing I did not do is create a detailed plan for our full year filling it exactly what we are going to do each week. I have decided to take each week as it comes. This is for a couple of reasons: first of all, we are coming from a more relaxed homeschool with no schedule and I feel like if I create a schedule we'll fall behind immediately and then I'll just scrap the whole thing, I don't want that. I also wanted to do it this way because I want to be flexible, that is a huge reason we homeschool to begin with so it seems counter-intuitive to create this rigid schedule. This has already proven to be useful because I had planned for us to start school today but instead we will be attending my husband's grandpa's funeral. I find that the ability to be flexible in our schedule helps me to be more present in life because I don't have to constantly feel behind.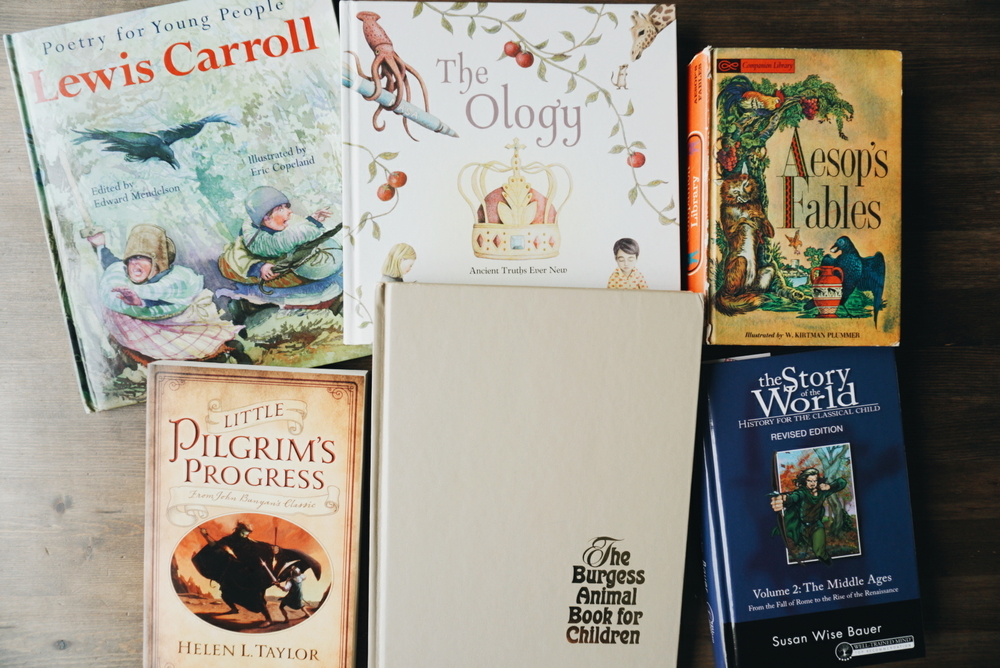 This coming summer I actually plan to "take the summer off" at least more than we have in the past so anything that I really wanted to get done this year that we haven't finished but the time summer comes we can carry over into the summer.
I actually got this idea of my weekly layout from somewhere but it was after many internet rabbit trails and I'm not sure exactly which site it was from now, if I come across it again I'll definitely add a link in here.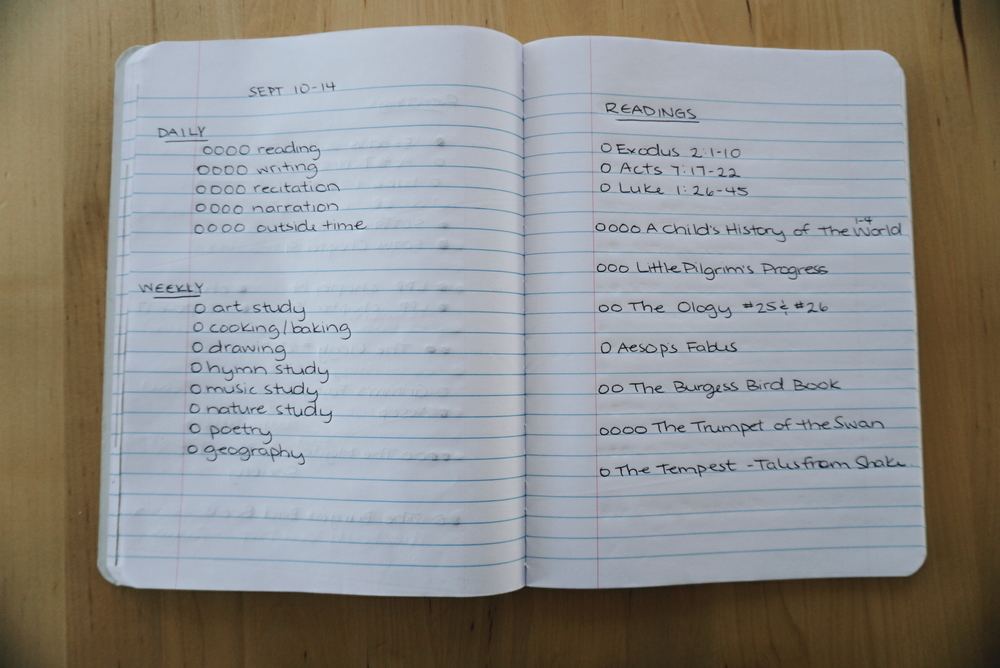 For my weekly plan I decided to separate our daily activities and our weekly ones. Oh, and one other note, I am only planning for four days of school, most weeks I am hoping four days will work for us, and then if we need we can use the fifth day for catch up.
On the list for our daily activities are: reading, writing, recitation, narration and outside time. Then our weekly list includes: art/art study, cooking/baking, drawing, geography, handicrafts, hymn study, music study, nature study, and poetry. There are a couple of subjects that aren't included in either our daily or weekly list that are covered in the "readings" section of the schedule.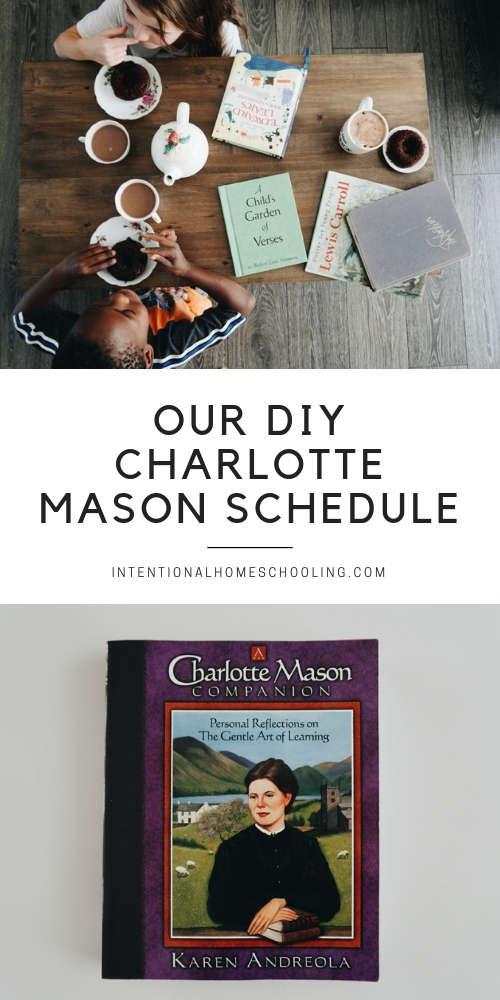 I've included circles to fill in with each of the subjects and readings. So each day I make sure we will do some reading (that's independent for my third grader and reading practice for my kindergartner), writing, recitation, narration and outside time. And then for our readings I will pick a few to do each day. The books that we do multiple readings of I make sure to spread out throughout the week so we don't read all the chapters of Pilgrim's Progress on one day but rather do one a day.
Our weekly activities are often done in the afternoon. They tend to be the more "extra curricular" activities.
STARTING SLOW
The Charlotte Mason method can be a bit overwhelming because there are so many good resources a person wants to get to!
One way to ease into this type of schedule is to start by disregarding the weekly activities and slowly adding a couple in each week. We did a bit of this in the summer and I'm actually leaving handicrafts off our list for a few more weeks.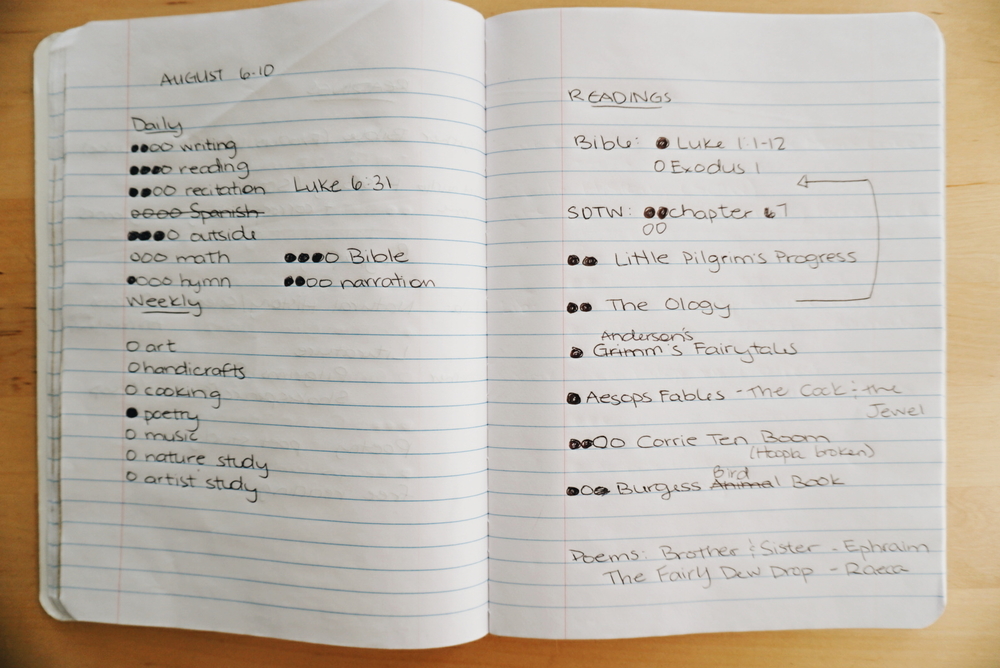 Have you created your own Charlotte Mason schedule before? I would love to hear how you go about it!