Homeschool Week in Review – Volume Three
I think we are slowly getting into a bit of a home and homeschool routine with a preschooler and toddler in the mix!
Thankfully we all got more sleep this week than last week so that obviously makes a big difference in our homeschool.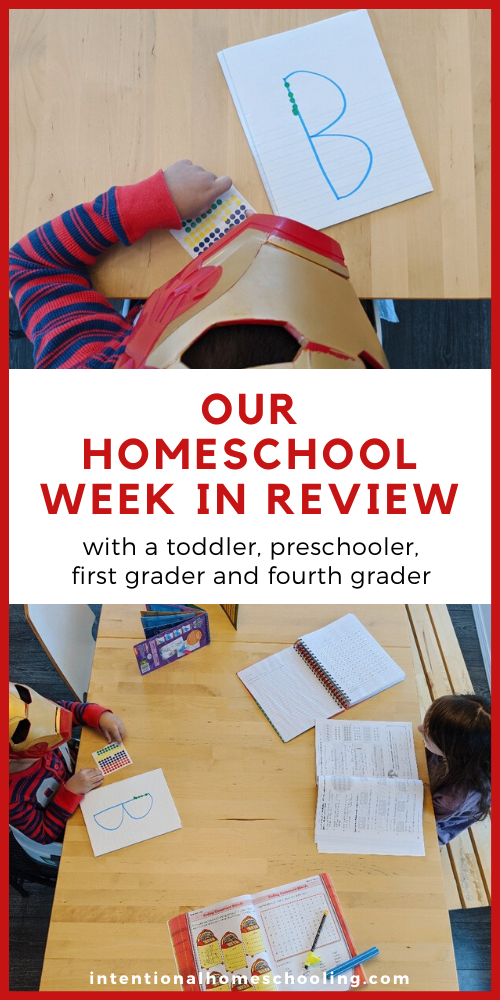 OUR HOMESCHOOL WEEK IN REVIEW
For reference, here's the low down on all the kids:
The Daughter – she's 9 and in grade 4
The Son – he's 6 and in grade 1
The Preschooler – he's 3
The Toddler – he's 1 (almost 2)
+ My son did multiple TYCTR lessons this week and even did two in one day!
+ We got the flu shot at the beginning of the week so I tried to find some videos on YouTube about vaccinations and we watched a couple but I couldn't find anything that was really that great.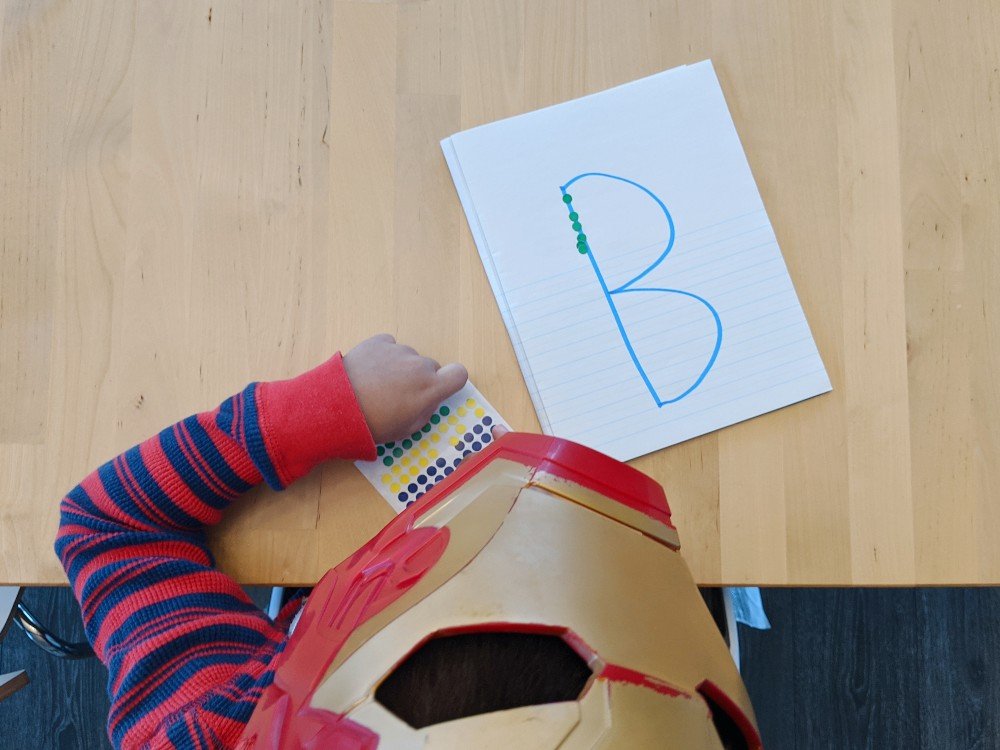 + The preschooler learned about the letter B and did a few activities with the letter in his preschool journal including putting simple dot stickers around the letter. (Also, I love that he is obsessed with our Iron Man mask and wears it around up on his head, not over his eyes, almost all the time.) He has been really into the letter B and is pointing it out wherever he finds in. (#winning!)
+ The other highlight of the preschoolers week is still our Usborne Maze book that I got about eight years ago that they no longer sell . . .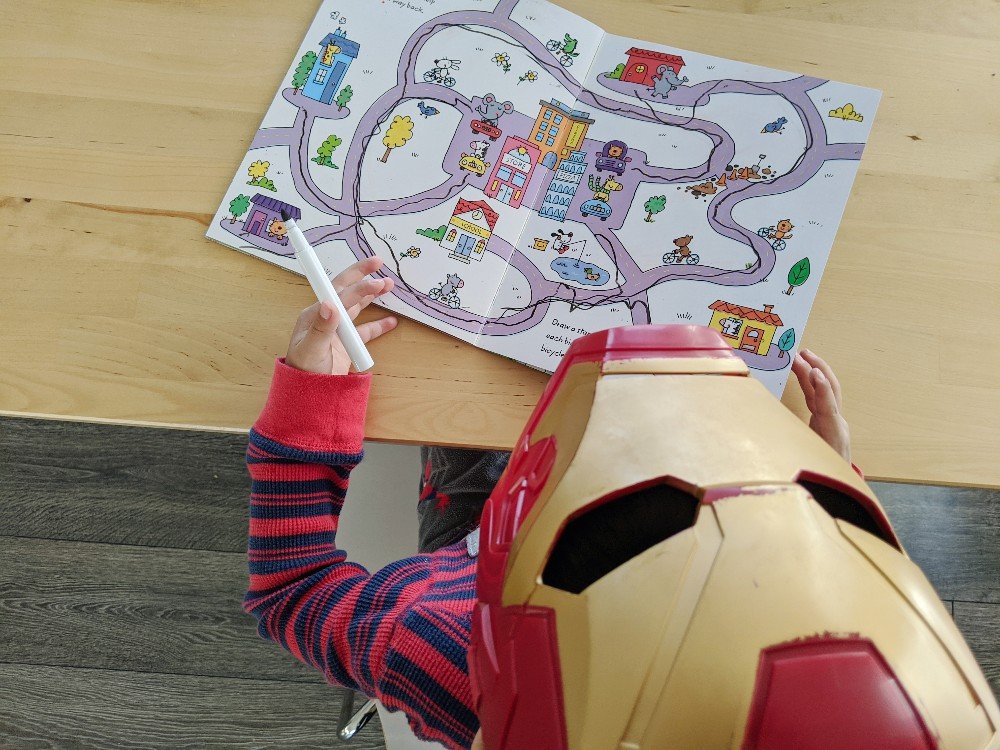 + My older two each had a friend over one afternoon. Homeschooling socialization for the win!
+ I got my daughter started with a "daily" journal (just in a composition notebook). I thought this would be both good writing practice and a good way of processing the day for her. I did give her a few different general journal prompt ideas to help her out on days that she gets stuck, like:
what you did today (or yesterday)
something you are looking forward to
something you want to tell me
the best part of your day
the hardest part of your day
something you are afraid of.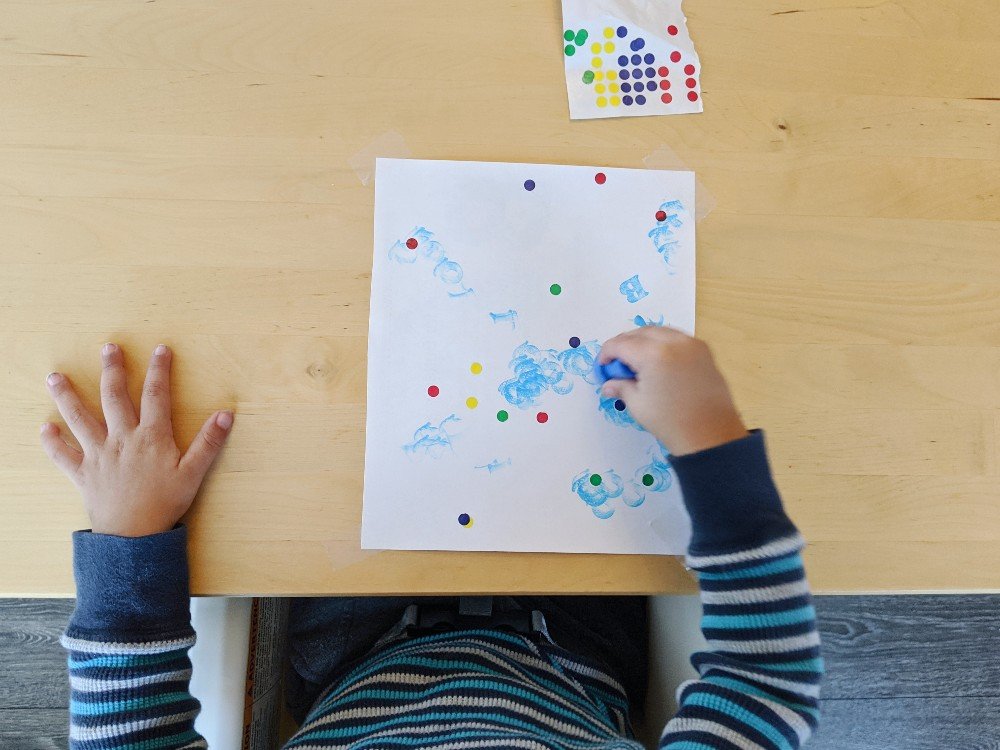 + The toddler was around for most of our schooling this week, one day I taped a piece of paper to the table (so he couldn't keep knocking it off) and gave him some stickers and a stamp and he was surprisingly entertained for quite some time! Next time I might use our big Ikea paper roll to give him an even bigger space.
+ My daughter also finished her Vienna report from last week, she made it on Canva and had a cover page and a few different facts. It was something out of the norm from what we've done in the past and I think it was a nice change.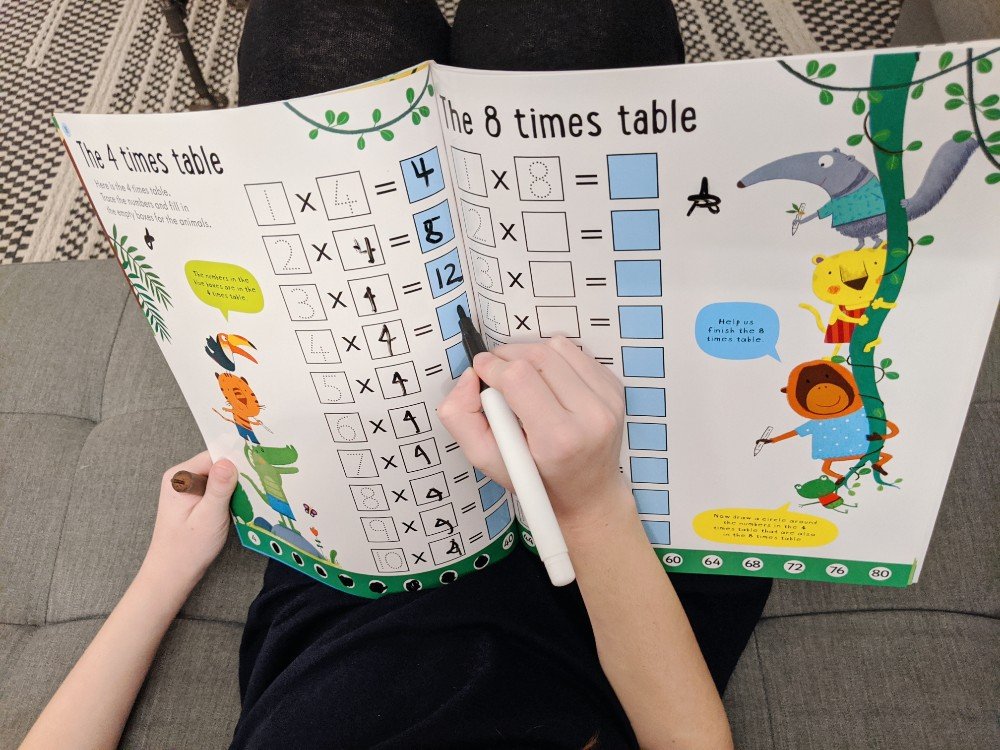 + My daughter did division for most of the week in math but there was one day where our math got pushed into the evening and she just wasn't in the mood for something "hard" so I pulled out this Usborne wipe clean multiplication book I have.
+ Speaking of math, my son really struggled with math this week. Honestly, I think it was more of a mental struggle, I know that he knows the stuff he was working on but he was convinced he didn't know it. So we left that behind and worked on some measurement instead and it seemed to help his mindset.
INTENTIONS FOR NEXT WEEK
+ Get back into our Bible journaling, it's been awhile . . .
+ Do some drawing, it's something we haven't done for the last week or two.
+ Learn about the letter C with the preschooler.
+ Play some games! This was a goal for this last week and I forgot about it so we didn't play any. (These are some of our favorites if you need some ideas.)
And that's another wrap up! Things have definitely been harder with a toddler and preschooler and so I've slowly been trying to add a subject back in each week and we're getting closer to where I want to be. I'm looking forward to next week!