The 3 Best Types of Blog Posts: blog posts that will bring traffic to your site
So, I decided to start another, separate, YouTube channel to share all things online income.
For now I will mainly focus on how to make an income as a blogger but I am sure I will cover more topics in the future.
I have so, so, so many ideas of what I want to share. The biggest hurdle will just be finding the time to share it all!

My plan is to share at least one video a week and if I ever have extra time I'll add in a second video.
Head here to subscribe to my new channel!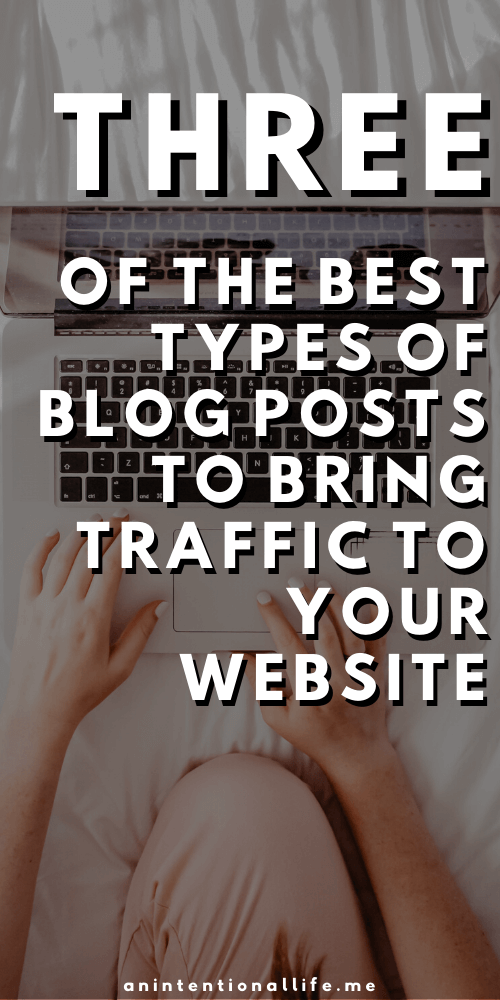 In today's video I am sharing the best types of blog posts that will bring traffic to your blog resulting in more money for you!
There are three different types of blog posts that I will be focusing on.
These posts are usually the types of things people are searching for and/or the types of posts they are most likely to click over to.
Make sure you sign up for my special money making newsletter, I will be using this email list to let you know when I have a money making specific post or video up as well as a few extra online income tips and tricks.
POTENTIAL FUTURE VIDEO TOPICS
(if you want to influence future videos in this series, leave a comment below sharing the kind of videos you wan to see in the future)
why you NEED a blog
things to do your first month blogging
how to drive traffic to your blog
how to write a great blog post
finding time to work as a SAHM
why you need an email list and how to use it to your advantage
using Pinterest to drive traffic to your website
how to balance homeschooling, motherhood and working
let me know if you have other things you want to see!
The 3 Best Types of Blog Posts:
blog posts that will bring traffic to your site
In the video I take you to the back end of two of my websites and show you the most popular types of blog posts.
#1 LIST POSTS
List posts are by far my most popular types of posts!
I find these types of posts do especially well on Pinterest (where most of my traffic comes from).
For whatever reason people really like posts where you share a top # of something related to your topic.
I would recommend taking a few minutes and writing down a couple different lists you could write based on your niche.
A few ideas I gave in the video:
Top 5 Newborn Must Haves
The 10 Best Cat Brushes
10 Popular Types of Tattoos
Think about how you could take this idea and apply it to the topic you are blogging about.
(For me, my book lists are by far my most popular posts, both on Pinterest and that drive the most traffic to my site.)
List posts are generally long and create space for ads, therefore earning you money.
Plus, you can use affiliate links in your list, earning you even more money!
If you missed my previous post about how to make money your first month blogging, check it out here!
#2 CHALLENGE POSTS
I have found challenge posts to do really well (both on my site and on Instagram, but we'll talk about Instagram a different day).
The example I gave in the video was for my Read Your Bookshelf Challenge.
Challenges are great because they get people excited and people like to share challenges with their friends. Win-win!
I think most niche's could have some kind of challenge posts.
#3 HOW-TO POSTS
How-to posts are huge, and probably one of the most searched for type of post.
Think of a variety of different things you could teach your audience and turn those ideas into how-to posts.
I just quickly popped over to Pinterest to see what kind of how-to posts it was recommending to me and here's what I found:
how to raise kids who love hiking
how to organize your kitchen drawers
DIY climbing wall
how to turn a hoodie into a comfy dragon costume
how to declutter paper forever
The ideas are endless!
I would recommend trying a few of these types of posts and seeing what kinds your audience likes the best.
Stay tuned next week for the next installment in this money making series!
If you haven't already, be sure to subscribe to my separate money making newsletter so you are in the know when new posts are up (plus, I'll be sending some bonus tips and tricks).