35 Classic Books Every Woman Should Read
Last week I came across a few great classic book list videos on YouTube and it inspired me to start a list of 35 must read classic books.
I've only read about half of these books myself and the other half I plan on reading.
The reason I chose these particular books is either because:
a) I have read them and loved them
     or
b) they are such iconic books I feel like they should be read by everyone
I easily could have made this list double the length but I wanted to keep it to a number that wouldn't feel overwhelming to people, 35 seemed like a pretty good number. If you need some ideas on how to make more time in your life for reading I've got a post with ten tips for you.
I started a local classics book club a year and a half ago and it has helped me check a few classics off of my list but I hope to make 2019 the year of the classics for me. My personal list of classics I want to read is much longer than this but these are the ones I want to start with.
I am tempted to create some type of classics reading challenge for 2019, maybe one book a month or so, if you would be interested, let me know!
While I could do an entire list on classic children's literature (possibly my favorite type of classics) I decided to not do that here, but there were a few that I needed to include in this list.
If you were to create a list of must read classic books which books would make your list?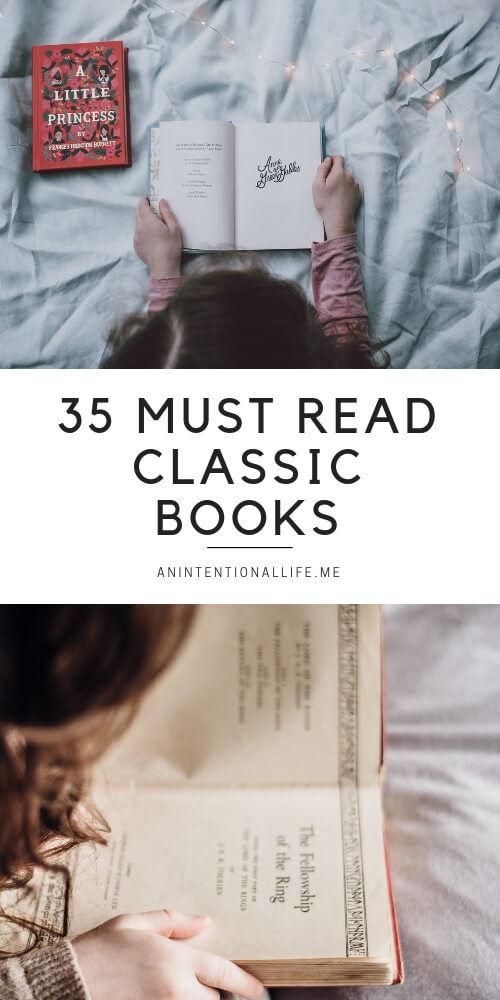 CHILDREN'S CLASSIC LITERATURE
This one is my all time favorite, along with the 1995 movie (NOT the Shirley Temple one).
Alone in a new country, wealthy Sara Crewe tries to settle in and make friends at boarding school. But when she learns that she'll never see her beloved father gain, her life is turned upside down. Transformed from princess to pauper, she must swap dancing lessons and luxury for hard work and a room in the attic. Will she find that kindness and generosity are all the riches she truly needs?
When orphaned Mary Lennox comes to live at her uncle's great house on the Yorkshire Moors, she finds it full of secrets. The mansion has nearly one hundred rooms, and her uncle keeps himself locked up. And at night, she hears the sound of crying down one of the long corridors.
The gardens surrounding the large property are Mary's only escape. Then, Mary discovers a secret garden, surrounded by walls and locked with a missing key. With the help of two unexpected companions, Mary discovers a way in—and becomes determined to bring the garden back to life.
No story is more beloved by children and grown-ups alike than this wise, enchanting fable. The author reminisces about a day when his plane was forced down in the Sahara, a thousand miles from help. There he encountered a most extraordinary small-person. "If you please," said the stranger, "draw me a sheep. " And thus begins the remarkable story of the Little Prince, whose strange history he learned, bit by bit, in the days that followed.
The haunting story centers on twelve-year-old Jonas, who lives in a seemingly ideal, if colorless, world of conformity and contentment. Not until he is given his life assignment as the Receiver of Memory does he begin to understand the dark, complex secrets behind his fragile community.
At the age of five, little orphan Heidi is sent to live with her grandfather in the Alps. Everyone in the village is afraid of him, but Heidi is fascinated by his long beard and bushy grey eyebrows. She loves her life in the mountains, playing in the sunshine and growing up amongst the goats and birds. But one terrible day, Heidi is collected by her aunt and is made to live with a new family in town. Heidi can't bear to be away from her grandfather; can she find a way back up the mountain, where she belongs?
Whether forming a pirate gang to search for buried treasure or spending a quiet time at home, sharing his medicine with Aunt Polly's cat, the irrepressible Tom Sawyer evokes the world of boyhood in nineteenth century rural America. In this classic story, Mark Twain re-created a long-ago world of freshly whitewashed fences and Sunday school picnics into which sordid characters and violent incidents sometimes intruded. The tale powerfully appeals to both adult and young imaginations. Readers explore this memorable setting with a slyly humorous born storyteller as their guide.
Tom and Huck Finn conceal themselves in the town cemetery, where they witness a grave robbery and a murder. Later, the boys, feeling unappreciated, hide out on a forested island while the townspeople conduct a frantic search and finally mourn them as dead. The friends triumphantly return to town to attend their own funeral, in time for a dramatic trial for the graveyard murder. A three-day ordeal ensues when Tom and his sweetheart, Becky Thatcher, lose their way in the very cave that conceals the murderer.
With its hilarious accounts of boyish pranks and its shrewd assessments of human nature, The Adventures of Tom Sawyer has captivated generations of readers of all ages. This inexpensive edition of the classic novel offers a not-to-be-missed opportunity to savor a witty and action-packed account of small-town boyhood in a bygone era.
The novel's preeminence derives from its wonderfully imaginative re-creation of boyhood adventures along the Mississippi River, its inspired characterization, the author's remarkable ear for dialogue, and the book's understated development of serious underlying themes: "natural" man versus "civilized" society, the evils of slavery, the innate value and dignity of human beings, and other topics. Most of all, Huckleberry Finn is a wonderful story, filled with high adventure and unforgettable characters.
Four adventurous siblings—Peter, Susan, Edmund, and Lucy Pevensie—step through a wardrobe door and into the land of Narnia, a land frozen in eternal winter and enslaved by the power of the White Witch. But when almost all hope is lost, the return of the Great Lion, Aslan, signals a great change . . . and a great sacrifice.
Anne, an eleven-year-old orphan, is sent by mistake to live with a lonely, middle-aged brother and sister on a Prince Edward Island farm and proceeds to make an indelible impression on everyone around her
Emily Starr never knew what it was to be lonely–until her beloved father died. Now Emily's an orphan, and her snobbish relatives are taking her to live with them at New Moon Farm. Although she's sure she'll never be happy there, Emily deals with her stern aunt Elizabeth and her malicious classmates by using her quick wit and holding her head high.
Things slowly begin to change for the better when Emily makes some new friends. There's Teddy Kent, who does marvelous drawings; Perry Miller, the hired boy, who's sailed the world with his father yet has never been to school; and above all, Ilse Burnley, a tomboy with a blazing temper. With these wonderful companions at her side and adventures around every corner, Emily begins to find her new home beautiful and fascinating–so much so that she comes to think of herself as Emily of New Moon.
'Alice was beginning to get very tired of sitting by her sister on the bank, and of having nothing to do: once or twice she had peeped into the book her sister was reading, but it had no pictures or conversations in it, "and what is the use of a book," thought Alice, "without pictures or conversations?"' So begins the tale of Alice, who follows a curious White Rabbit down a hole and falls into Wonderland, a fantastical place where nothing is quite as it seems: animals talk, nonsensical characters confuse, Mad Hatters throw tea parties and the Queen plays croquet. Alice's attempts to find her way home become increasingly bizarre, infuriating and amazing in turn.
In 1942, with the Nazis occupying Holland, a thirteen-year-old Jewish girl and her family fled their home in Amsterdam and went into hiding. For the next two years, until their whereabouts were betrayed to the Gestapo, the Franks and another family lived cloistered in the "Secret Annexe" of an old office building. Cut off from the outside world, they faced hunger, boredom, the constant cruelties of living in confined quarters, and the ever-present threat of discovery and death. In her diary Anne Frank recorded vivid impressions of her experiences during this period. By turns thoughtful, moving, and surprisingly humorous, her account offers a fascinating commentary on human courage and frailty and a compelling self-portrait of a sensitive and spirited young woman whose promise was tragically cut short.
TRIED & TRUE CLASSIC LITERATURE
Grown-up Meg, tomboyish Jo, timid Beth, and precocious Amy. The four March sisters couldn't be more different. But with their father away at war, and their mother working to support the family, they have to rely on one another. Whether they're putting on a play, forming a secret society, or celebrating Christmas, there's one thing they can't help wondering: Will Father return home safely?
The story follows the main character, Elizabeth Bennet, as she deals with issues of manners, upbringing, morality, education, and marriage in the society of the landed gentry of the British Regency. Elizabeth is the second of five daughters of a country gentleman living near the fictional town of Meryton in Hertfordshire, near London. Page 2 of a letter from Jane Austen to her sister Cassandra (11 June 1799) in which she first mentions Pride and Prejudice, using its working title First Impressions. Set in England in the early 19th century, Pride and Prejudice tells the story of Mr and Mrs Bennet's five unmarried daughters after the rich and eligible Mr Bingley and his status-conscious friend, Mr Darcy, have moved into their neighborhood. While Bingley takes an immediate liking to the eldest Bennet daughter, Jane, Darcy has difficulty adapting to local society and repeatedly clashes with the second-eldest Bennet daughter, Elizabeth.
Beautiful, clever, rich—and single—Emma Woodhouse is perfectly content with her life and sees no need for either love or marriage. Nothing, however, delights her more than interfering in the romantic lives of others. But when she ignores the warnings of her good friend Mr. Knightley and attempts to arrange a suitable match for her protégée, Harriet Smith, her carefully laid plans soon unravel and have consequences that she never expected. With its imperfect but charming heroine and its witty and subtle exploration of relationships, Emma is often seen as Jane Austen's most flawless work.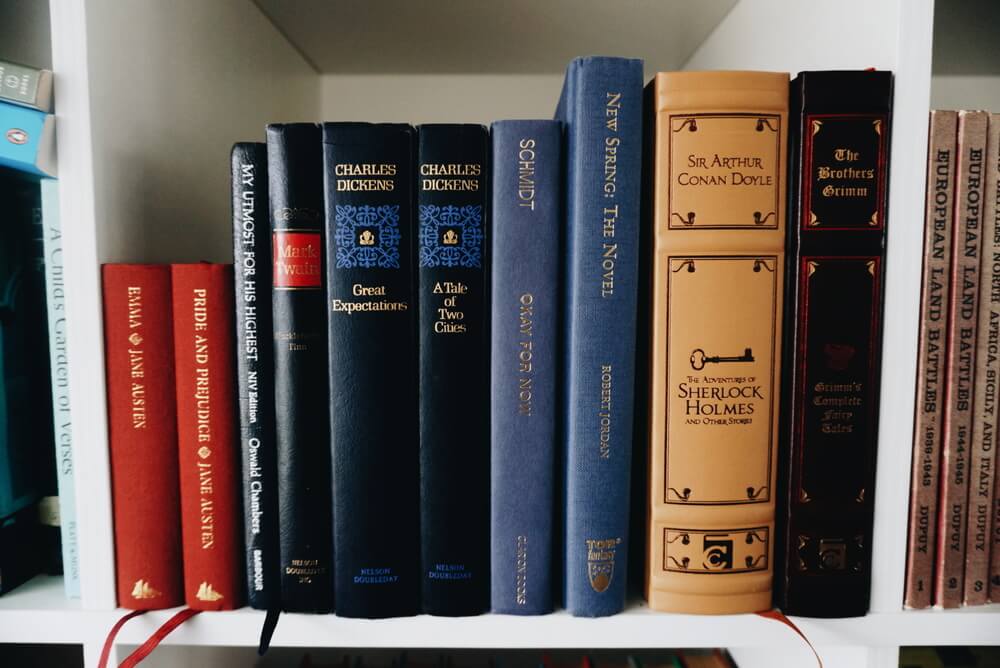 A Christmas Carol is one of Charles Dickens' most loved books – a true classic and a Christmas time must-read. Ebenezer Scrooge is a mean, miserable, bitter old man with no friends. One cold Christmas Eve, three ghosts take him on a scary journey to show him the error of his nasty ways. By visiting his past, present and future, Scrooge learns to love Christmas and the people all around him.
Last night I dreamt I went to Manderley again . . .
Working as a lady's companion, the orphaned heroine ofRebeccalearns her place. Life begins to look very bleak until, on a trip to the South of France, she meets Maxim de Winter, a handsome widower whose sudden proposal of marriage takes her by surprise. Whisked from glamorous Monte Carlo to his brooding estate, Manderley, on the Cornish Coast, the new Mrs de Winter finds Max a changed man. And the memory of his dead wife Rebecca is forever kept alive by the forbidding Mrs Danvers . . .
With each spine-tingling mystery, the legend of Sherlock Holmes comes to life. Page by page, Holmes uses his uncanny deductive skills to solve the toughest of cases. After reading this classic collection, you'll discover why this eccentric detective from 221B Baker Street in London rose to celebrity status throughout the world.
The hero-narrator of The Catcher in the Rye is an ancient child of sixteen, a native New Yorker named Holden Caulfield. Through circumstances that tend to preclude adult, secondhand description, he leaves his prep school in Pennsylvania and goes underground in New York City for three days.
The boy himself is at once too simple and too complex for us to make any final comment about him or his story. Perhaps the safest thing we can say about Holden is that he was born in the world not just strongly attracted to beauty but, almost, hopelessly impaled on it.
'I believe that on the first night I went to Gatsby's house I was one of the few guests who had actually been invited. People were not invited – they went there. 'Jay Gatsby's opulent Long Island mansion throngs with the bright young things of the Roaring Twenties. But Gatsby himself, young, handsome and mysteriously rich, never appears to his guests. He stands apart from the crowd, yearning for something just out of reach – Daisy Buchanan, lost years before to another man. One fateful summer, when the pair finally reunite, their actions set in motion a series of events that will unravel their lives, bringing tragedy to all who surround them.
Often rated as important as the Bible as a Christian document, this famous story of man's progress through life in search of salvation remains one of the most entertaining allegories of faith ever written. Set against realistic backdrops of town and country, the powerful drama of the pilgrim's trials and temptations follows him in his harrowing journey to the Celestial City.
Along a road filled with monsters and spiritual terrors, Christian confronts such emblematic characters as Worldly Wiseman, Giant Despair, Talkative, Ignorance, and the demons of the Valley of the Shadow of Death. But he is also joined by Hopeful and Faithful.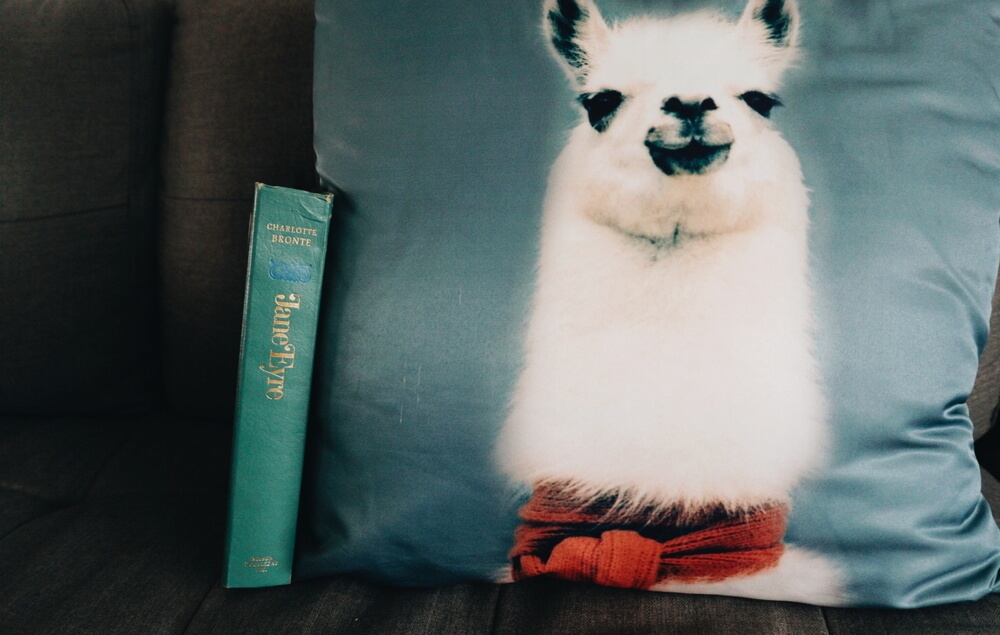 Charlotte Brontë's first published novel, Jane Eyre was immediately recognized as a work of genius when it appeared in 1847. Orphaned into the household of her Aunt Reed at Gateshead, subject to the cruel regime at Lowood charity school, Jane Eyre nonetheless emerges unbroken in spirit and integrity. How she takes up the post of governess at Thornfield Hall, meets and loves Mr Rochester and discovers the impediment to their lawful marriage are elements in a story that transcends melodrama to portray a woman's passionate search for a wider and richer life than that traditionally accorded to her sex in Victorian society.
William Goldman's modern fantasy classic is a simple, exceptional story about quests-for riches, revenge, power, and, of course, true love-that's thrilling and timeless. Anyone who lived through the 1980s may find it impossible-inconceivable, even-to equate The Princess Bride with anything other than the sweet, celluloid romance of Westley and Buttercup, but the film is only a fraction of the ingenious storytelling you'll find in these pages. Rich in character and satire, the novel is set in 1941 and framed cleverly as an 'abridged' retelling of a centuries-old tale set in the fabled country of Florin that's home to 'Beasts of all natures and descriptions. Pain. Death. Brave men. Coward men. Strongest men. Chases. Escapes. Lies. Truths. Passions.'
When her father leaves the Church in a crisis of conscience, Margaret Hale is uprooted from her comfortable home in Hampshire to move with her family to the North of England. Initially repulsed by the ugliness of her new surroundings in the industrial town of Milton, Margaret becomes aware of the poverty and suffering of local mill workers and develops a passionate sense of social justice. This is intensified by her tempestuous relationship with the mill-owner and self-made man John Thornton, as their fierce opposition over his treatment of his employees masks a deeper attraction.
Great Expectations charts the course of orphan Pip Pirrip's life as it is transformed by a vast, mysterious inheritance. A terrifying encounter with the escaped convict Abel Magwitch in a graveyard on the wild Kent marshes; a summons to meet the bitter, decrepit Miss Havisham and her beautiful, cold-hearted ward Estella at Satis House; the sudden generosity of a mysterious benefactor – these form a series of events that change the orphaned Pip's life forever, and he eagerly abandons his humble station as an apprentice to blacksmith Joe Gargery, beginning a new life as a gentleman. Charles Dickens's haunting late novel depicts Pip's education and development through adversity as he discovers the true nature of his identity, and his 'great expectations'.
The Bell Jar chronicles the crack-up of Esther Greenwood: brilliant, beautiful, enormously talented, and successful, but slowly going under — maybe for the last time. Sylvia Plath masterfully draws the reader into Esther's breakdown with such intensity that Esther's insanity becomes completely real and even rational, as probable and accessible an experience as going to the movies. Such deep penetration into the dark and harrowing corners of the psyche is an extraordinary accomplishment and has made The Bell Jar a haunting American classic.
Set in freewheeling Florence, Italy, and sober Surrey, England, E. M. Forster's beloved third novel follows young Lucy Honeychurch's journey to self-discovery at a transitional moment in British society. As Lucy is exposed to opportunities previously not afforded to women, her mind—and heart—must open. Before long, she's in love with an "unsuitable" man and is faced with an impossible choice: follow her heart or be pressured into propriety.
A challenge to persistent Victorian ideals as well as a moving love story, A Room with a View has been celebrated for both its prescient view of women's independence and its reminder to live an honest, authentic life.
Described as one of the greatest novels ever written, "Anna Karenina" follows the self-destructive path of a beautiful, popular, and sensual Russian aristocrat. The lovely Anna seems set in a respectable marriage with the powerful statesman Karenin, yet their lack of passion breeds the discontent she fully faces upon meeting the elegant and affluent officer Count Vronsky. Soon convinced that allowing herself to deeply love this man will enable her to find the meaning and truth of her life, Anna defies the conventions of Russian society and leaves her husband and children for her lover. Tolstoy juxtaposes this ill-fated couple with the melancholy Levin and his new wife Kitty. Levin is also searching for the fulfillment and happiness in his life, and he ultimately finds a happiness that Anna's love does not. A portrait of marriage and infidelity in imperial Russia, "Anna Karenina" explores love, life, and the depths of the human soul in a tale as illuminating as it is tragic.
Lockwood, the new tenant of Thrushcross Grange, situated on the bleak Yorkshire moors, is forced to seek shelter one night at Wuthering Heights, the home of his landlord. There he discovers the history of the tempestuous events that took place years before. What unfolds is the tale of the intense love between the gypsy foundling Heathcliff and Catherine Earnshaw. Catherine, forced to choose between passionate, tortured Heathcliff and gentle, well-bred Edgar Linton, surrendered to the expectations of her class. As Heathcliff's bitterness and vengeance at his betrayal is visited upon the next generation, their innocent heirs must struggle to escape the legacy of the past.
Dorian Gray is having his picture painted by Basil Hallward, who is charmed by his looks. But when Sir Henry Wotton visits and seduces Dorian into the worship of youthful beauty with an intoxicating speech, Dorian makes a wish he will live to regret: that all the marks of age will now be reflected in the portrait rather than on Dorian's own face. The stage is now set for a masterful tale about appearance, reality, art, life, truth, fiction and the burden of conscience.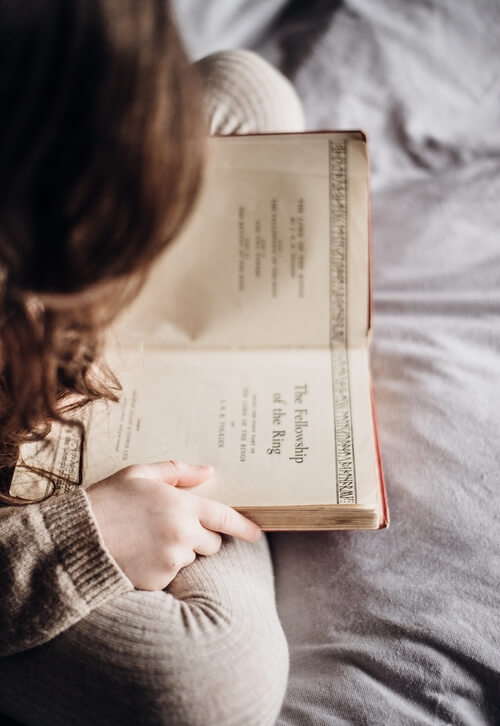 Bilbo Baggins is a hobbit who enjoys a comfortable, unambitious life, rarely traveling any farther than his pantry or cellar. But his contentment is disturbed when the wizard Gandalf and a company of dwarves arrive on his doorstep one day to whisk him away on an adventure. They have launched a plot to raid the treasure hoard guarded by Smaug the Magnificent, a large and very dangerous dragon. Bilbo reluctantly joins their quest, unaware that on his journey to the Lonely Mountain he will encounter both a magic ring and a frightening creature known as Gollum.
One Ring to rule them all, 
One Ring to find them, 
One Ring to bring them all 
and in the darkness bind them.
In ancient times the Rings of Power were crafted by the Elven-smiths, and Sauron, the Dark Lord, forged the One Ring, filling it with his own power so that he could rule all others. But the One Ring was taken from him, and though he sought it throughout Middle-earth, it remained lost to him. After many ages it fell by chance into the hands of the hobbit Bilbo Baggins.
From Sauron's fastness in the Dark Tower of Mordor, his power spread far and wide. Sauron gathered all the Great Rings to him, but always he searched for the One Ring that would complete his dominion.
When Bilbo reached his eleventy-first birthday he disappeared, bequeathing to his young cousin Frodo the Ruling Ring and a perilous quest: to journey across Middle-earth, deep into the shadow of the Dark Lord, and destroy the Ring by casting it into the Cracks of Doom.
The Lord of the Rings tells of the great quest undertaken by Frodo and the Fellowship of the Ring: Gandalf the Wizard; the hobbits Merry, Pippin, and Sam; Gimli the Dwarf; Legolas the Elf; Boromir of Gondor; and a tall, mysterious stranger called Strider.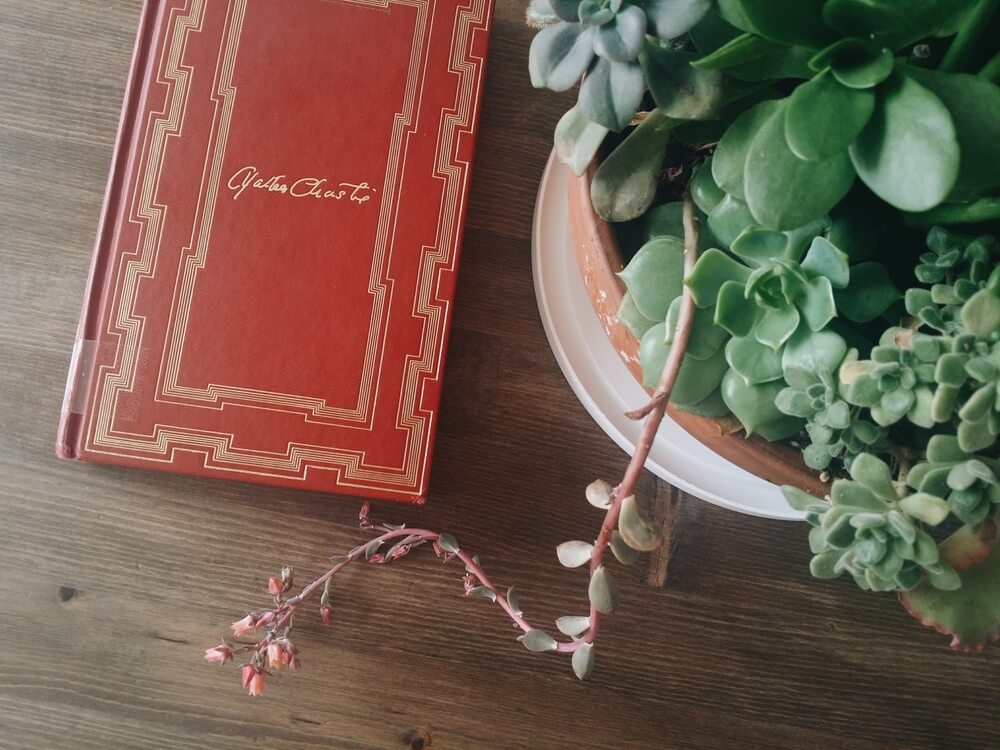 There is no way I could have this list without having some Agatha Christie, she is one of my favorites, so I chose three of hers. One day I hope to read all of her books.
"The murderer is with us—on the train now . . ."
Just after midnight, the famous Orient Express is stopped in its tracks by a snowdrift. By morning, the millionaire Samuel Edward Ratchett lies dead in his compartment, stabbed a dozen times, his door locked from the inside. Without a shred of doubt, one of his fellow passengers is the murderer.
Isolated by the storm, detective Hercule Poirot must find the killer among a dozen of the dead man's enemies, before the murderer decides to strike again.
"Ten . . ."
Ten strangers are lured to an isolated island mansion off the Devon coast by a mysterious "U. N. Owen."
"Nine . . ."
At dinner a recorded message accuses each of them in turn of having a guilty secret, and by the end of the night one of the guests is dead.
"Eight . . ."
Stranded by a violent storm, and haunted by a nursery rhyme counting down one by one . . . as one by one . . . they begin to die.
"Seven . . ."
Which among them is the killer and will any of them survive?
Lymstock is a town with more than its share of scandalous secrets—a town where even a sudden outbreak of anonymous hate mail causes only a minor stir.
But all that changes when one of the recipients, Mrs. Symmington, commits suicide. Her final note says "I can't go on," but Miss Marple questions the coroner's verdict of suicide. Soon nobody is sure of anyone—as secrets stop being shameful and start becoming deadly.
Did I miss any books that you would definitely add to the list?