How to Teach Math Without a Curriculum
As relaxed/minimal homeschoolers one of the big things we do to keep things relaxed is not follow a curriculum.
So many times before I have heard people say "Oh, we don't follow a curriculum . . . except for math."
For some reason parents often feel confident teaching all the subjects except for math.
Have you ever felt that way?
The truth is, teaching kids math doesn't have to be hard and you don't have to follow some pre-written curriculum for your kids to get it!
Now, before I get into this post, let me share that math has never been my strong suit, I don't find math easy to teach because I'm some kind of mathematical genius, it's actually the opposite, because math was a struggle for me in school I learned some pretty eye opening things about it.
And I don't think any post about math would be complete without this awesome clip from Incredibles 2:
(Forgive the grammatical errors in this image, I found it floating around in cyberspace and whoever added the text apparently doesn't have a firm grasp on spelling/grammar – although truthfully, I don't always either!)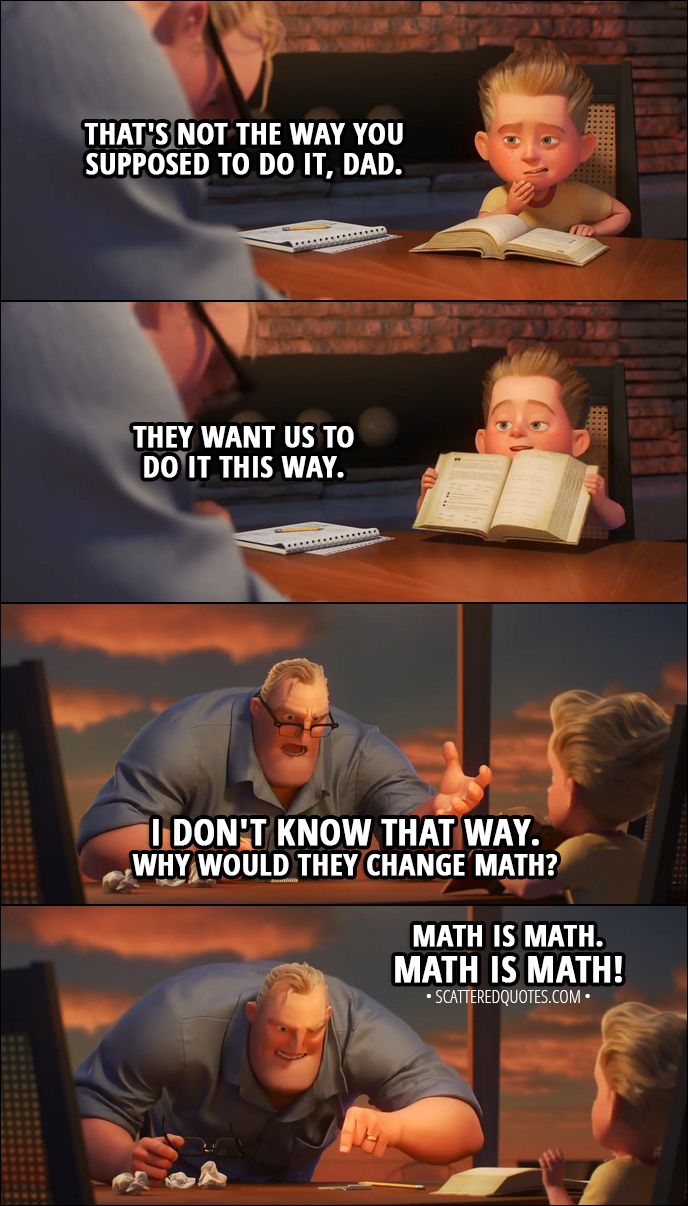 WHAT I'M NOT TALKING ABOUT
I just want to clear this up right from the get-go. What I am not talking about in this post is unschooling. I have nothing against unschooling (I actually quite like it) but what I am talking about here is still teaching math but just not following a curriculum while you do it.
BUT WHAT IF WE MISS SOMETHING?
There is this huge fear that if we don't follow a curriculum when it comes to math our kids will miss something vital. Let me put your mind at ease.
First of all, think about it for a minute, how much from your math education do you actually remember and use on a regular basis? I'm guessing some addition, subtraction, basic multiplication and division, money and time. The basics. How often do you use that algebra and all the equations you learned in high school? . . . Yeah, I thought so.
To be honest, so much of what is taught in school is taught too early. Every year the teachers teach pretty much exactly the same thing, just building slightly, and at the beginning of each fall kids come back to school forgetting a lot of what they learned the year before.
What if we taught kids math when they were actually ready and interested? Imagine how much more they would retain.
Did you know there have actually been studies that have shown that an interested a child can learn all of K-12 math in just eight weeks??? EIGHT WEEKS!
And actually K-6 math has been learned by 9-12 year olds in just twenty hours.
Then why are we trying to drill this into young kids before they are ready? And for hours at a time?
Because all of the above (and because of what I saw as a teacher in the classroom) I do not stress about math in our homeschool. We still do math but we don't beat ourselves up over it and I try to make it interesting and relevant.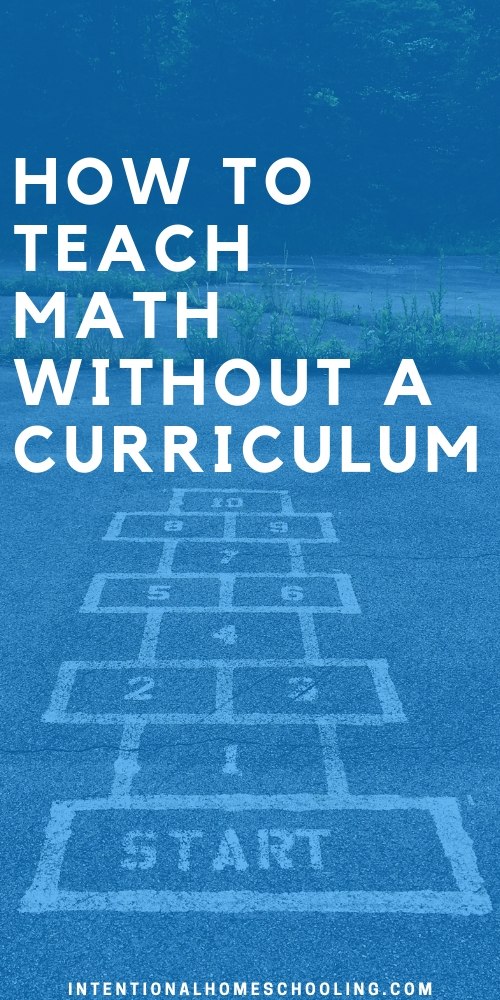 HOW TO TEACH MATH WITHOUT A CURRICULUM
Okay, so here's how we do it in our home:
#1 BAKE!
Honestly, this is probably the one I am the worst at. Baking is a great way to learn temperature, fractions and measurements but I am not the worlds best baker to begin with and inviting my kids to help me is not always my default but when I do it's a time of learning!
#2 LET THEM FIGURE IT OUT
Do your kids often come to you with a question that is obviously math related? Mine do and instead of telling them the answer I get them to figure it out. If it's one they can obviously figure out on their own I let them, if it's something they need a little guidance on I'll teach them how to do it.
Just this morning Raeca came up and told me that she had 11 chapters left in The Hobbit. Here's what she told me:
There are 19 chapters in the book and I am on chapter 8, so, if you take away 8 from 9 you get 1 and then there is the other 10, that equals 11. Math!
Ha, she actually said "Math!" at the end and I burst out laughing.
#3 PLAY GAMES
We enjoy a lot of different board/card games together as family and so many of them are great for learning math. You can find a full list of our favorite games here. Any time you are using dice or counting points or money they are learning math.
#4 READ MATH PICTURE BOOKS
There are some great picture books that incorporate math, I have a list of some good ones here.
#5 FIGURE OUT AGE APPROPRIATE SKILLS
That all being said, I still do have some math goals for each of my kids based on their skill level.
Ephraim is in kindergarten and this year we are focusing on adding and subtracting to 20. For those most part I just write some addition and subtraction problems in a notebook for him to write the answers to. I actually think that for this kind of math being able to figure out answers in your head is very important and I didn't think he would be there yet but he is figuring out a lot of the answers in his head. Though, because he struggles with fine motor I am making sure he writes the answers down for writing practice.
Raeca is in grade three and one of my goals for this year has been for her to learn multiplication. Up until this point I've just been sharing how and why we multiply and then over the next few months we are going to focus on memorizing multiplication facts. I'm generally not keen on memorization for memorization sake but I think multiplication facts are one of those things a person just needs to memorize. Thankfully she's got a great memory so it shouldn't be too difficult.
I found this image and am thinking I may use this idea for memorization, maybe each week I'll tape a different set of multiplication numbers for her to memorize to the stairs. It takes an otherwise boring task and makes it a little more fun. Hopefully the cat doesn't pull them all down . . .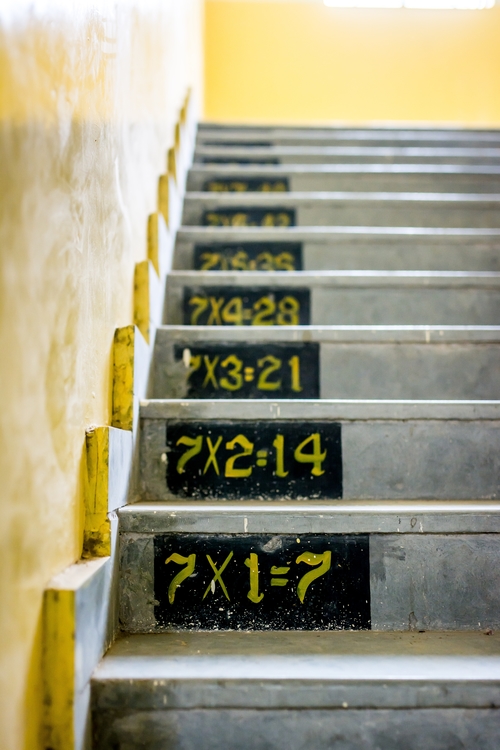 And that's how we learn math in our homeschool without a curriculum! I would love to hear how you go about it in your homeschool!