A Mother Culture Instagram Challenge
One of the reasons I enjoy homeschooling so much is because being a lifelong learner is very important to me.
Even if we weren't homeschooling I would constantly be taking books out of the library on topics that interest me and I want to learn more about.
Before we started homeschooling I loved the sounds of the Charlotte Mason homeschooling method, I won't dive into the method right now but one of the terms that often goes along with the Charlotte Mason method is the idea of "mother culture". This term wasn't used in any of Charlotte's writings but was made popular by Karen Andreola who wrote A Charlotte Mason Companion.
The whole idea of mother culture can be summed up in this quote attributed to Billy Graham: "Mothers should cultivate their souls so that in turn they may cultivate the souls of their children."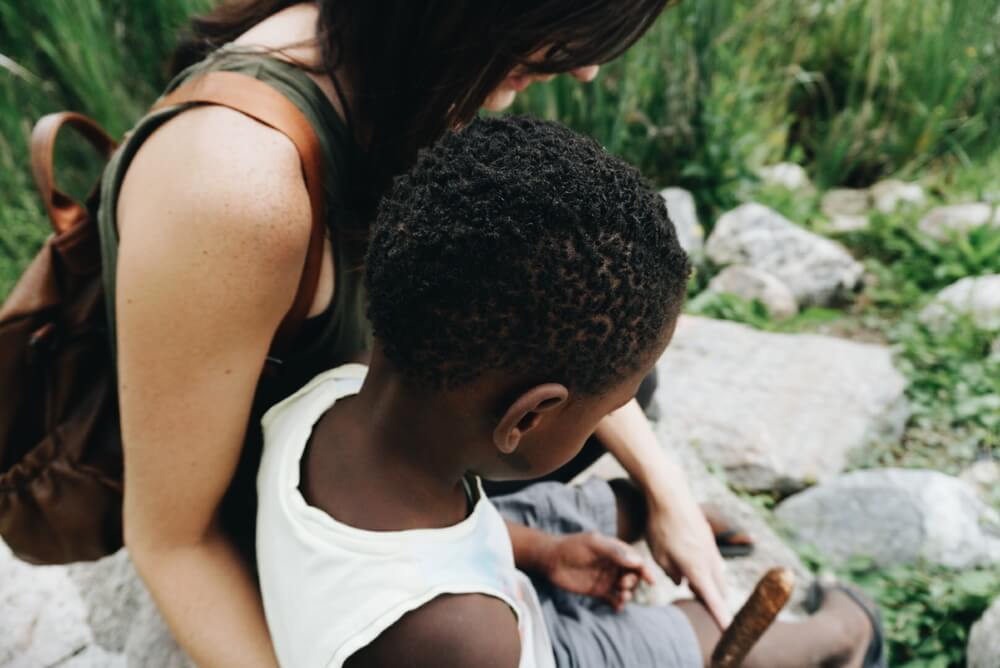 While we have not been Charlotte Mason homeschoolers up to this point I am planning a bit of a trial run because I love so many aspects of the method. But one area I've unintentionally followed is mother culture.
I think the general term for this in society these days would probably be personal growth but in my opinion mother culture goes much deeper than that.
The way I see it, personal growth is done to better ones self in order to grow for ones self but mother culture is done to grow your knowledge to be able to help others. It may be a slight difference but I do think it exists. That being said, I have nothing against the term personal growth, I think it's a term people understand and whether or not they know your motives for the growth, be it for yourself or others, it doesn't really matter.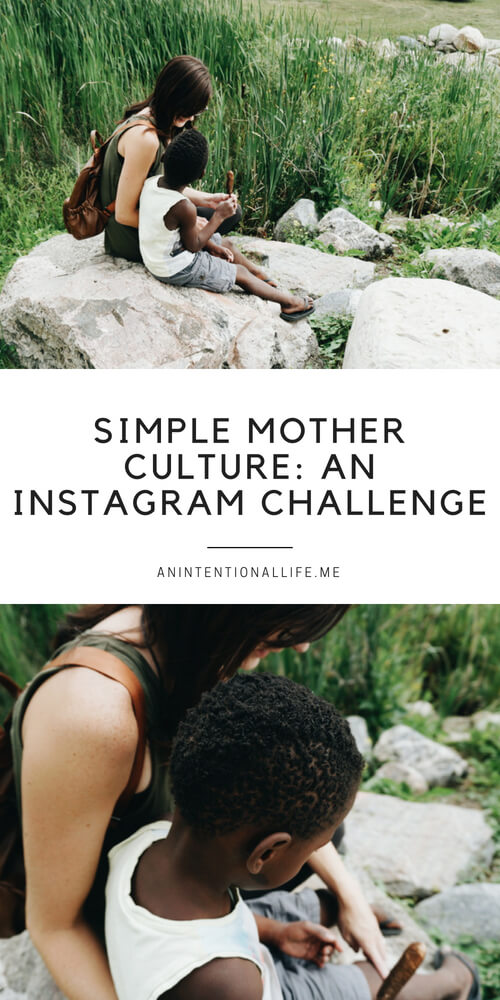 Anyway, I thought it would be fun to have an Instagram photo prompt challenge for the month of August with the theme Simple Mother Culture.
My goals for the challenge are to:
find a network of fellow mamas who are excited about the idea of mother culture
gather inspiration and resources
intentionally set aside time to think about how I approach mother culture in my own life
I decided to make the challenge only on Mondays, Wednesdays and Fridays for one month because I know how busy mothers are! I would love to have you join in, and feel free to post on whichever days you can/feel like it/are interested. You can join the challenge even if you don't post for each prompt.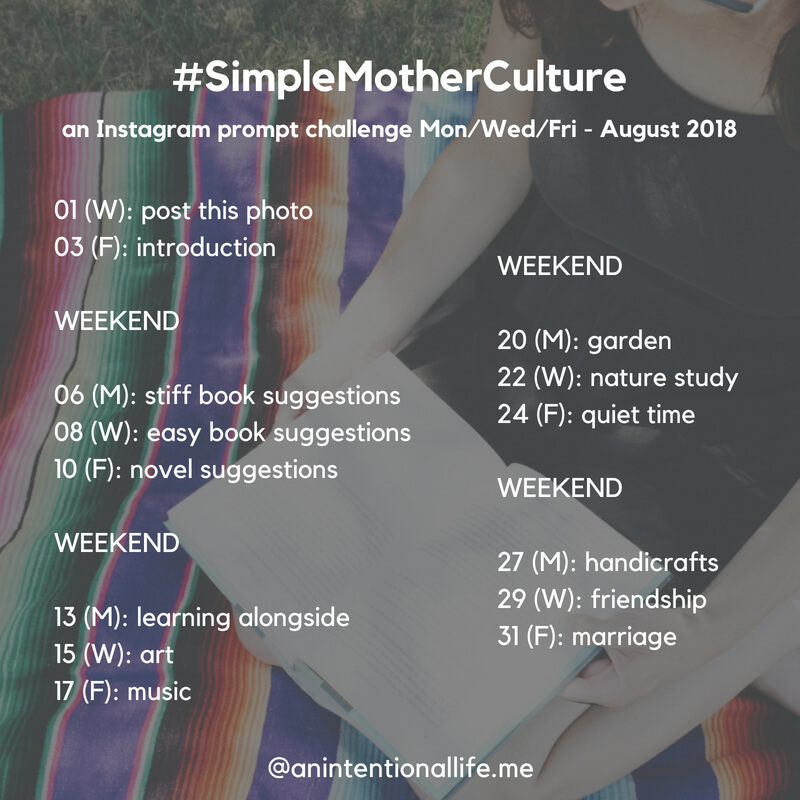 Here's a little breakdown of how the challenge will work:
On the specified day you will post a photo pertaining to that days prompt and use the tag #SimpleMotherCulture so I (and others) can find your photos. I hope to share some of the posts you share as well.
Because I know the simple prompts may not be descriptive enough, here's a little more info on each day:
01 (W): post the challenge photo – you can grab the photo from this blog post or over on my Instagram
03 (F): introduction – introduce yourself, I'd love to hear a little about your family and some of your interests
WEEKEND
In A Charlotte Mason Companion she talks about always having three books going; a stiff book, a moderately easy book and a novel. I'm hoping we can get a list of some great book suggestions this week! Feel free to share the books you are currently reading in these categories or ones that are on your list, or even some of your favorites you have read!
06 (M): stiff book suggestions – this is a meant to be a deep and challenging book
08 (W): moderately easy book suggestions – generally non-fiction these can be biographies, parenting books, etc, etc.
10 (F): novel suggestions – I think this one is pretty self explanatory, let's share the best of the best
WEEKEND
13 (M): learning alongside – share anything about what you like to learn alongside your kids
15 (W): art – this is broad on purpose, share your own art, how you study art, favorite resources, anything to do with art!
17 (F): music – pretty much the same thing as the art prompt, I kept it broad on purpose, though, spoiler alert: I probably won't have a whole lot to share this day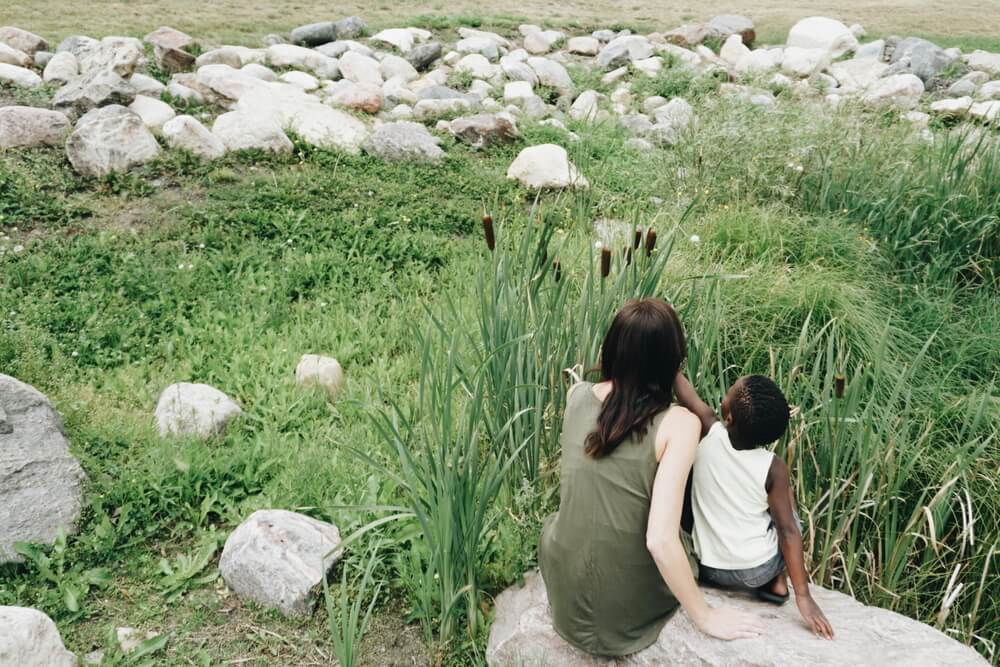 WEEKEND
20 (M): garden – I hadn't thought of having a garden prompt until I read an occasional new plant in A Charlotte Mason Companion, so share anything garden/plant related.
22 (W): nature study – favorite resources? how do you study nature? I want to hear it all!
24 (F): quiet time – I was thinking about Bible and prayer time when I wrote this prompt, I'd love to hear when you make time for it and if you have anything else you would like to share about it
WEEKEND
27 (M): handicrafts – share some of your favorite crafty projects you like to do!
29 (W): friendship – part of mother culture is making sure you have time for friends, how do you find and make time for your tribe?
31 (F): marriage – and last, but not least, all things marriage related! (If you want a few great podcast episodes to listen to on marriage, check out this one, this one and this one from the ladies at the At Home Podcast)
So, are you in?! Be sure to follow me on Instagram and start sharing on August 1st!