my five FAVORITE AGATHA CHRISTIE books
I thought it would be fun to look through the Agatha Christie books I've read and share my five favorites!
I have not yet read all of her books and I'm hoping I will find more favorites along the way but I thought I would share some of my favorites so far.
If you have favorite Agatha Christie books, I would love to hear them!
Oh, also, if you like her writing, I've got a few other recommendations at the end!
MY FAVORITE AGATHA CHRISTIE BOOKS
Just after midnight, the famous Orient Express is stopped in its tracks by a snowdrift. By morning, the millionaire Samuel Edward Ratchett lies dead in his compartment, stabbed a dozen times, his door locked from the inside. One of his fellow passengers must be the murderer.
Isolated by the storm, detective Hercule Poirot must find the killer among a dozen of the dead man's enemies, before the murderer decides to strike again.
There's a serial killer on the loose, working his way through the alphabet and the whole country is in a state of panic.
A is for Mrs. Ascher in Andover, B is for Betty Barnard in Bexhill, C is for Sir Carmichael Clarke in Churston. With each murder, the killer is getting more confident—but leaving a trail of deliberate clues to taunt the proud Hercule Poirot might just prove to be the first, and fatal, mistake.
Roger Ackroyd knew too much. He knew that the woman he loved had poisoned her brutal first husband. He suspected also that someone had been blackmailing her. Then, tragically, came the news that she had taken her own life with a drug overdose.
But the evening post brought Roger one last fatal scrap of information. Unfortunately, before he could finish reading the letter, he was stabbed to death.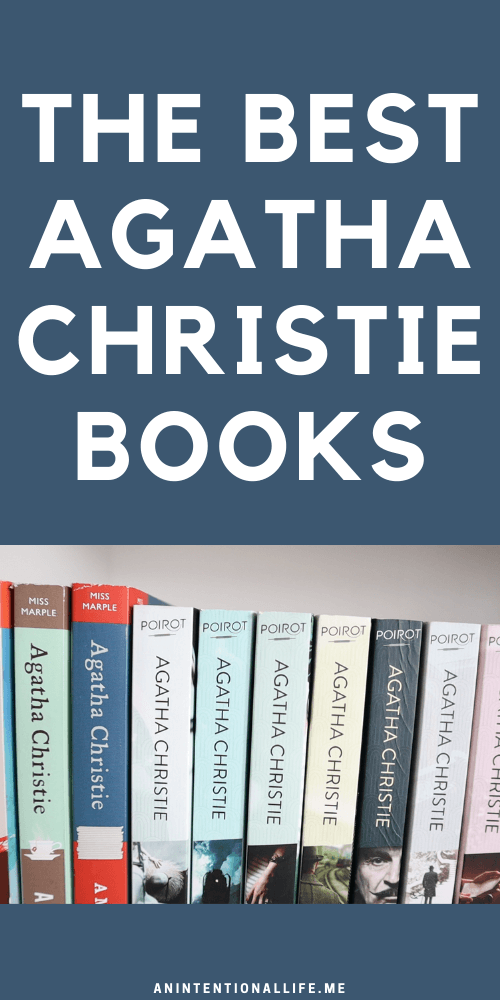 The placid village of Lymstock seems the perfect place for Jerry Burton to recuperate from his accident under the care of his sister, Joanna. But soon a series of vicious poison-pen letters destroys the village's quiet charm, eventually causing one recipient to commit suicide. The vicar, the doctor, the servants—all are on the verge of accusing one another when help arrives from an unexpected quarter. The vicar's houseguest happens to be none other than Jane Marple.
The villagers of Chipping Cleghorn are agog with curiosity when the Gazette advertises: A murder is announced and will take place on Friday, October 29th, at Little Paddocks at 6.30 p.m.
A childish practical joke? Or a spiteful hoax? Unable to resist the mysterious invitation, the locals arrive at Little Paddocks at the appointed time when, without warning, the lights go out and a gun is fired. When they come back on, a gruesome scene is revealed. An impossible crime? Only Miss Marple can unravel it.
In the video I also suggest that if you like Agatha Christie, these are two I would suggest picking up, the first one I have read and enjoyed, the second is on my list of anticipated releases and I hope to read it soon.
Aggie Morton lives in a small town on the coast of England in 1902. Adventurous and imaginative but deeply shy, Aggie hasn't got much to do since the death of her beloved father . . . until the fateful day when she crosses paths with twelve-year-old Belgian immigrant Hector Perot and discovers a dead body on the floor of the Mermaid Dance Room! As the number of suspects grows and the murder threatens to tear the town apart, Aggie and her new friend will need every tool at their disposal — including their insatiable curiosity, deductive skills and not a little help from their friends — to solve the case before Aggie's beloved dance instructor is charged with a crime Aggie is sure she didn't commit.
In December 1926, Agatha Christie goes missing. Investigators find her empty car on the edge of a deep, gloomy pond, the only clues some tire tracks nearby and a fur coat left in the car—strange for a frigid night. Her World War I veteran husband and her daughter have no knowledge of her whereabouts, and England unleashes an unprecedented manhunt to find the up-and-coming mystery author. Eleven days later, she reappears, just as mysteriously as she disappeared, claiming amnesia and providing no explanations for her time away.
The puzzle of those missing eleven days has persisted. With her trademark historical fiction exploration into the shadows of the past, acclaimed author Marie Benedict brings us into the world of Agatha Christie, imagining why such a brilliant woman would find herself at the center of such murky historical mysteries.
What is real, and what is mystery? What role did her unfaithful husband play, and what was he not telling investigators?
Agatha Christie novels have withstood the test of time, due in no small part to Christie's masterful storytelling and clever mind that may never be matched, but Agatha Christie's untold history offers perhaps her greatest mystery of all.
Do you enjoy Agatha Christie's writing? If so, which have been your favorites?