I love setting goals and intentions each year. To be honest, I know some people like to distinguish between the two, and even I have at one point, but really, they are pretty much the same thing.
I don't really do much in the way of measurable, "SMART" goals. I just make goals and then look back at the end of the year and see if I think I did a good job or not.
My word/theme for the year is love one another. I wrote a bit about that already but I was keeping that in mind while creating my goals.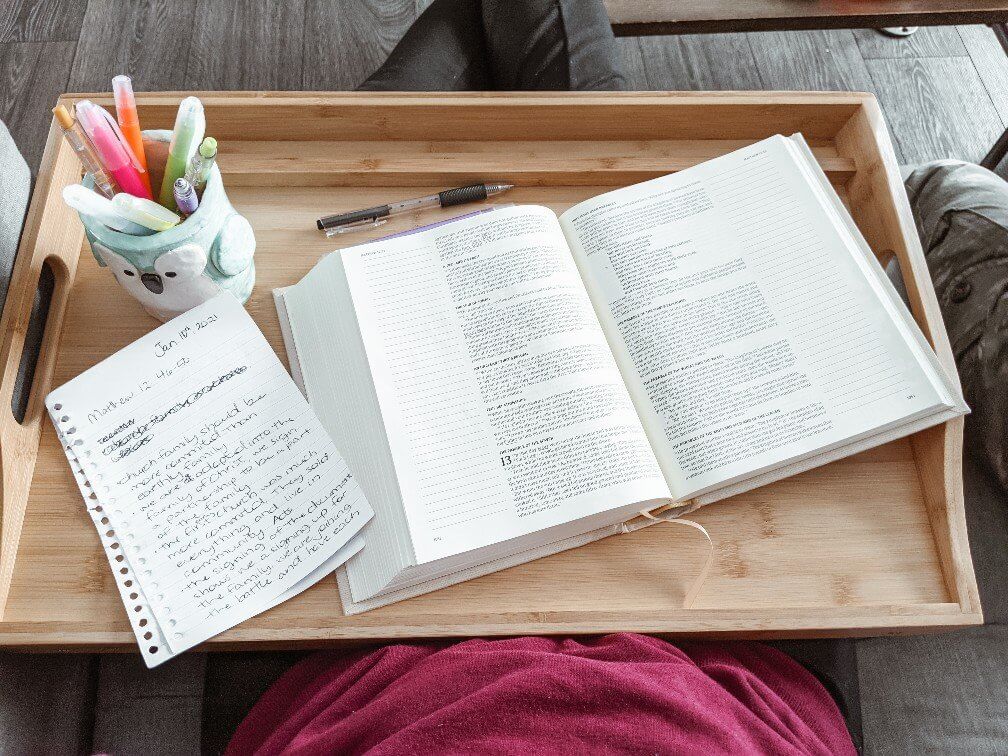 I decided to try to break my goals into three categories: personal, family and "online stuff".
PERSONAL
read through the Bible
I'm doing this one right now! It was supposed to be a 90 day Bible reading plan but I accidently made it into a 60 day plan. I actually started this the day after Christmas, so I got a bit of a jump start on the goal but I'm okay with that.
continue Bible journaling
I'm not really talking about "pretty" art journaling here, I mostly just mean keeping my study notes in my Bible. I plan on continuing to use my CSB notetaking Bible for that this year.
art journal more
I have been loving getting back into mixed media art journaling this winter and I want to continue this habit throughout the year and not make it a winter only thing.
reply to penpals within a week
I got a few penpals this winter (is it pen pal or penpal? I randomly alternate between the two). I want to make sure I am good at replying to them. I am also considering filming some "penpal with me" videos, it's a thing and I may do it if I find some spare time in life.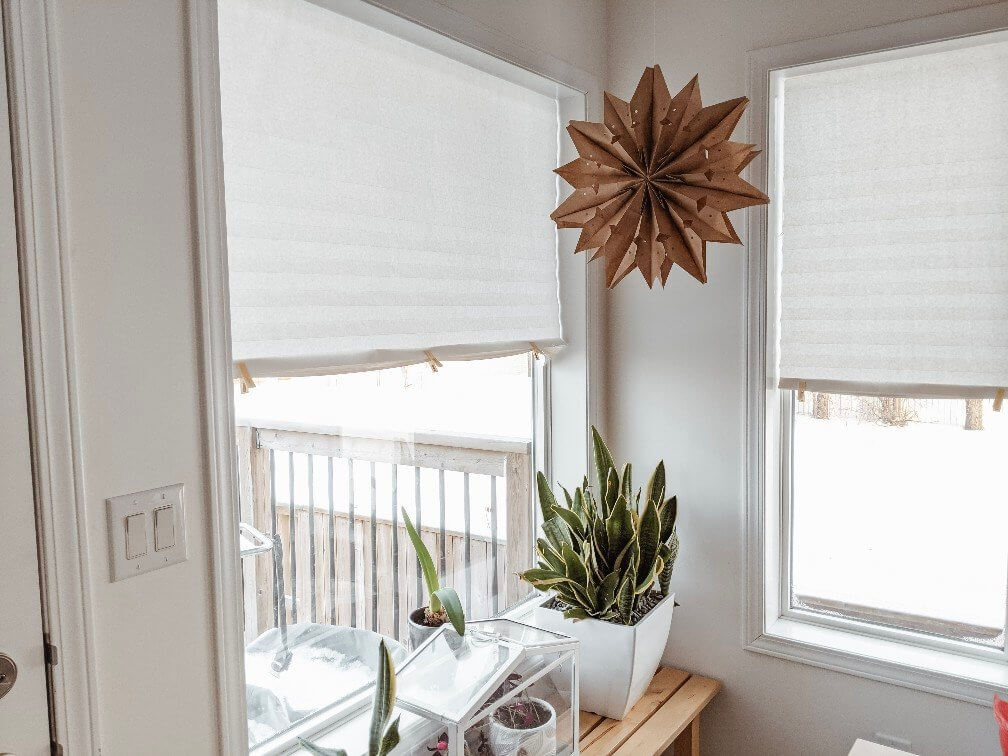 buy books from authors I've read before and trust
I want to make sure I'm not buying books that I am just getting rid of right away.
buy some skirts
I was a tomboy as a child and hated dresses and skirts (don't even get me started on tights!) but then about five years ago I had a little girl who loved wearing dresses so I felt like I needed to up my outfit game to match hers and I realized I loved wearing dresses. I don't wear dresses as much these days (well, especially in winter) but for 2021 I want to buy (and wear) some skirts. I've been pinning some to a board and I'm obviously drawn to a very specific style (it's definitely a librarian look):

buy a steam mop?
I saw someone use on in a vlog and I've been thinking about getting one ever since.
try to add in at least one more natural cleaning or beauty alternative to my routine
Over the years I've slowly been trying to add in more natural cleaning and natural beauty alternatives. I tend to get overwhelmed if I try to do too much at one time so I've slowly over the years been trying to add a little more natural stuff into my life. For Christmas I got the book Simply Living Well and I want to use that to find at least one more natural recipe to add to my routine.
Every few years I write a post about things I no longer buy and it's about time I either wrote an updated post or else I may just write a post with my favorite natural living and beauty "recipes".
laugh more, smile more, forgive more, love more
Does this need an explanation?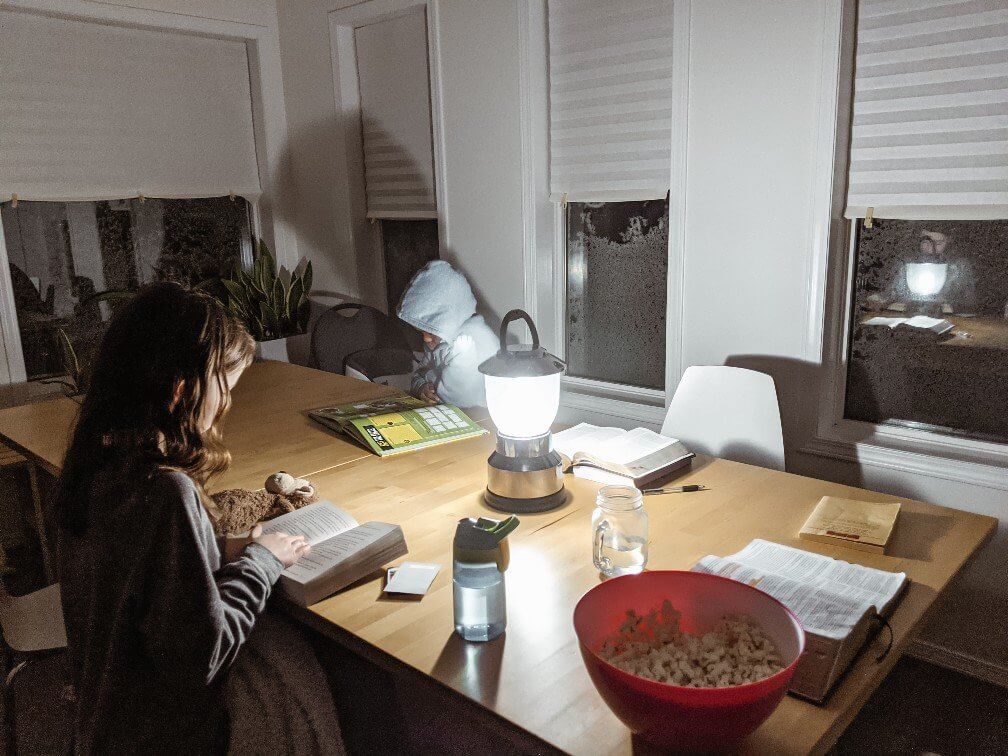 reading when the power went out during a winter storm (see the snow and ice on the windows?)
FAMILY
continue going for daily walks as a family
We've been doing this since December and it's been really good. Especially for my mental health in the winter. Hopefully we can keep it up. I feel like if we can make it through January we can make it through anything.
figure out what is going on with fostering
I realize I put something on this list that is completely out of my control but I'm putting it on here anyway. The hardest part about fostering has been the unknown. We still have R2 and within two months he could be gone and we could have Buzz and Woody back. Or, he could go and we could be done fostering. OR, he could stay and we could gain his sister.
Apparently I'm not good with so much up in the air!
get rid of Ember?
Yes, getting rid of our cat is on my list. And it's on here with a question mark. So, we'll see what becomes of this.
Edit: So, this one got a lot of comments on my YouTube video. Ember has some anxiety issues around little kids and with us fostering (and perpetually having toddlers) it's been adding up. Unfortunately she's almost always on edge and little R2 almost always has a scratch or two on his face.
celebrate the seasons
I've been creating little bucket lists for each season since the beginning of the fall and I feel like it's helped me to enjoy each season and month better so I want to continue this.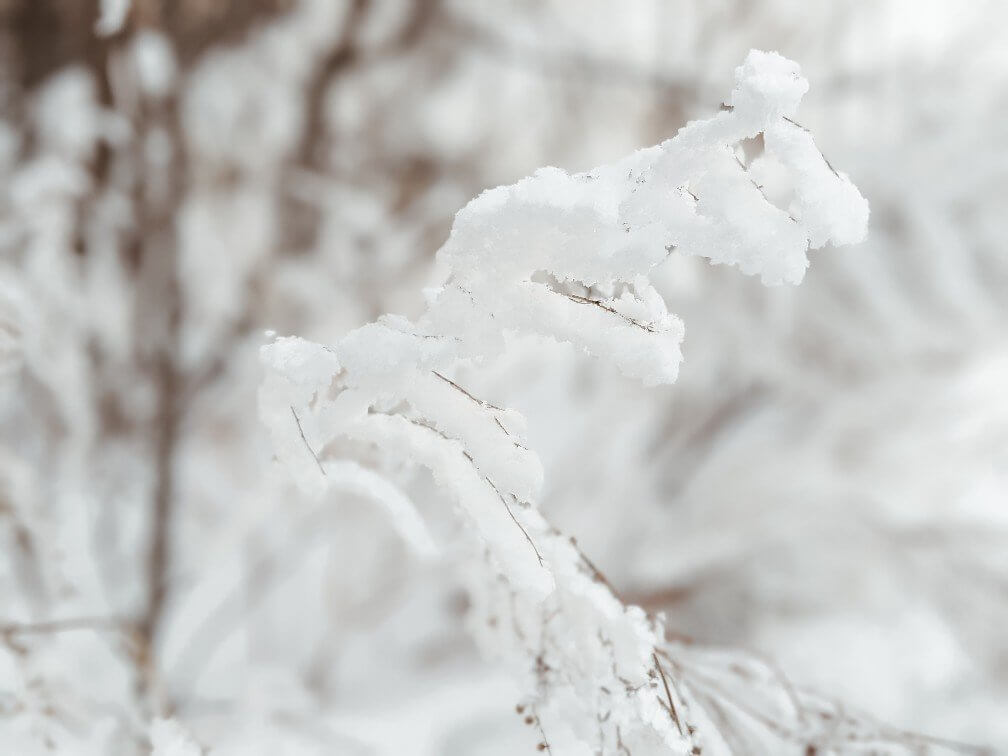 go on a road trip
If all goes well I would like to take a road trip out to BC this summer.
continue on with our relaxed homeschooling
I've been enjoying our relaxed homeschool approach that we've taken in the last year. But I would like to add in weekly poetry tea time. We used to do this on a regular basis and we all enjoyed it a lot.
get rid of baby stuff
So, this kind of goes with figuring out fostering. We've realized the baby stage is not our favorite stage but we would make an exception for R2's sister so we're just kind of waiting to see where things go before getting rid of the stuff.
make 2015-2020 photobooks
Um, I'm a little behind. I hope to get started on this next week.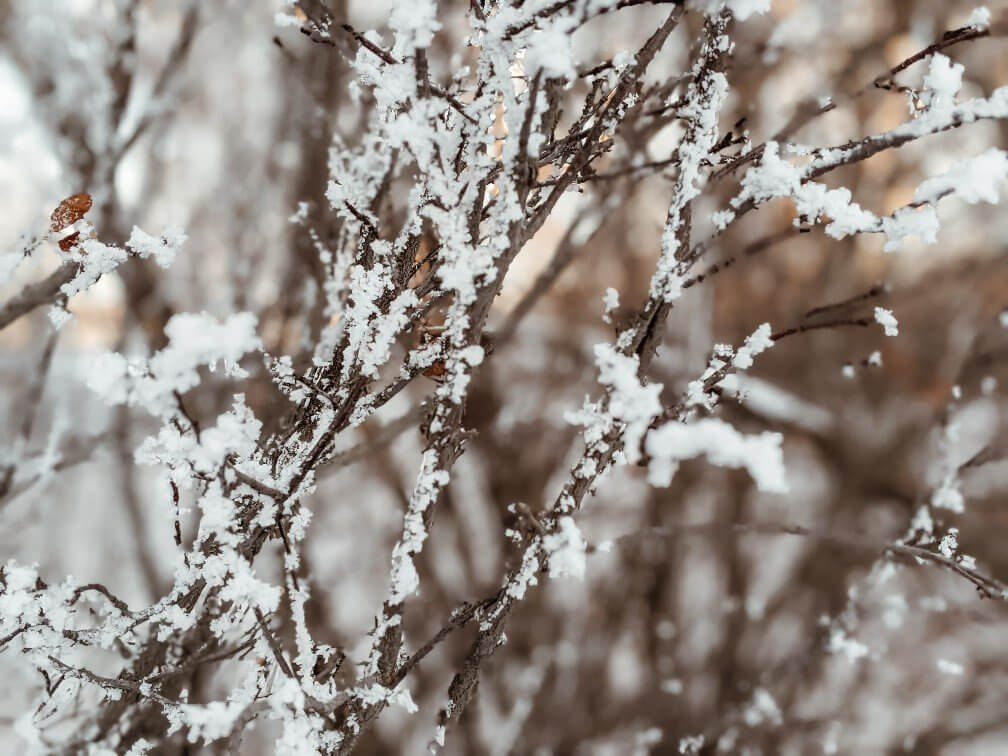 ONLINE STUFF
two videos a week on my BookTube channel
I've been posting book-ish videos on YouTube for a year now and for this year I would like to continue with two videos a week.
weekly blog post on my homeschool site
I totally neglected my homeschool website this last year but I want to get back into it. I'm not making any crazy commitments right now but I'm going to commit to one post a week. They will mostly be book lists (middle grade books and picture books) but there will be some homeschool specific posts as well.
use this site "more"
More is in quotations above because I have used it in the last year but it's mostly just been a place to share my book-ish videos. This year I want to write more personal posts – more goals, more about fostering, and more of whatever else I feel like.
possibly start sharing some art journal videos on YT
I kind of mentioned this already when I shared about penpals. I like watching art journal and stationary videos on YT and whenever I like something I also like to get involved in the community. So this is a maybe on my list. First I definitely need to finish my Bible in 60 days plan before I make a full decision on whether or not I have time for this. If I do it I will just share it on what I've dubbed my personal, random channel.
step back from Instagram a bit
I've really lost most of my interest in Instagram in the last six months to a year. I think it's partly because when fostering I can't share the kids' faces online anyway so it just feels hard and weird. Plus I don't know, I'm just not enjoying it as much. I'm not deactivating my account or anything (I did that to Facebook back in the summer and haven't missed it) but I want to intentionally be on there less.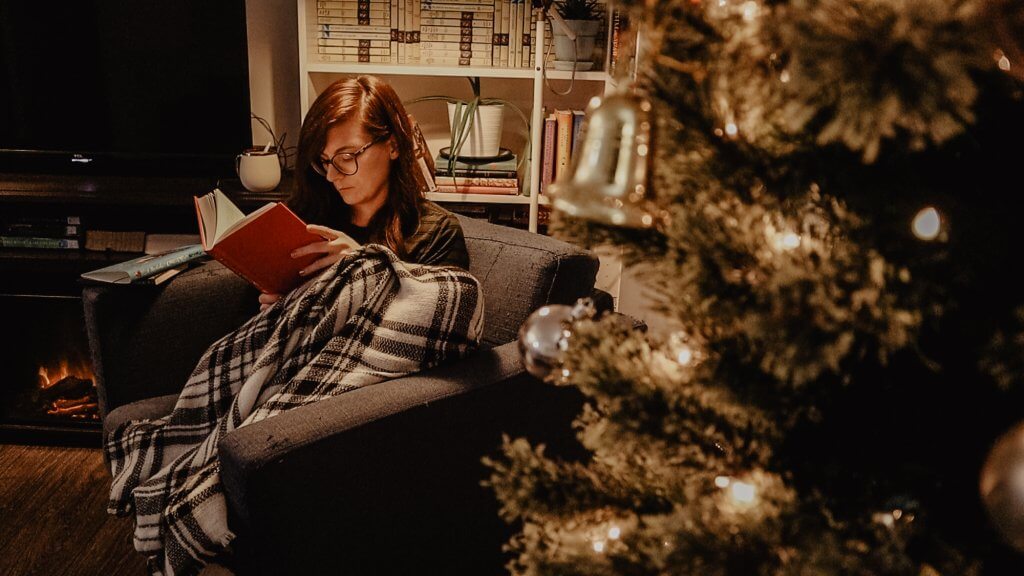 continue to give away a book each month to my newsletter subscribers
Since the fall I've been giving away one of the best books I read each month to one of my book-ish newsletter subscribers. If you are interested in entering to win, sign up for the newsletter here.
hit 10,000 subscribers on BookTube (but I'd love to hit more than that, 50,000?)
So, these feel like weird goals to set but I would love to increase my subscribers over on BookTube this year. I'm currently just over 3,000 and I think hitting 10,000 by the end of the year is attainable, but honestly, I think 50,000 would be sweet. Other than being consistent there really isn't much I can do in this regard, it's very much up to YouTube and other people but I'm curious to see where it falls at the end of the year.
grow my Patreon to 75
For those who want to hear me talk about books even more, I started a Patreon page in December. I would like to continue to grow that to 75 patrons by the end of the year.
run at least two readathons over on Hey Reader
I had fun organizing the Hey Reader-athon back in October and then a kids one in November and I would like to do more this year. At least one regular one and one kids one but I'm hoping to actually run two regular ones and one kids one.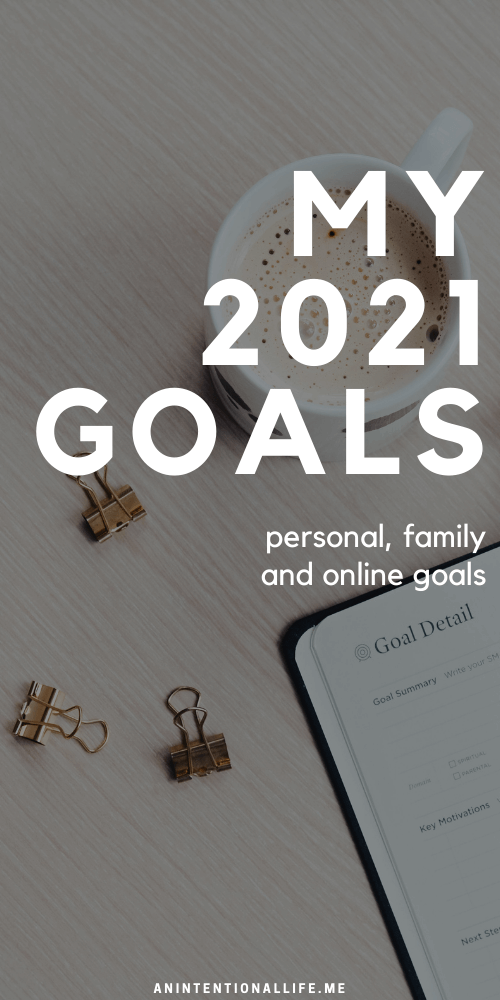 Okay, there are my goals for the year! It feels vulnerable to share them here but I like to look back and see how I've done (and if I write it down on paper apparently I can't find it because I have no idea what happened to last years goals). Plus, I think it gives me some good accountability.
I hope to do an update at least once to share how things are going in the middle of the year.
Oh, and soon I'll do a mini update on my birthday goals, keep an eye out for those!
Did you set goals for this year? I would love to hear some of them!