Monthly Scripture Writing Challenge: Love & Marriage
Marriage is not a topic I have written a whole lot about, if you compare the amount of times I write about marriage versus the times I write about parenting you'll see parenting is a much more written about topic. That's not because I prefer parenting over marriage but because marriage has been quite easy compared to parenting and I guess I generally write about hard things (case in point).
I thought I would change things up during the month of February and share a little about marriage, I currently have zero specific ideas on this so hopefully some come to me.
But I am going to kick things off by sharing February's Scripture Writing Challenge since the topic is love/marriage.
You can see all my Scripture Writing Challenges here.
A reminder I always like to share with my Scripture Writing Challenges: don't get hung up if you miss a day, don't focus on the missed days, focus on the days you got into the Word.
Curious about the benefits of writing out the Scriptures? Check that out here.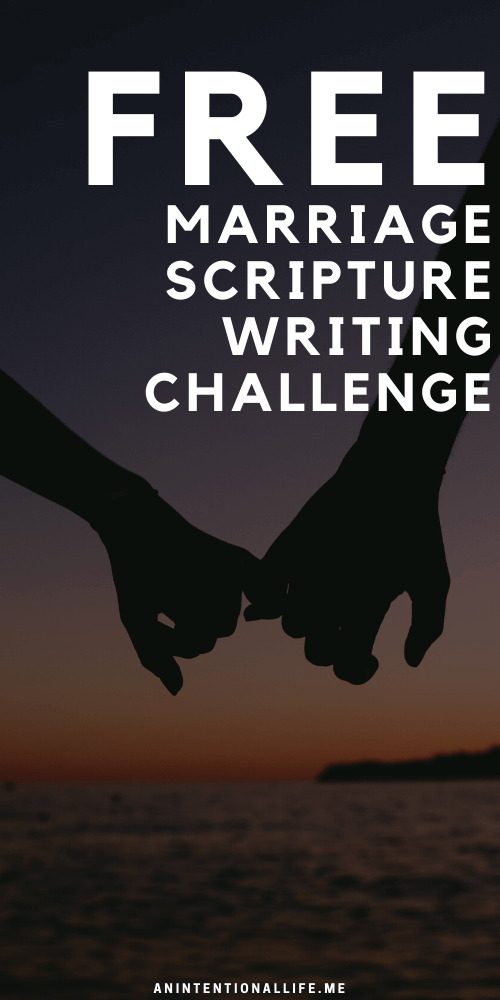 I decided to not make a printable for this challenge, if it is something you use and miss let me know and I can whip one up and continue to make the printables. Personally I've gotten lazy and haven't been printing them out and instead have just been referring back to the post for the passages each day.
MARRIAGE SCRIPTURE WRITING CHALLENGE
Even though there aren't thirty-one days in February I like to share thirty-one days worth of passages in case people decide to do the challenge in a month that has that many days.
day one: Genesis 1:27-28
day two: Proverbs 31:11-12
day three: Titus 2:3-5
day four: Ephesians 5:22-24
day five: Ecclesiastes 4:9
day six: Colossians 3:18
day seven: Genesis 2:24
day eight: 1 John 4:18
day nine: Ephesians 5:33
day ten: Colossians 3:14
day eleven: Ecclesiastes 4:12
day twelve: Ephesians 4:2-3
day thirteen: Mark 10:9
day fourteen: 1 Corinthians 13:2
day fifteen: 1 Corinthians 13:4-6
day sixteen: 1 Corinthians 13:7-8
day seventeen: 1 Corinthians 13:13
day eighteen: Proverbs 3:3-4
day nineteen: Song of Solomon 8:6-7
day twenty: 1 Peter 4:8
day twenty-one: Romans 13:8
day twenty-two: 1 Thessalonians 5:11
day twenty-three: 1 John 4:7
day twenty-four: Ephesians 4:32
day twenty-five: Romans 12:10
day twenty six: John 15:12
day twenty-seven: Proverbs 12:4
day twenty-eight: Matthew 19:4-6
day twenty-nine: 1 Corinthians 16:14
day thirty: John 13:34-35
day thirty-one: 1 John 4:19