Where I Buy Cheap Books – Part One
Try as I might I just can't seem to be an ebook reader. I have a Kindle and appreciate it's capabilities but I just really like holding a physical book.
I do make good use of our public library (we take out thousands of dollars of books each year) but I also really like owning books.
Because I often get asked where I buy books from I decided to answer the question here. This will be a two part series, so watch for part two in the next couple of weeks!
The place I've been getting a lot of books from lately that I want to share with you is Book Outlet. Book Outlet has a great selection of books at great prices, the books I buy are usually 60%-80% off. And I love that I have been able to get books for myself, books for my kids and books for our homeschool!
Book Outlet sells books that have been previously returned but are in great shape (or you have the option of buying damaged books as well for even cheaper).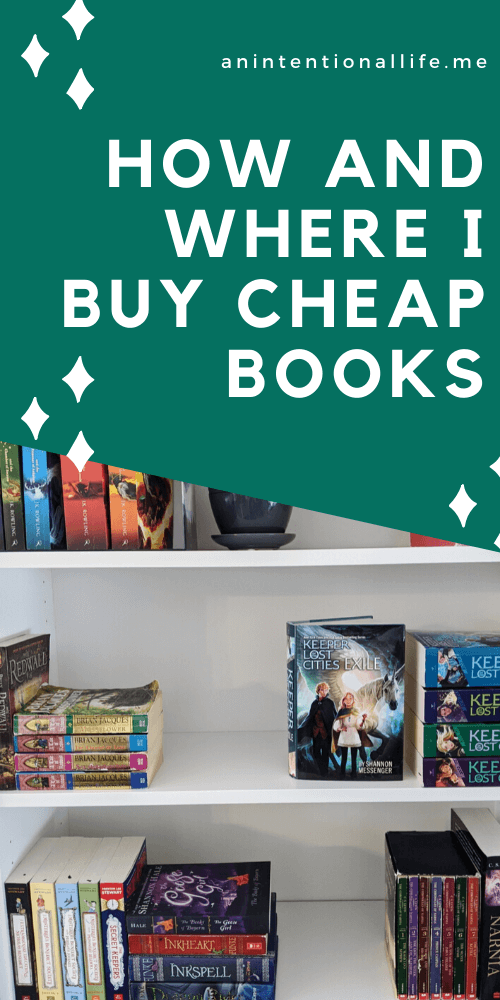 HOW TO GET EVEN MORE FROM BOOK OUTLET
So, Book Outlet has great prices already (and free shipping too!) but there are a couple of ways you can get even better deals (aka more books)!
USE A REFERRAL CODE & SHARE YOURS!
If you haven't ordered from Book Outlet before you can save $10 off your first order with my referral code (and I'll also get $10 in free books). For whatever reason Book Outlet has two sites: a Canadian one and an American one though they have the same selection and as a Canadian I can order from both. The only difference seems to be that .ca has Canadian prices and .com has American prices.
Here are my referral links so you can get $10 off your first order:
Then, once you've made your first order you can share your referral link with friends and get $10 in rewards whenever someone makes their first order through your link – score!
SHOP THE SALES
Book Outlet quite often has sales, they always display on their homepage when they do but if you sign up for my book-ish newsletter you'll see that I will share their sales quite frequently if you don't want to always be checking out their site.
I've seen some really good sales on their site in the last few months and this can really increase your savings.
SEE IT IN ACTION
I recently placed two orders from Book Outlet (one from .ca and one from .com), using these different techniques and I got a lot of books for not a lot of money.
If you are curious about what I got you can check out my book haul here:
And in case you haven't placed an order with Book Outlet yet here are my referral links again so you can save $10 off your first order:
Keep any eye out for part two in this series where I share other tips and tricks on how to buy cheap books!