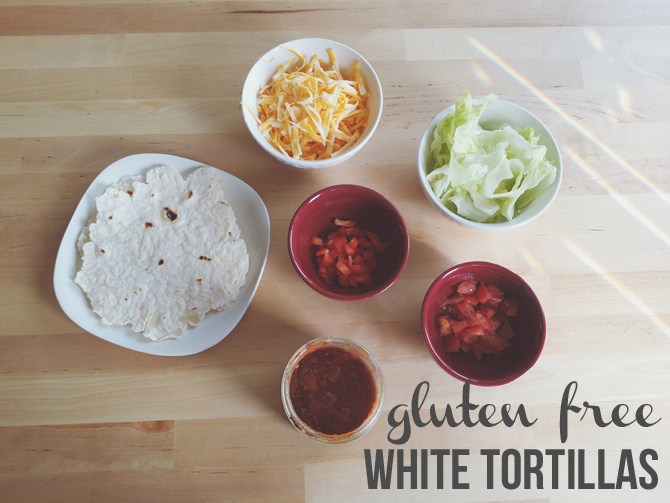 Gluten Free White Tortillas
When we come across a gluten-free bread-ish recipe (like these tortillas) I just get so giddy and want to tell everyone about it, oh wait, I have! 🙂 We had yet to find a good gluten-free tortilla that we could buy so finding a recipe we could make AND really enjoy is pretty exciting.
What I love so much about this recipe is that it uses basic gluten free flours that we use on a daily basis (white rice flour, brown rice flour and tapioca starch), so I don't need to hunting in the grocery store for weird flours (like my one cookbook that calls for a lot of pea fiber 80 – what is that?!).
For a gluten free recipe the dough is fairly easy to work with, I definitely struggle a bit with rolling them out properly, I think a tortilla press will be going on my Christmas list this year, but thankfully the overall shape doesn't matter too much and they still taste delicious.
We like to use these tortillas with tacos (make with our homemade taco seasoning), chicken fajitas and if you are three years old and like Raeca, completely plain.
Gluten Free Flour Tortillas
1 cup tapioca starch
1/2 cup white rice flour
1/2 cup brown rice flour
3/4 cup water
2 tbsp shortening
1 tbsp white sugar
2 tsp xanthan gum
1/2 tsp baking powder
1/2 tsp salt
Mix together the flours, white sugar, baking powder, salt and xanthan gum.

Mix in the shortening with your fingers until well combined.

Add the water and mix well.

If the mixture is too dry, add a little more water.

Heat an ungreased skillet on medium-high heat.

Roll out tortillas and cook each one on the hot pan until it begins to bubble. Then flip and cook until the bottom has some brown spots.

They are the best if you stack them on top of each other as they come out (this softens them up a bit). You can also throw a s lightly damp towel over the top one.
I kind of want to eat these every day now.
How do you like to eat tortillas?

one of the more misshapen tortillas . . . who am I kidding, they are all pretty misshapen
definitely adding a tortilla press to the Christmas list