DIY Moisturizing Natural Lotion
This winter is like every other Saskatchewan winter – cold and dry.
We have spells of -40 weather and the furnace is running constantly, sucking all potential moisture out of our home and leaving our skin dry and itchy.
It doesn't help that we have a problem with dry skin to begin, Raeca has a long struggle with dry skin and eczema and Ephraim's beautiful African skin needs a lot of moisturizing.
So, I've been experimenting with some different lotions and have come up with one that we love!
I originally intended to make a body butter but it turned out more lotion-y and that ended up being a pleasant surprise because it works even better than I expected!
In the last few years as I've been turning to more and more natural products (or more like, DIY-ing natural products), I've realized how horrible beauty store lotions smell. I'm not even sensitive to smells and I think they smell overpowering and unnatural. With this recipe you can ditch the store lotion and just use this.
The fact that it only takes a few ingredients: shea butter, coconut oil, grapeseed oil and essential oils makes it even better!
I've only been using grapeseed oil for a little while now but I've been reading up some of it's great benefits for your skin and I love how affordable it it is, so it's perfect in this recipe.
The essential oils I used are all supposed to be moisturizing and good for skin so I used: frankincense, ylang ylang, rosemary and lavender, though you can feel free to use your own preferred combination of oils.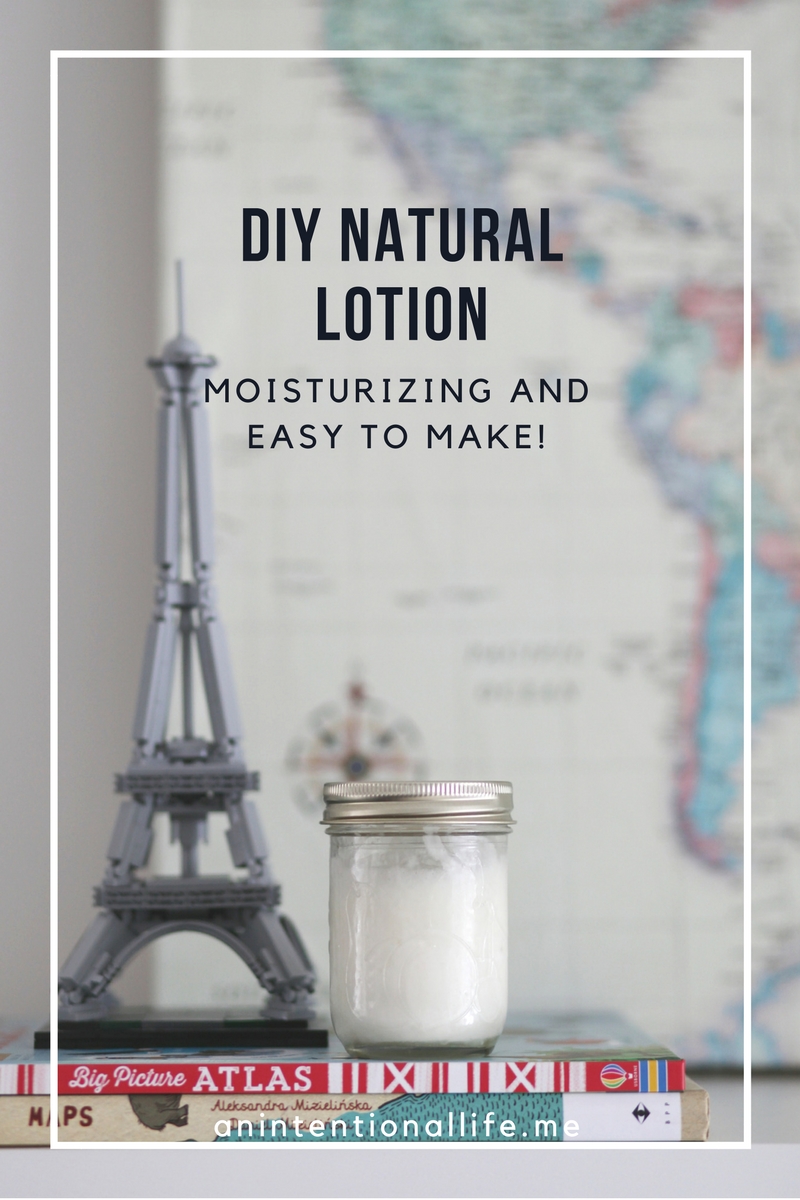 DIY Moisturizing Natural Lotion
1/2 cup shea butter
1/4 cup coconut oil
1 1/2 tbsp grapeseed oil
2 drops frankincense essential oil
2 drops ylang ylang essential oil
2 drops rosemary essential oil
1 drop lavender essential oil*
Place the shea butter in a microwave safe container and microwave for 30 seconds at a time until partially melted, mine took one minute.
Add the coconut oil and using an electric better whip the two together until smooth.
Add in the grapeseed oil and essential oils and mix with a spoon.
Place it in a container and use just like lotion! I like to use this lotion out of the shower and for extra moisturizing for my son, after he has the lotion on I rub plain grapeseed oil on his skin.
*Neither my daughter nor I really like the smell of lavender oil, hence the one drop, if you love it feel free to use two drops.
Do you have a favorite DIY natural lotion? What kind of ingredients do you use?
If you try this recipe let me know how it goes!