The Miracle Essential Oil Blend – Great for Headaches!
I got my first essential oils three years ago. I was a total skeptic but my theory was "it doesn't hurt to try!"
Now, three years later I think I can finally put myself in the fully convinced category.
Let me start off by saying that I'm not loyal to one oil company. I've had three companies that I've purchased from since the beginning and I still like all of their oils.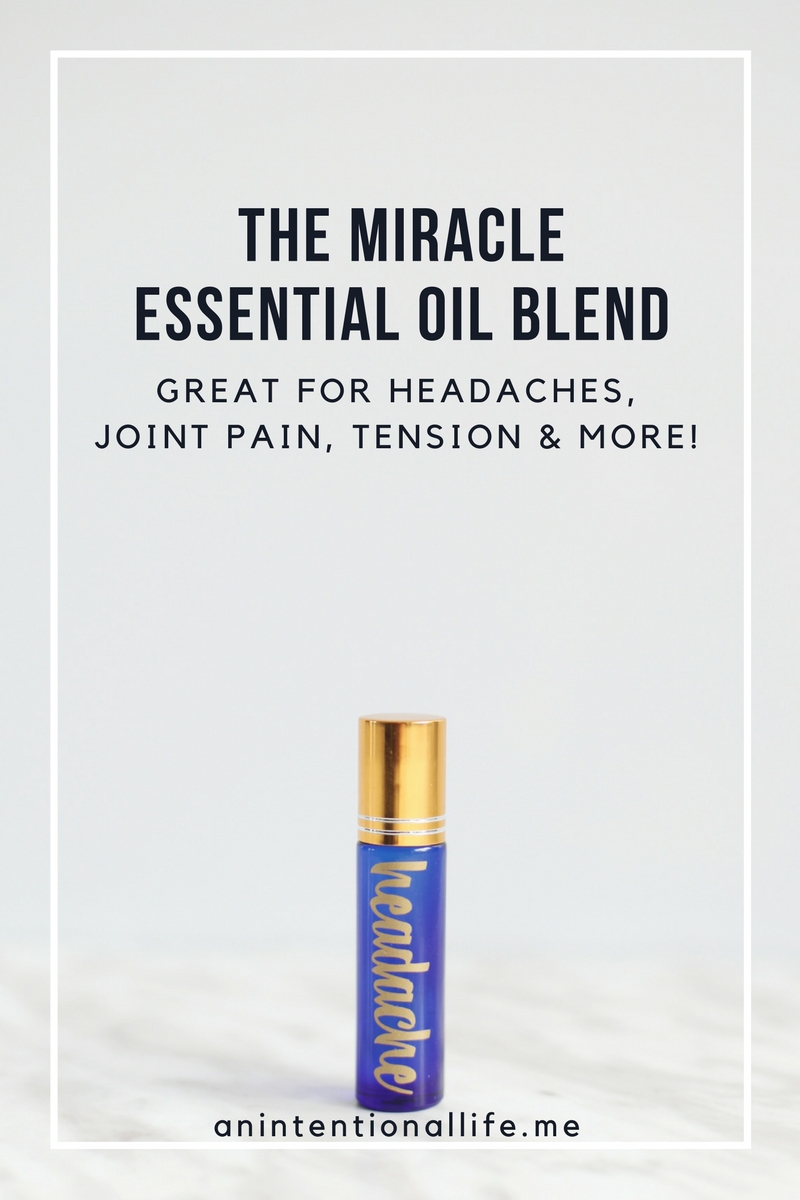 I purchased some roller bottles awhile ago and have been creating my own blends and wanted to share a few of them here over the next while.
If you are looking to buy some roller bottles I'd highly recommend these ones (here in Canada), or at least looking for ones with stainless steel balls (they work so much better), and either colored or amber. Light can affect the lifespan of oils, I made the mistake of buying my first bottles in clear so I keep them in a roller bottle case (here in Canada).
One of my favorite blends so far has been this one. I first labeled "headache", but had I known how multi-purpose it was going to be I would have labeled it "miracle".
So far I've used and loved this blend for: headaches (especially tension headaches, which are pretty much the only kind I get), joint pain and muscle soreness.
Ready for the easy blend "recipe"?! Here it is:
Miracle/Headache Essential Oil Blend
2 drops peppermint
2 drops spearmint
2 drops rosemary
2 drops eucalyptus
1 drop lavender
carrier oil*
Add the drops to a 10ml roller bottle and then fill the rest of the bottle with carrier oil.
Add the roller ball, close the lid and shake. Oil is then ready to use.
When needed, roll oil over sensitive area.
*My personal preference for carrier is grapeseed oil. It has a good shelf life and is a great price (it's also a great massage oil!). My other favorite carrier is almond oil but because we have friends that have nut allergies I stick with grapeseed. (I know a lot of others like fractionated coconut oil but my daughter has a sensitivity to coconut so that one is also out for us.)
Because of the eucalyptus oil this blend isn't recommended for kids under ten years of age.
Full disclosure: I have actually used this on my daughter for growing pains. She is seven and eucalyptus isn't recommended for kids under ten (and I believe peppermint isn't for kids under six). I have done my own research and am personally okay with such a small exposure once in a while but I would highly recommend doing your own research.
Check out other essential oil recipes here.
What are your thoughts on essential oils? Do you have some blends you love?