What I've Been Reading Lately – January
January was my biggest reading month . . . ever?! Probably at least since I was a teenager and had next to zero responsibilities and I put off the few responsibilities I had to read (I'm looking at you, homework).
Not only did I read a lot of books this month, I read a lot of big books.
Also, in book-ish news, we got a few bookcases in our living room. Library wall, here we come! I am still doing some rearranging and organizing but I'm liking it so far.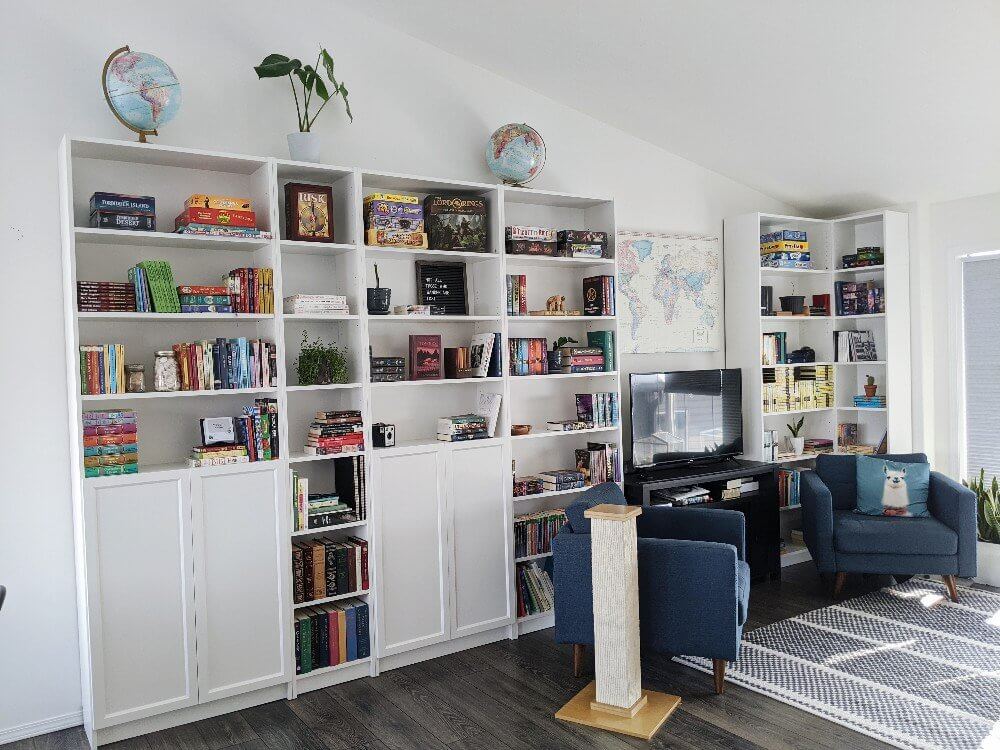 If you like all things books, make sure to sign up for my book-ish newsletter!
Also, I've been sharing a lot about books over on YouTube in the last little bit, I'll include my January wrap up video below but you can also check out all the videos on my channel here.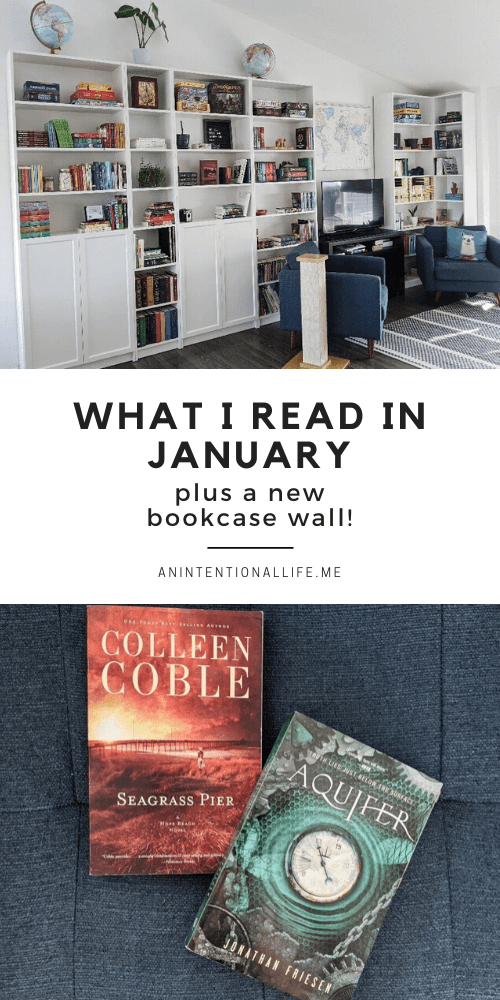 If you want to know my thoughts on the books I read (I've got some strong feelings on a few of these), check out my video wrap up:
WHAT I READ IN JANUARY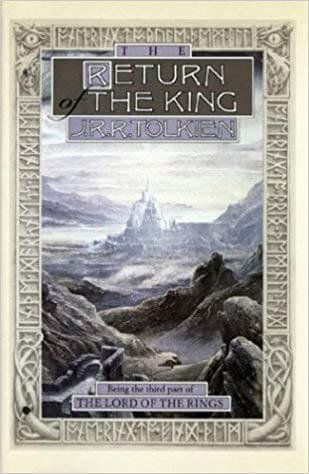 As the Shadow of Mordor grows across the land, the Companions of the Ring have become involved in separate adventures. Aragorn, revealed as the hidden heir of the ancient Kings of the West, has joined with the Riders of Rohan against the forces of Isengard, and takes part in the desperate victory of the Hornburg. Merry and Pippin, captured by Orcs, escape into Fangorn Forest and there encounter the Ents. Gandalf has miraculously returned and defeated the evil wizard, Saruman. Sam has left his master for dead after a battle with the giant spider, Shelob; but Frodo is still alive — now in the foul hands of the Orcs. And all the while the armies of the Dark Lord are massing as the One Ring draws ever nearer to the Cracks of Doom.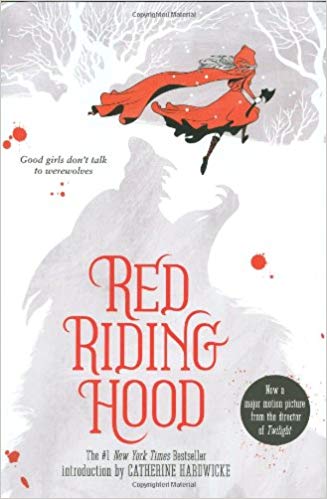 This one was terrible, I highly recommend not reading it. You can check out my wrap up video to hear why.
Valerie's sister was beautiful, kind, and sweet. Now she is dead. Henri, the handsome son of the blacksmith, tries to console Valerie, but her wild heart beats fast for another: the outcast woodcutter, Peter, who offers Valerie another life far from home.
After her sister's violent death, Valerie's world begins to spiral out of control. For generations, the werewolf has been kept at bay with a monthly sacrifice. But no one is safe. When an expert wolf hunter arrives, the villagers learn that the creature lives among them – it could be anyone in town.
It soon becomes clear that Valerie is the only one who can hear the voice of creature. The Wolf says she must surrender herself before the Blood Moon wanes . . . or everyone she loves will die.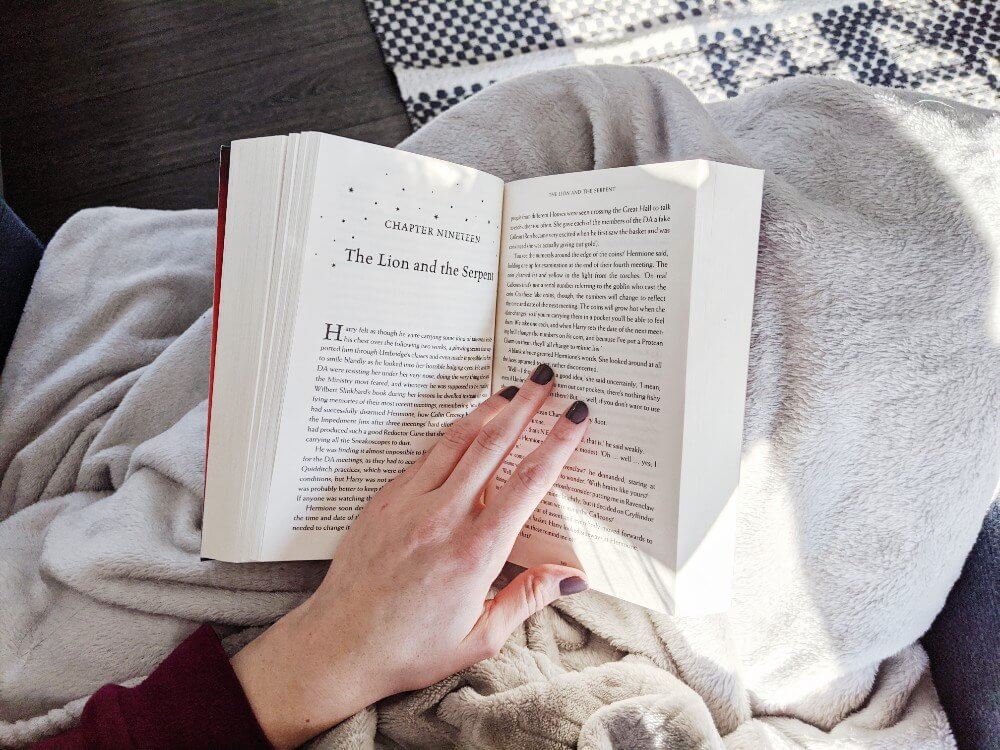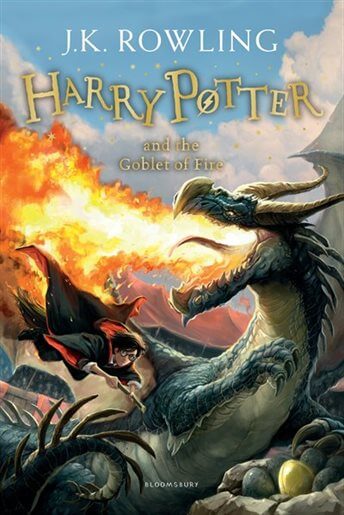 Harry Potter is midway through his training as a wizard and his coming of age. Harry wants to get away from the pernicious Dursleys and go to the International Quidditch Cup. He wants to find out about the mysterious event that's supposed to take place at Hogwarts this year, an event involving two other rival schools of magic, and a competition that hasn't happened for a hundred years. He wants to be a normal, fourteen-year-old wizard. But unfortunately for Harry Potter, he's not normal – even by wizarding standards. And in his case, different can be deadly.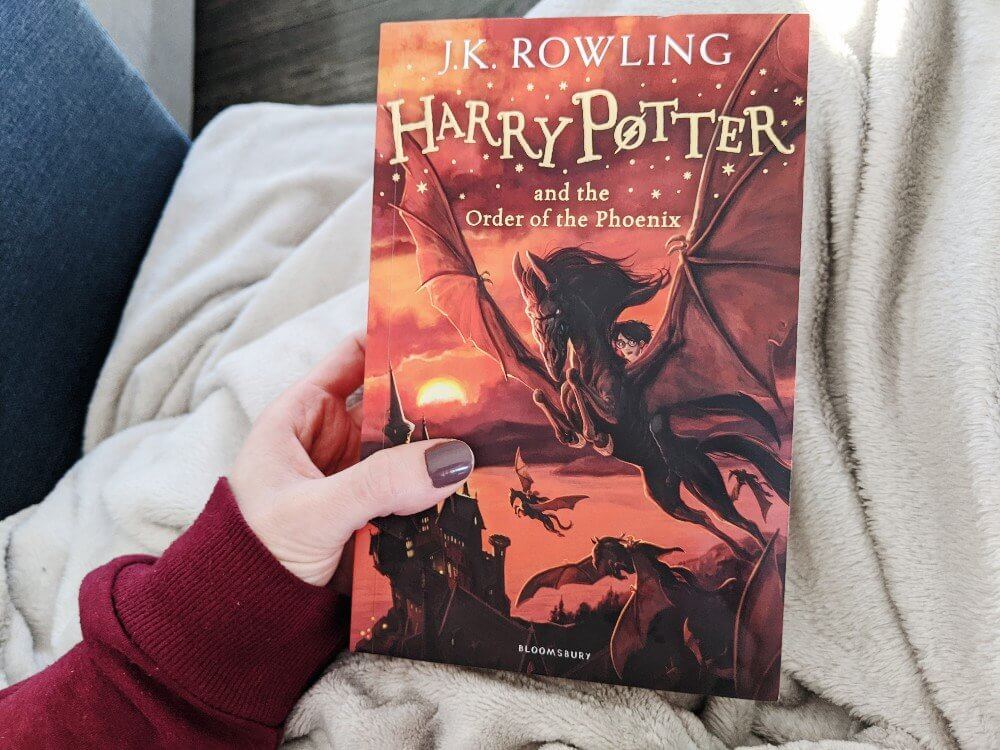 In his fifth year at Hogwart's, Harry faces challenges at every turn, from the dark threat of He-Who-Must-Not-Be-Named and the unreliability of the government of the magical world to the rise of Ron Weasley as the keeper of the Gryffindor Quidditch Team. Along the way he learns about the strength of his friends, the fierceness of his enemies, and the meaning of sacrifice.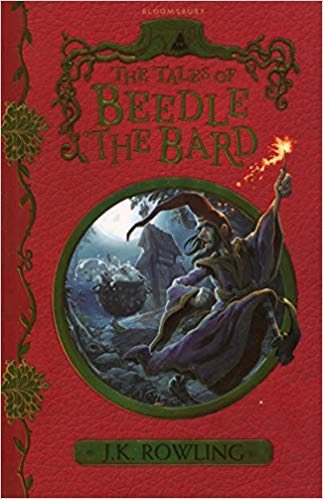 The Tales of Beedle the Bard have been favourite bedtime reading in wizarding households for centuries. Full of magic and trickery, these classic tales both entertain and instruct, and remain as captivating to young wizards today as they were when Beedle first put quill to parchment in the fifteenth century.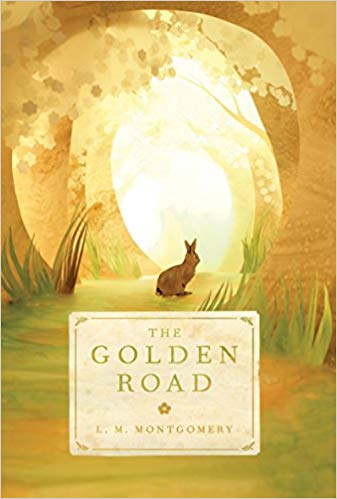 The plot is based around the character Beverley who remembers his childhood days with his brother Felix and friends and cousins Felicity, Cecily, Dan, Sara Stanley (the "Story Girl"), hired-boy Peter and neighbor Sara Ray. The children often played in their family's orchard and had many adventures, even creating their own newspaper, called Our Magazine. More character development takes place in this novel than in its predecessor, and the reader is able to watch the children grow up; in particular, they are able to watch Sara Stanley leave the Golden Road of childhood forever.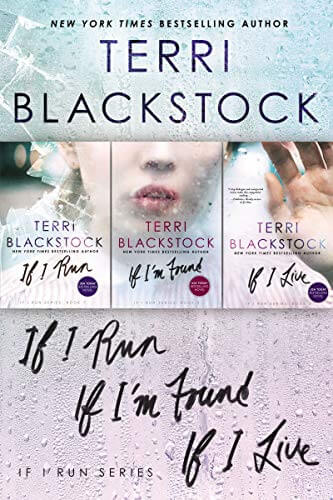 Casey knows the truth. But it won't set her free.
Casey Cox's DNA is all over the crime scene. There's no use talking to police; they've failed her abysmally before. She has to flee before she's arrested . . . or worse. The truth doesn't matter anymore.
But what is the truth? That's the question haunting Dylan Roberts, the war-weary veteran hired to find Casey. PTSD has marked him damaged goods, but bringing Casey back can redeem him. Though the crime scene seems to tell the whole story, details of the murder aren't adding up.
Casey Cox doesn't fit the profile of a killer. But are Dylan's skewed perceptions keeping him from being objective? If she isn't guilty, why did she run?
Unraveling her past and the evidence that condemns her will take more time than he has, but as Dylan's damaged soul intersects with hers, he is faced with two choices: the girl who occupies his every thought is a psychopathic killer . . . or a selfless hero. And the truth could be the most deadly weapon yet.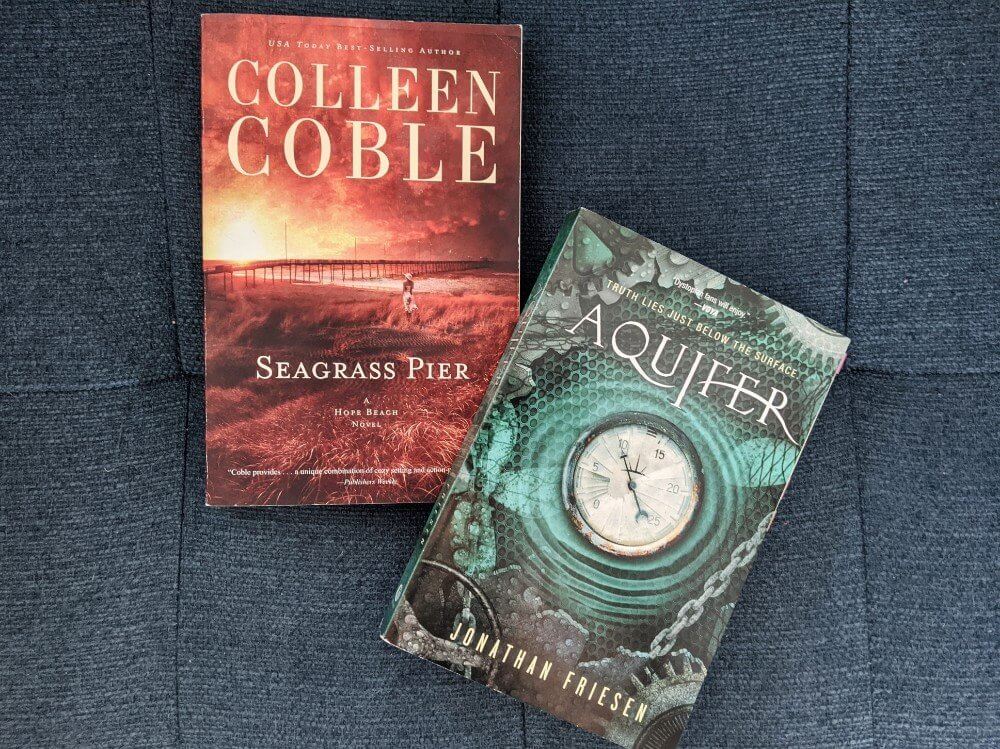 Elin Summerall was one of the lucky ones. Not only did she get a heart transplant, but the donor was a perfect fit. A miraculously perfect fit.
But when Elin begins having violent flashbacks—and vivid dreams of being strangled—she realizes that she has been the recipient of more than just a new heart . . . Elin is remembering her donor's murder.
Her strange affliction has attracted some unwanted attention: from the press, from the authorities . . . and from the killer himself. Now, living alone with her young daughter and aging mother, Elin is being stalked—by a man she's only met in her nightmares.
The police are dubious of her story, but one off-duty FBI agent agrees to help her: Agent Marc Everton.
Now, in a remote cottage on Hope Island, Elin and Marc must probe the secrets buried in her borrowed heart. And there's no time to waste. One man is desperate to silence her—before she remembers too much.
Only He Can Bring What They Need to Survive.
In the year 2250, water is scarce, and those who control it control everything. Sixteen-year-old Luca has struggled with this truth, and what it means, his entire life. As the son of the Deliverer, he will one day have to descend to the underground Aquifer each year and negotiate with the reportedly ratlike miners who harvest the world's fresh water. But he has learned the true control rests with the Council aboveground, a group that has people following without hesitation, and which has forbidden all emotion and art in the name of keeping the peace. And this Council has broken his father's spirit, while also forcing Luca to hide every feeling that rules his heart.
But when Luca's father goes missing, everything shifts. Luca is forced underground, and discovers secrets, lies, and mysteries that cause him to reevaluate who he is and the world he serves. Together with his friends and a very alluring girl, Luca seeks to free his people and the Rats from the Council's control. But Luca's mission is not without struggle and loss, as his desire to uncover the truth could have greater consequences than he ever imagined.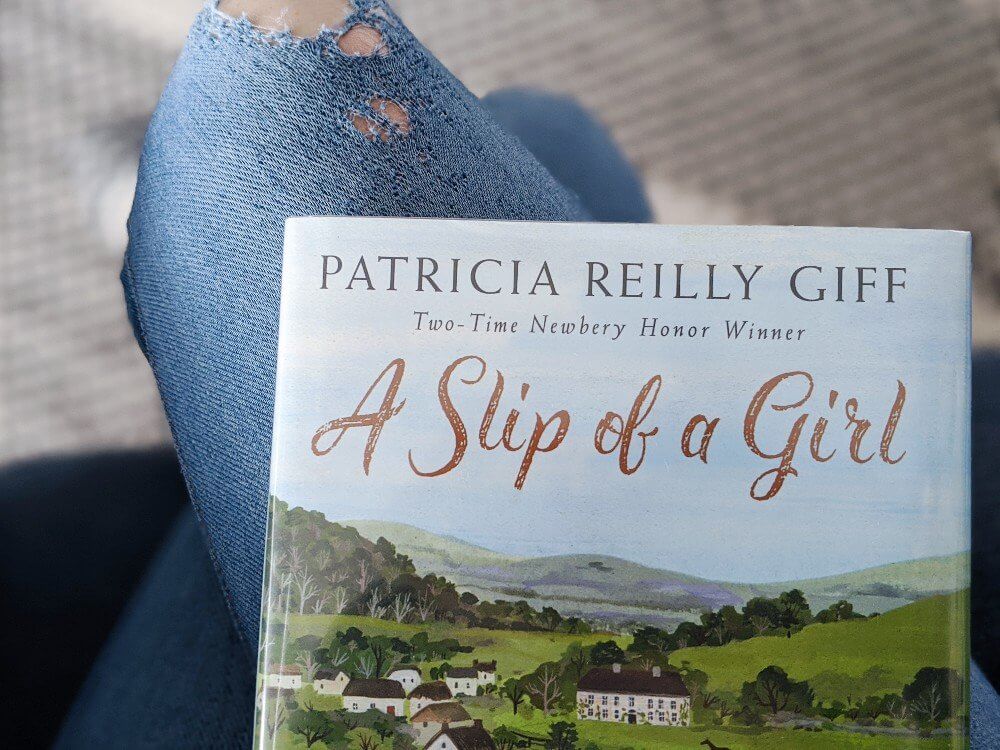 For Anna, the family farm has always been home… But now, things are changing.
Anna's mother has died, and her older siblings have emigrated, leaving Anna and her father to care for a young sister with special needs. And though their family has worked this land for years, they're in danger of losing it as poor crop yields leave them without money to pay their rent.
When a violent encounter with the Lord's rent collector results in Anna and her father's arrest, all seems lost. But Anna sees her chance and bolts from the jailhouse. On the run, Anna must rely on her own inner strength to protect her sister–and try to find a way to save her family.
Written in verse, A Slip of a Girl is a poignant story of adversity, resilience, and self-determination by a master of historical fiction, painting a haunting history of the tensions in the Irish countryside of the early 1890s, and the aftermath of the Great Famine.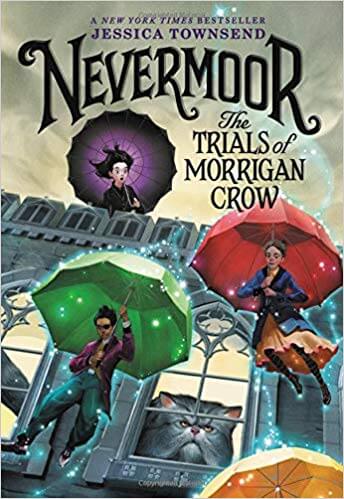 Morrigan Crow is cursed. Having been born on Eventide, the unluckiest day for any child to be born, she's blamed for all local misfortunes, from hailstorms to heart attacks–and, worst of all, the curse means that Morrigan is doomed to die at midnight on her eleventh birthday.
But as Morrigan awaits her fate, a strange and remarkable man named Jupiter North appears. Chased by black-smoke hounds and shadowy hunters on horseback, he whisks her away into the safety of a secret, magical city called Nevermoor.
It's then that Morrigan discovers Jupiter has chosen her to contend for a place in the city's most prestigious organization: the Wundrous Society. In order to join, she must compete in four difficult and dangerous trials against hundreds of other children, each with an extraordinary talent that sets them apart–an extraordinary talent that Morrigan insists she does not have. To stay in the safety of Nevermoor for good, Morrigan will need to find a way to pass the tests–or she'll have to leave the city to confront her deadly fate.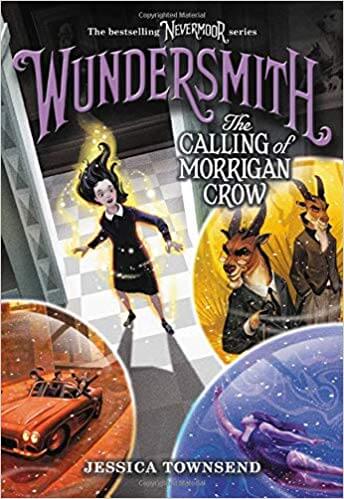 Morrigan Crow may have defeated her deadly curse and joined the mystical and prestigious Wundrous Society, but her journey has only just begun….
The people of the secret, magical city of Nevermoor have a long memory of the monstrous attacks orchestrated by the only other known Wundersmith, Ezra Squall-and they seem to think Morrigan's own knack for Wunder makes her just as deadly.
And so it's no surprise that when citizens of the Wundrous Society begin to go missing, Morrigan is the number one suspect.
Now it's up to Morrigan and her friends, new and old, to prove her innocence-before she's expelled from the Wundrous Society, her only home, for good.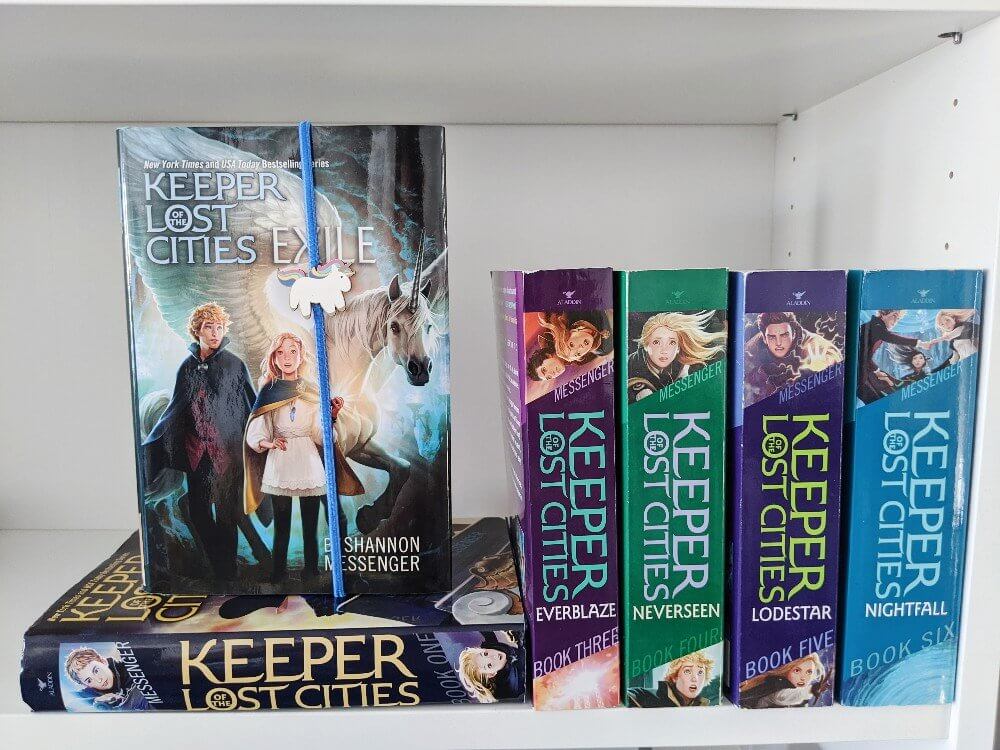 Twelve-year-old Sophie has never quite fit into her life. She's skipped multiple grades and doesn't really connect with the older kids at school, but she's not comfortable with her family, either. The reason? Sophie's a Telepath, someone who can read minds. No one knows her secret—at least, that's what she thinks…
But the day Sophie meets Fitz, a mysterious (and adorable) boy, she learns she's not alone. He's a Telepath too, and it turns out the reason she has never felt at home is that, well…she isn't. Fitz opens Sophie's eyes to a shocking truth, and she is forced to leave behind her family for a new life in a place that is vastly different from what she has ever known.
But Sophie still has secrets, and they're buried deep in her memory for good reason: The answers are dangerous and in high-demand. What is her true identity, and why was she hidden among humans? The truth could mean life or death—and time is running out.
Sophie befriends the mythical Alicorn—and puts her mysterious powers to the test—in this enchanting sequel to Keeper of the Lost Cities.
Sophie is settling in nicely to her new home and her new life in the world of the lost cities. And it helps that living at Havenfield means getting to spend time with rare, precious species—including the first female Alicorn, who shows herself to Sophie and trusts no one but her.
Sophie is tasked with helping to train the magical creature so that the Alicorn can be revealed to the people of the lost cities as a sign of hope, and Sophie wants to believe that the recent drama and anguish is gone for good.
But the secrets buried deep in Sophie's memories remain, and before long before she's back in incredible danger, risking everything to find the answers to questions that could save not only her life, but the life of someone close to her…
So, I read a lot of books in January! It was a good reading start to the year, that's for sure.
Have any suggestions on what I should read next month?