14 Books That Will Leave You Challenged, Inspired and Ruined
People read books for a variety of different reasons, for some they like light and fluffy books to escape from life, for others they like deep books that challenge them and others, like myself, like a mix of the two.
Today I wanted to share a list of books that have challenged, inspired and ruined my life. If you want some non-light reading, this list is for you.
That being said, these books aren't hard to read because they are written poorly or written as text books. They are hard to read because they have been written in a way that makes you analyze your life.
It's easy to see the mistakes others are making in their lives but it's harder to see the ones you are making and these books help point out some areas you may be falling short in.
The following books make me stop and analyze my life and question if I am living it for God or for myself. (The answer isn't always what I would like it to be.)
Disclaimer: Read these books only if you want to live a changed life. Don't say I didn't warn you!
(For the record, I think challenge and inspire speak for themselves but when I use the word "ruined" I mean ruined my ability to live the typical western life – self absorbed and in pursuit of more.)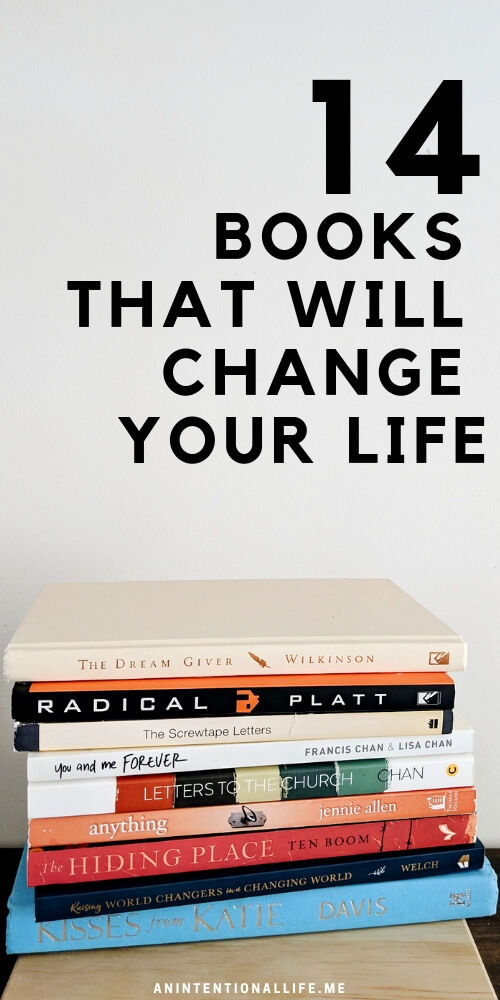 14 Books That Will Leave You Challenged, Inspired and Ruined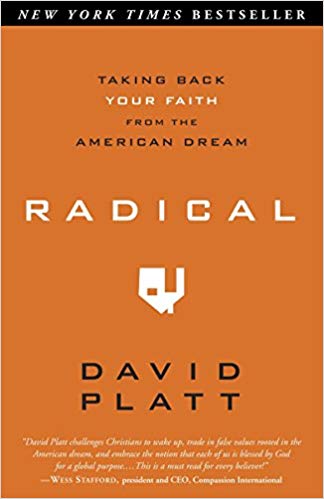 This was one of the first books from this list that I read, it changed my life in so many ways. I go back and re-read it on a regular basis because it can be so easy to slip back into living "The American Dream".
What is Jesus worth to you?

It's easy for American Christians to forget how Jesus said his followers would actually live, what their new lifestyle would actually look like. They would, he said, leave behind security, money, convenience, even family for him. They would abandon everything for the gospel. They would take up their crosses daily…
But who do you know who lives like that? Do you?
In Radical, David Platt challenges you to consider with an open heart how we have manipulated the gospel to fit our cultural preferences. He shows what Jesus actually said about being his disciple–then invites you to believe and obey what you have heard. And he tells the dramatic story of what is happening as a "successful" suburban church decides to get serious about the gospel according to Jesus.
Finally, he urges you to join in The Radical Experiment–a one-year journey in authentic discipleship that will transform how you live in a world that desperately needs the Good News Jesus came to bring.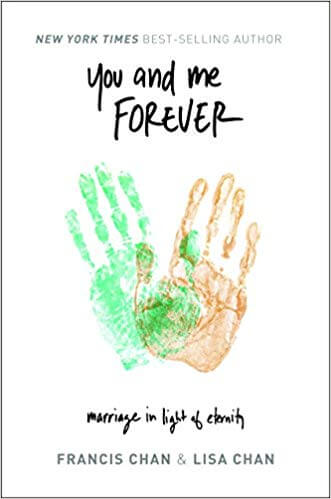 This book is disguised as a marriage book but it is so much more. It's another one I re-read regularly. Please don't see that this is a "marriage" book and then think because your marriage is doing well you don't need to read it. I think it is a must read for all Christian couples, it's not about how to get through arguments but rather, how to live with an eternal mindset.
Marriage is great, but it's not forever. It's until death do us part. Then come eternal rewards or regrets depending on how we spent our lives.
In his latest book, Francis Chan joins together with his wife Lisa to address the question many couples wonder at the altar: "How do I have a healthy marriage?" Setting aside typical topics on marriage, Francis and Lisa dive into Scripture to understand what it means to have a relationship that satisfies the deepest parts of our souls.
In the same way Crazy Love changed the way we saw our personal relationship with God, You and Me Forever: Marriage in Light of Eternity will radically shift the way we see one of the most important relationships in our life.
Jesus was right. We have it all backwards. The way to have a great marriage is by not focusing on marriage.  Whether you are single, dating or married, You and Me Forever will help you discover the adventure that you were made for and learn how to thrive in it.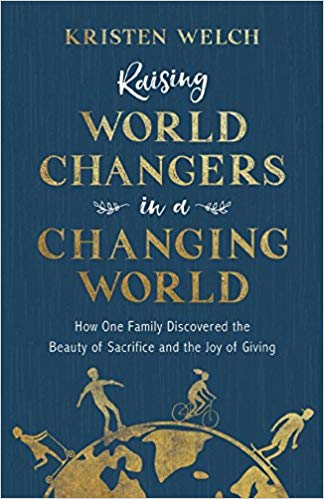 This is the newest-to-me book on this list and if my 100+ highlights and 29 tabs mean anything, this book struck me. If you are a parent I would put this down as a must-read.
Almost any parent you asked would tell you that they want their children to be happy, successful adults. But many of us forget (or never knew to begin with) that lasting personal joy is not necessarily found the way the world says it is–through reaching a certain socioeconomic status, having a certain job, buying a certain house, or having a certain amount in one's bank account. In fact, says Kristen Welch, popular blogger and author of Raising Grateful Kids in an Entitled World, personal satisfaction comes not from grabbing onto things but from holding them with an open hand and, very often, giving them away.
In this inspiring book, Welch shows parents how to discover for themselves and instill in their kids the profound joy that comes from sharing what we have been given–our time, our talents, and even what's in our wallets–with those who have less. Through powerful personal stories as well as stories from Scripture, Welch offers a tantalizing alternative to status quo parenting that has the power to impact not only our own families but the entire world. At the end of each chapter, one of the author's kids offers their perspective on what it's like to be raised as a world changer.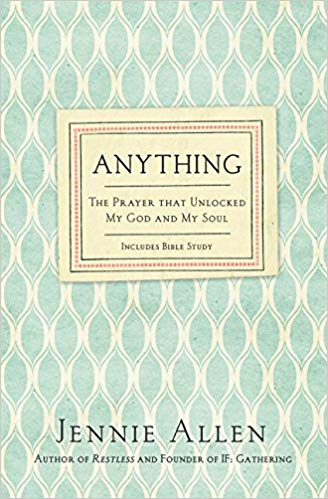 As Christians we say we love God, but what are we willing to do or give Him? Are we willing to say Anything to Him? I've read this book at least three times.
In the years since the initial release of Anything, God continued to stretch Jennie Allen and her faith because of the courageous prayer of surrender that she and her husband, Zac, prayed, "God, we will do anything. Anything." Previously caught in the dizzying haze of worldly happiness and empty pursuits, Jennie went on to begin living out the adventure God had written for them—to include becoming the founder of IF: Gathering, an organization to gather, equip, and unleash the next generation to live out their purpose.
Anything is a prayer of surrender that will spark something. A prayer that will move you to stop chasing things that just make you feel happy and start living a surrendered life that matters.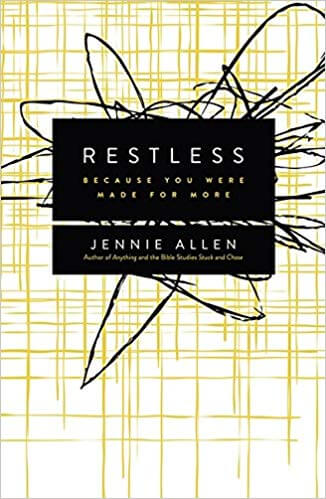 This winter has been one of major restlessness for me this winter. I know it is not just because of discontentment, it's because I know I was made for more. I read this book years ago and should really re-read it again.
Do You Feel Like You're Missing Something? Jennie Allen, founder of If: Gathering, directs you on how to find the best way to use your spiritual gifts.
What if this feeling wasn't a bad thing? It could be a longing for more of God and a catalyst to living the life that was designed before the foundations of the earth were laid.
A lot of us, if we're honest, are afraid. We hold our dreams close to our chest. But our passions have a purpose—they were engineered for God's greater plan and he intends for us to use them for his glory and purposes.
In Restless, Bible teacher and fellow struggler Jennie Allen explores practical ways to identify the threads of your life and how to intentionally weave them together. She explains how your gifts, passions, places, and relationships aren't random; they're deliberate and meaningful. And your suffering—it's possible it has produced the very thing you want to give back to the world.
Using the story of Joseph, the dreamer, Jennie explains how his suffering, gifts, relationships—all of the threads of his life—fit into the greater story of God and how our stories can do the same. What would happen if God got bigger than your fear and insecurity, and you spent the rest of your life running without reservation after his purposes for you? You were created for more.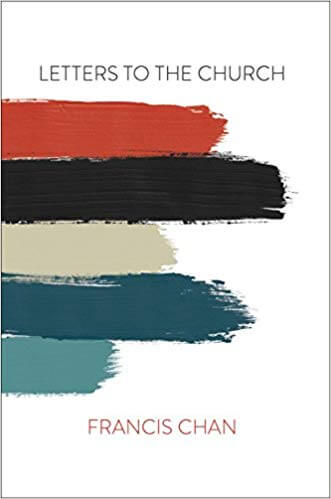 This is Francis Chan's newest book and I really enjoyed his challenge of what we believe church should look like. It's really not just a place we go to, it's something we are a part of.
Do you want more from your church experience?
Does the pure gospel put you in a place of awe?
Are you ready to rethink church as you know it?
Sit with Pastor Francis Chan and be reminded that you are a part of something much bigger than yourself, something sacred.In his most powerful book yet, Chan digs deep into biblical truth, reflects on his own failures and dreams, and shares stories of ordinary people God is using to change the world.
Chan says, "We've strayed so far from what God calls Church. We all know it. We know that what we're experiencing is radically different from the Church in Scripture. For decades, church leaders like myself have lost sight of the inherent mystery of the Church. We have trained people sitting in the pews to become addicted to lesser things. It's time for that to change."
When Jesus returns, will He find us caring for His Bride—even more than for our own lives? Letters to the Church reminds us of how powerful, how glorious the Church once was … and calls us to once again be the Church God intended us to be.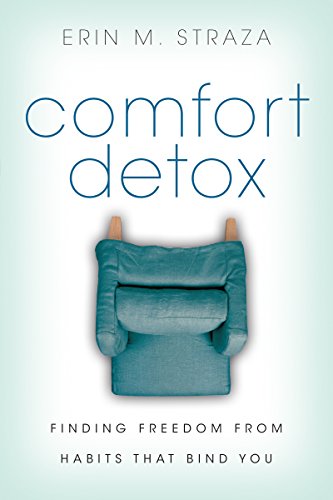 "For too long I have lived life on comfort mode, making choices for life engagement based on safety, ease, and convenience. It has left me very little wiggle room, just a small parcel of real estate upon which to live, move, and have my being. It's not quite the abundant life Jesus was offering." Whether we're aware of it or not, our minds, bodies, and souls often seek out what's comfortable. Erin Straza has gone on a journey of self-discovery, awakening to her own inherent drive for a comfort that cannot truly fulfill or satisfy. She depicts her struggles with vulnerability and honesty, and shares stories of other women who are on this same path. Straza also provides practical insights and exercises to help you find freedom from the lure of the comfortable. This detox program will allow you to recognize pseudo versions of comfort and replace them with a conviction to embrace God's true comfort. Discover the secret to countering the comfort addiction and become available as God's agent of comfort to serve a world that longs for his justice and mercy.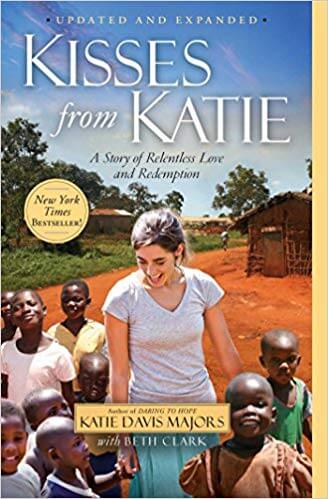 This is an inspiring story of a girl who left behind her upper class life to live in Africa and change the hearts and lives of many.
What would cause an eighteen-year-old senior class president and homecoming queen from Nashville, Tennessee, to disobey and disappoint her parents by forgoing college, break her little brother's heart, lose all but a handful of her friends (because they think she has gone off the deep end), and break up with the love of her life, all so she could move to Uganda, where she knew only one person and didn't even speak the language?
A passion to follow Jesus. 
Katie Davis Majors left over Christmas break of her senior year for a short mission trip to Uganda and her life was turned completely inside out. She found herself so moved by the people of Uganda and the needs she saw that she knew her calling was to return and care for them. Katie, a charismatic and articulate young woman, adopted thirteen children in Uganda and has established a ministry, Amazima, that feeds and sends hundreds more to school while teaching them the Word of Jesus Christ.
Kisses from Katie invites readers on a journey of radical love down the red dirt roads of Uganda. You'll laugh and cry with Katie as she follows Jesus into the impossible and finds joy and beauty beneath the dust. Katie and her children delight in saying yes to the people God places in front of them and challenge readers to do the same, changing the world one person at a time.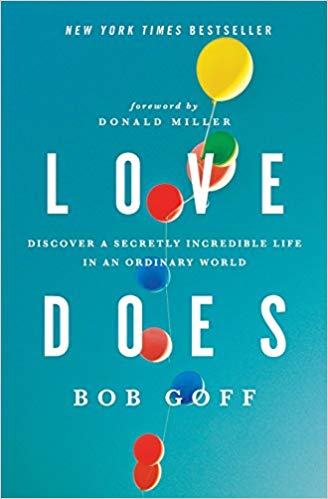 Bob Goff has the great gift of being deep and inspiring while writing in a highly entertaining way.
As a college student he spent 16 days in the Pacific Ocean with five guys and a crate of canned meat. As a father he took his kids on a world tour to eat ice cream with heads of state. He made friends in Uganda, and they liked him so much he became the Ugandan consul. He pursued his wife for three years before she agreed to date him. His grades weren't good enough to get into law school, so he sat on a bench outside the Dean's office for seven days until they finally let him enroll.
Bob Goff has become something of a legend, and his friends consider him the world's best-kept secret. Those same friends have long insisted he write a book. What follows are paradigm shifts, musings, and stories from one of the world's most delightfully engaging and winsome people. What fuels his impact? Love. But it's not the kind of love that stops at thoughts and feelings. Bob's love takes action. Bob believes Love Does.
When Love Does, life gets interesting. Each day turns into a hilarious, whimsical, meaningful chance that makes faith simple and real. Each chapter is a story that forms a book, a life. And this is one life you don't want to miss.
Light and fun, unique and profound, the lessons drawn from Bob's life and attitude just might inspire you to be secretly incredible, too.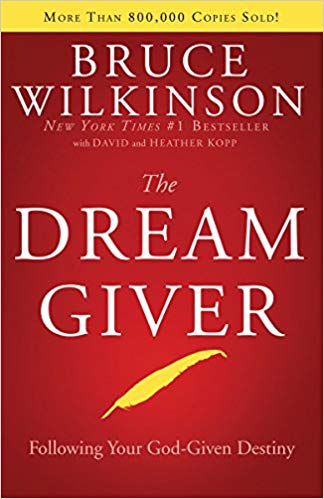 This has been one of my favorite books for the longest time. Written in parable form it reminds me a bit of Pilgrim's Progress.
Are you living your dream— or just living your life?
Welcome to a little story about a very big idea. This compelling modern-day parable tells the story of Ordinary, who dares to leave the Land of Familiar to pursue his Big Dream.
You, too, have been given a Big Dream. One that can change your life. One that the Dream Giver wants you to achieve. Does your Big Dream seem hopelessly out of reach? Are you waiting for something or someone to make your dream happen?
Then you're ready for The Dream Giver.
Let Bruce Wilkinson show you how to rise above the ordinary, conquer your fears, and overcome the obstacles that keep you from living your Big Dream.
You were made for this. Now it's time to begin your journey.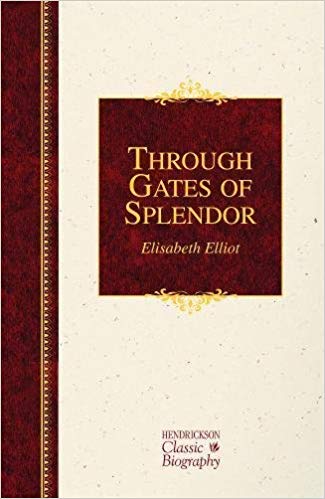 This is my all time favorite book written by Elisabeth Elliot – the story of how her husband and four other missionaries died trying to share the gospel with the natives of Ecuador.
Through Gates of Splendor is the true story of five young missionaries who were savagely killed while trying to establish communication with the Auca Indians of Ecuador. The story is told through the eyes of Elisabeth Elliot, the wife of one of the young men who was killed.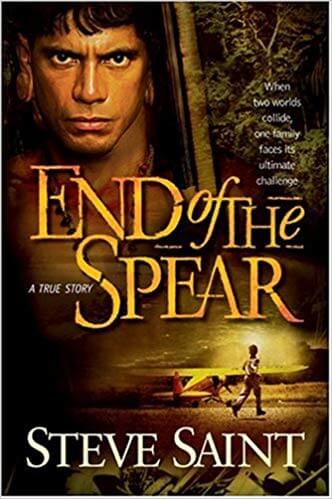 After you read Through Gates of Splendor you need to read this book, it follows the story of Nate Saint's son, Steve.
Steve Saint was five years old when his father, missionary pilot Nate Saint, was speared to death by a primitive Ecuadorian tribe. In adulthood, Steve, having left Ecuador for a successful business career in the United States, never imagined making the jungle his home again. But when that same tribe asks him to help them, Steve, his wife, and their teenage children move back to the jungle. There, Steve learns long-buried secrets about his father's murder, confronts difficult choices, and finds himself caught between two worlds. Soon to be a major motion picture (January 2006), End of the Spear brilliantly chronicles the continuing story that first captured the world's attention in the bestselling book, Through Gates of Splendor.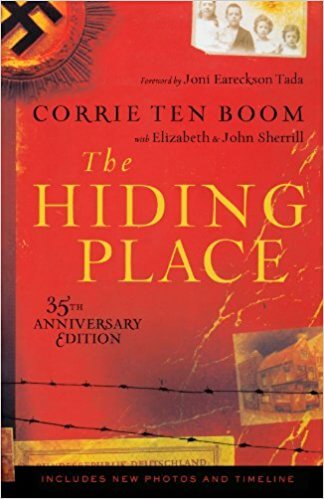 This middle aged watchmaker is one of the biggest inspirations to come out of WWII, I often wonder if I could be half as brave as she was.
"Every experience God gives us . . . is the perfect preparation for the future only He can see."–Corrie ten Boom

Corrie ten Boom was a Dutch watchmaker who became a heroine of the Resistance, a survivor of Hitler's concentration camps, and one of the most remarkable evangelists of the twentieth century. In World War II she and her family risked their lives to help Jews and underground workers escape from the Nazis, and for their work they were tested in the infamous Nazi death camps. Only Corrie among her family survived to tell the story of how faith ultimately triumphs over evil.
Here is the riveting account of how Corrie and her family were able to save many of God's chosen people. For 35 years millions have seen that there is no pit so deep that God's love is not deeper still. Now The Hiding Place, repackaged for a new generation of readers, continues to declare that God's love will overcome, heal, and restore.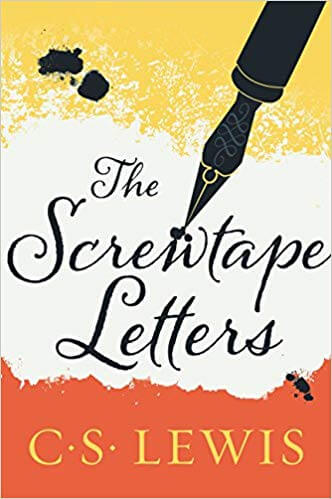 C.S. Lewis created a masterpiece when he wrote this book. The words in this book are just as applicable now as they were when he wrote it. I strongly believe that distraction is one of the strongest tools Satan has.
The Screwtape Letters by C.S.  Lewis is a classic masterpiece of religious satire that entertains readers with its sly and ironic portrayal of human life and foibles from the vantage point of Screwtape, a highly placed assistant to "Our Father Below." At once wildly comic, deadly serious, and strikingly original, C.S. Lewis's The Screwtape Letters is the most engaging account of temptation—and triumph over it—ever written.
Which books on this have you read? Are there others you would add to it?