Over the last couple of years I've been thinking a lot on what it means to live an intentional life.
And, truth be told, it's changed over the years.
I don't think living an intentional life includes a set in stone list of dos and don'ts.
To me, very simply put, an intentional life means living life on purpose.
It means thinking about why I do what I do and pausing before agreeing to do more.
It means trying to live in the now instead of in the future (or past).
It means thinking about what is important to me and making those my priorities.
It means living the life God has given me to the fullest.
It means pausing before buying little wants.
It means using my talents instead of wishing I had the talents of another.
It means noticing the little moments in the day.
It means thinking about the food that I bring into my home and put into my body.
It means putting my money towards what matters to me.
It means all that and so much more!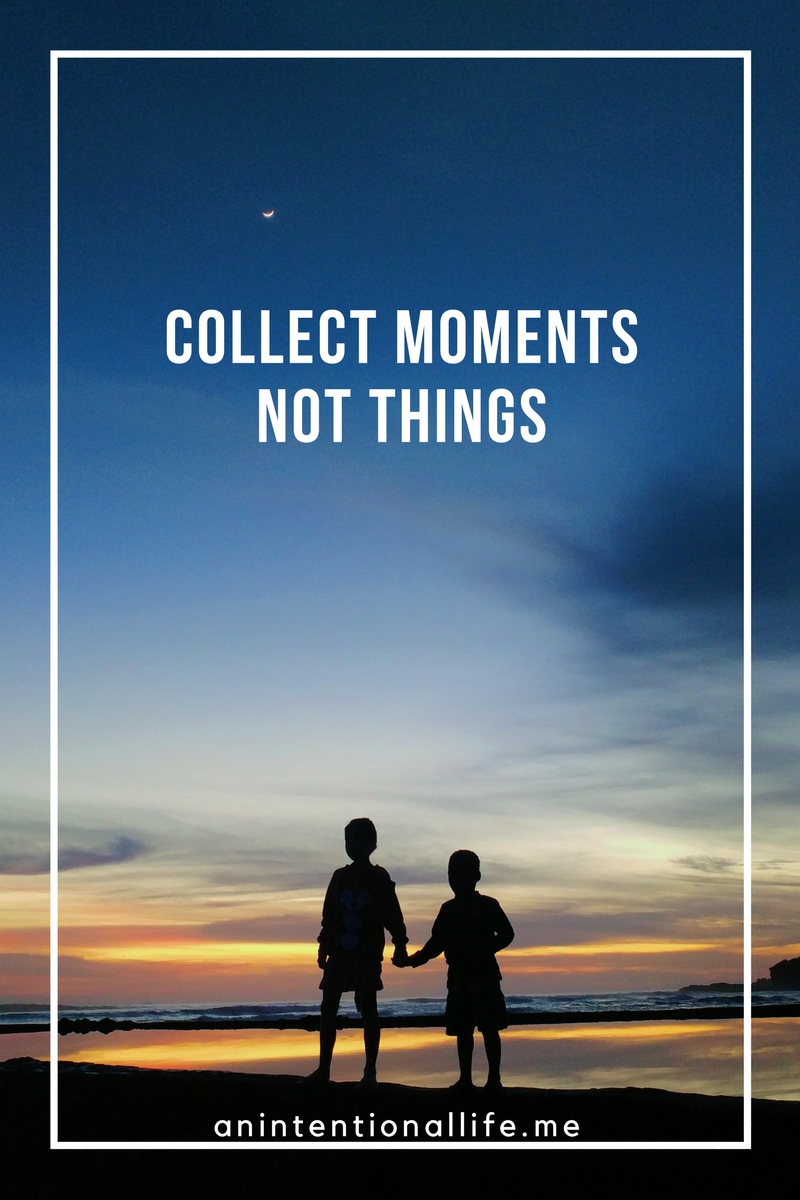 I think the above quote sums up the idea of living an intentional life perfectly.
Collect Moments
Not Things
It's a great reminder for me, and I've currently got it set as my phone screensaver as a daily reminder. Now that I think about it, maybe I should tape that quote onto my credit card . . .
It's this whole idea of living an intentional life that has led me to create this site. I want my life to be one of intention and I would like to help others who want that as well.
I have lots of plans for this site (as always) and I can't wait to share them with you! The best things you can do to make sure you stay in the loop is sign up for the newsletter.
Now, if living an intentional life sounds good to you, continue on, I've got a few ideas to get you started!
WAYS TO ADD MORE INTENTION INTO YOUR DAYS
To help you start living an intentional life I've created a free mini workbook that will help you go through the following steps, make sure you grab it here:

1. FIGURE OUT YOUR PRIORITIES
The first part to living an intentional life is figuring out your values and priorities. Take time to write down the things in your life that are the most important to you. Be specific and include relationships, goals, hobbies, etc.
2. WRITE DOWN YOUR ATTENTION/INTENTION SUCKERS
Seriously think about what things suck away your intention. Is it possible for you to be intentional with your children if you are scrolling Facebook while they are talking to you? Social media is often a big one but I'm willing to bet there are a lot of other things as well, be honest and write them down. And then set boundaries for yourself on how and when you can do/use these things so they don't control your life and take away your intention.
3. CREATE MARGIN
Make sure to include some margin in your days, especially if you are a highly sensitive person or are raising a highly sensitive child. Having days that are too busy with back to back appointments can be stressful and the farthest thing from intentional. I like to go a step further for our introverted family and make sure we can have at least one day a week where we don't have to go anywhere and aren't having anyone over.
4. WEED OUT THE EXCESS
Getting rid of the excess and only keeping the useful has been something I've been striving for in the last few years, every now and then I slip and forget and my life gets too cluttered, both with stuff and with commitments. Getting rid of excess leaves more room for intention.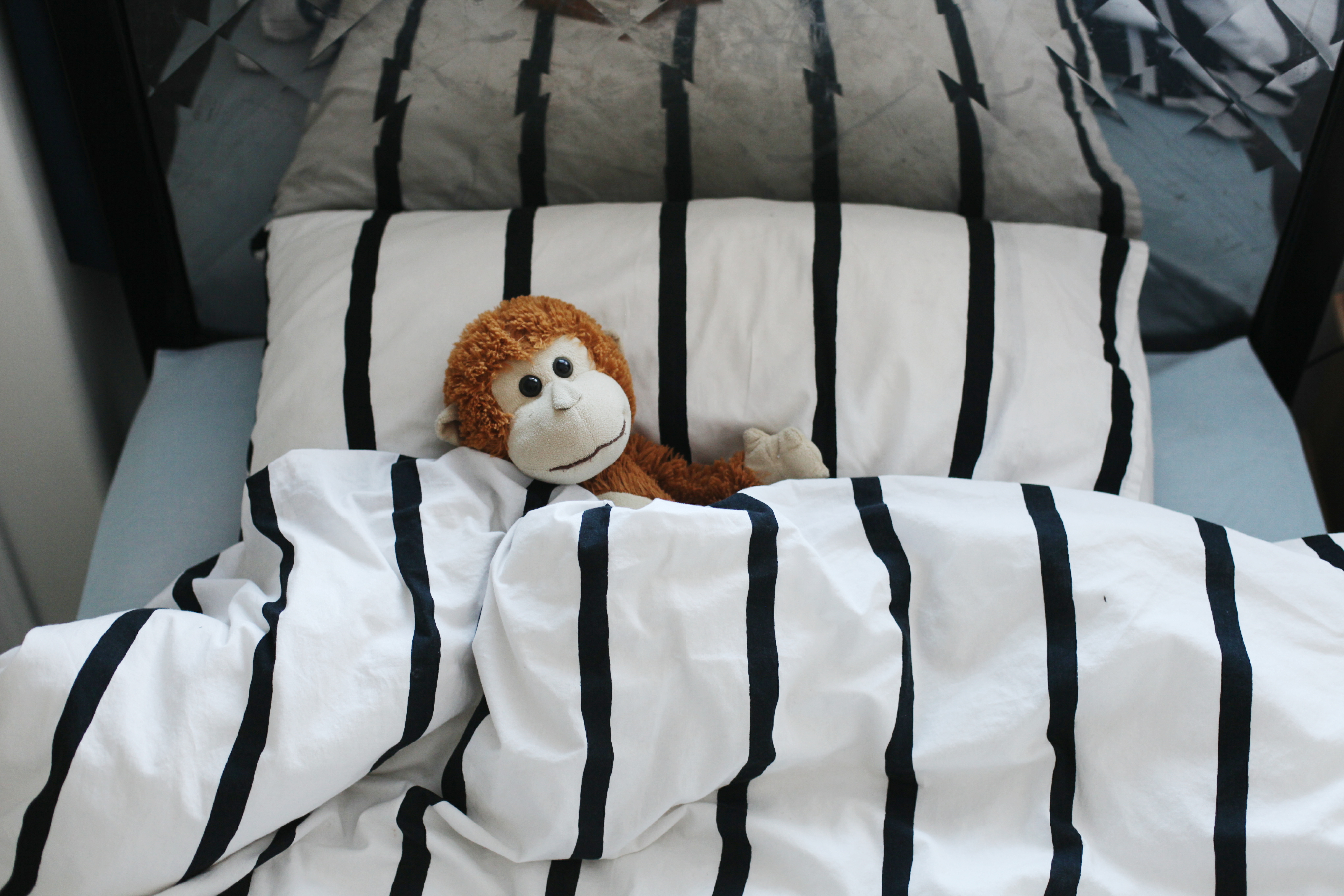 5. NOTICE THE LITTLE THINGS
When you've done the things above it makes it easier to notice the little things. We can't notice the little things when we don't know what our priorities are, or we are wasting our time doing pointless tasks, or our days are so busy we don't have time to notice, or there is clutter everywhere.
Life is better when we slow down, it's amazing how a little thing like a stuffed monkey tucked into a bed can bring a smile to my face and snapping a photograph of it can make that smile happen again and again. There are many moments like that in the day, we just need to have the space and willingness to find them.
There you have it, just a few steps to get you started living an intentional life. If you haven't yet, be sure to download the free mini workbook that goes with this post:

I am excited to be writing over in this space, it's a great reminder for me to bring intention into my everyday.
I would love for you to sign up for the newsletter and if you haven't already read the start/about page please do so, it will give you an idea of what else will be coming here in the future.