Escape Room Style Easter Scavenger Hunt
I had so much fun making an Escape Room for the kids a few weeks ago I knew I wanted to use what I had learned during that process and make an Escape Room Style Easter Scavenger Hunt.
I didn't take any photos during the hunt because I was having so much fun watching them figure everything out but I'll explain exactly what we did. I'll even share all the clues we made and you can use them as is if that works for you/your home or you can change them or use different clues but using what I share as a guide.
One of the ways I know the Escape Room Scavenger Hunt was a success was because Ephraim said "It feels like Christmas!" I always want to put more emphasis on Easter but we are often busy with so many family gatherings and gathering with the church that there just isn't much time (or energy) to do it, but thanks to COVID-19 this year was different!
AN OVERVIEW
We knew we wanted to keep the clues to Bible verses since so we thought of a few different ways to use different verses about Jesus' death and resurrection as clues.
Each clue (we gave them five) lead them to a small chocolate egg that had a number written on it. At the end we gave them an additional clue that told them the five numbers unlocked a lock where they would find a surprise. For this we had a combination locking closing a cupboard, the combination lock had five digits, hence the five clues.
After the five clues but before the clue to unlock the surprise we let them look around the house for additional little chocolate eggs we had randomly hidden throughout the house.
It was a little funny to watch because they did so great with the clues (some of which were kind of tricky) but the eggs that were hidden pretty much in the open they struggled to find.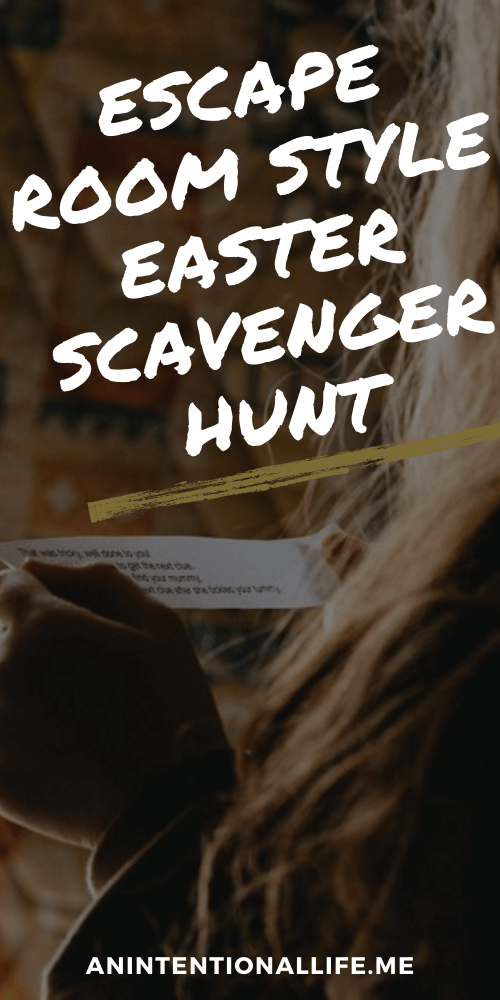 THE CLUES
I just had all the clues and gave them to them one at a time instead of hiding the actual clues. Three of the clues needed them to use their Bibles so I made sure they had those out.
Because they were finding eggs with numbers on them and they would figure out the number order later and I was just giving out the next clues it didn't matter which number went in which spot. This made setting this up so much easier than a traditional scavenger hunt where you have to make sure to hide the next clue in the right spot.
CLUE #1
The first clue we gave them was:
Matthew 27:24-26: So when Pilate saw that he was gaining nothing, but rather that a riot was beginning, he took _________________________________ before the crowd, saying, "I am innocent of this man's blood; see to it yourselves." And all the people answered, "His blood be on us and on our children!" Then he released for them Barabbas, and having scourged Jesus, delivered him to be crucified.
They needed to use their Bibles to look up the passage and fill in the blank. When they did so they realized it says he "took water and washed his hands". The egg for this one was hidden in a bathroom sink.
CLUE #2
For this second clue we used a different kind of code, we still had a Bible verse (I just removed the reference so they didn't get hung up by looking it up in their Bible and missing the code), but we did something different for the clue. What we gave them looked like this:
As they entered the tomb, they saw a young man dressed in a white robe sitting on the right side, and they were alarmed. 'Don't be alarmed,' he said. 'You are looking for Jesus the Nazarene, who was crucified. He has risen! He is not here. See the place where they laid him. But go, tell his disciples and Peter, "He is going ahead of you into Galilee. There you will see him, just as he told you."

24-2, 35-3, 55-1, 67-4
We just told them that everything they needed to solve the code was right there on the paper. Ephraim actually figured out that the numbers at the bottom represented word-number. So, the first one was the twenty-fourth word and the second letter (L), the next one was the thirty-fifth word and third letter (E), etc, until they had LEGO. We hid one of the eggs amongst their Lego.
CLUE #3
For the next clue we did another fill in the blank they needed to look up in their Bibles.
John 6:35: Jesus said to them, "I am ____________________; whoever comes to me shall not hunger, and whoever believes in me shall never thirst.
For this one the answer was "the Bread of Life" so we hid an egg by our bread.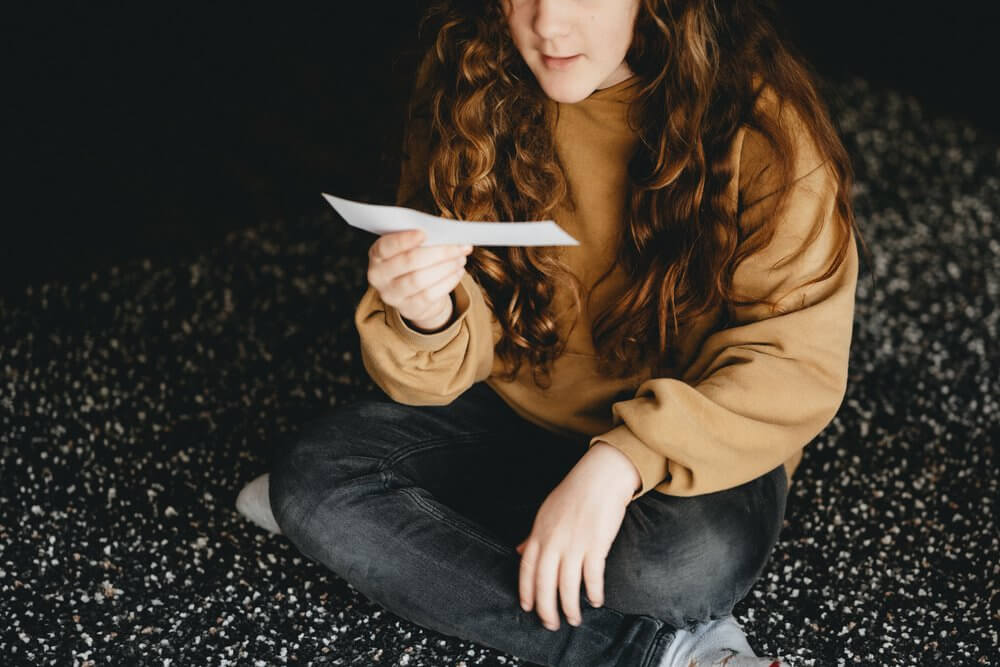 CLUE #4
We picked out a long verse for this clue so we could hide a word throughout the verse.
1 Corinthians 15:3-8: "For what I received I passed on to you as of first importance. Or you at the first: that Christ died for our sins according to the Scriptures, that he was buried, that he was raised on the third day according to the Scriptures, and that he appeared to Cephas. That is, Peter and then to the Twelve. After that, he appeared to more than five hundred of the brothers and sisters at the same time, most of whom are still living, though some have fallen asleep. Then he appeared to James, then to all the apostles, and last of all he appeared to me also, as to one abnormally born."
The bold letters spell out the word microscope which was where the next egg was hidden.
CLUE #5
And the last clue that held a number was another fill in the blank.
John 11:25: "Jesus said to her, 'I am the resurrection and the _________'."
The answer for this one was "Life" and we had the last clue in the box of the Game of Life.
EASTER EGG HUNT
Before giving the kids the final clue that would tell them the order of the numbers and let them in to their surprise we gave them a few minutes to look for chocolate eggs throughout the house. We didn't want them to do this earlier and accidentally come across eggs with numbers.
For some reason they were pretty terrible at this, I think the toddler did as good as the big kids.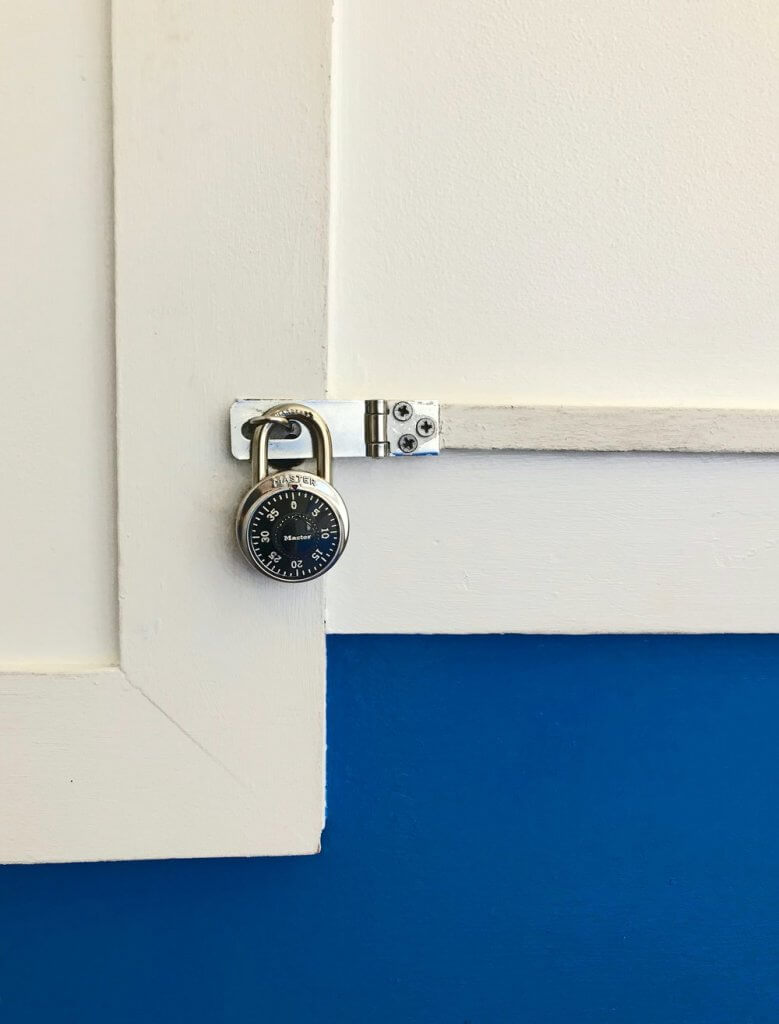 DECODING CLUE
The last clue the kids needed was the one to unscramble the numbers for the combination lock. The kids had gathered the numbers: 5, 2, 1, 2, 1. If you use your own combination lock obviously you'll need to make your own clues to work with your numbers but here's what we did:
To unlock your surprise:

Two of the same number go together.

The sum (adding total) of one of the numbers is 7.

The single digit goes last.

The sum of the first number is 2.
So, the code for the combination was: 11, 25, 2. I was very impressed with how well they did with this part.
Inside the cupboard that we had locked with the combination lock was a chocolate bunny for each kid and bubble guns.
The kids had so much fun with the hunt, I just loved watching it! I am already planning to do another escape room type scavenger hunt soon. (Ephraim's birthday is coming up in a few weeks and I am thinking of trying to figure out a Lego themed Escape Room/Scavenger Hunt.)
Have you made an Escape Room or something similar for your kids before? I would love to hear if you have! You can also check out the first Escape Room I made for them here.