Nine More Funny Picture Books That Will Have Your Kids Laughing Out Loud
We are on a serious funny book kick around here. We all enjoy laughing out loud to some really great books.
We've come across some really good ones recently and just had to share. If you missed it you can check out our first list of funny picture books here.
Do you have any funny picture books you would recommend?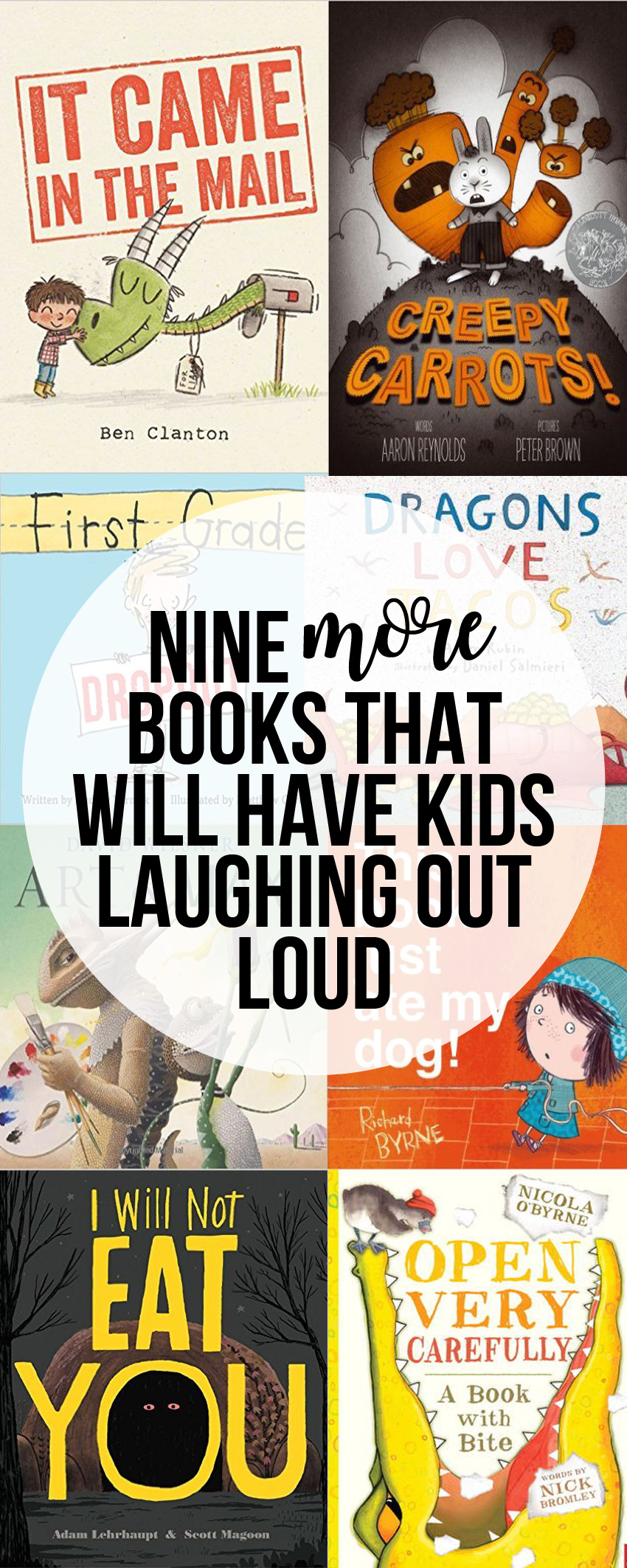 NINE MORE FUNNY PICTURE BOOKS
THAT WILL HAVE YOUR KIDS LAUGHING OUT LOUD

Ha, we can't wait to read the second Dragon's Love Tacos, this one was so good!
Dragons love tacos. They love chicken tacos, beef tacos, great big tacos, and teeny tiny tacos. So if you want to lure a bunch of dragons to your party, you should definitely serve tacos. Buckets and buckets of tacos. Unfortunately, where there are tacos, there is also salsa. And if a dragon accidentally eats spicy salsa . . . oh, boy. You're in red-hot trouble.

Max and Arthur are friends who share an interest in painting. Arthur is an accomplished painter; Max is a beginner. Max's first attempt at using a paintbrush sends the two friends on a whirlwind trip through various artistic media, which turn out to have unexpected pitfalls. Although Max is inexperienced, he's courageous and a quick learner. His energy and enthusiasm bring the adventure to its triumphant conclusion. Beginners everywhere will take heart.

When her dog disappears into the gutter of the book, Bella calls for help. But when the helpers disappear too, Bella realizes it will take more than a tug on the leash to put things right. Cleverly using the physicality of the book, This book just ate my dog! is inventive, ingenious, and just pure kid-friendly fun!

The first grade narrator of this book has been lots of things: Hungry. Four years old. Crazy bored. Soaking wet. Pretty regular kid . . . until he makes a mistake so big that he's sure he will never be able to go back to Lakeview Elementary School. All readers, even those not in first grade, will find the narrator's feelings familiar, and discover that even though embarrassing things happen, they're usually not as bad as they seem. And sometimes they're even funny!

Who knew carrots were creepy?
Jasper Rabbit loves carrots—especially Crackenhopper Field carrots. He eats them on the way to school. He eats them going to Little League. He eats them walking home. Until the day the carrots start following him…or are they?

What would you do if you were settling down for a quiet bedtime story and you realized that a crocodile had fallen into your storybook and was — not to put too fine a point on it — wreaking havoc? Would you slam that book shut and cram it back onto the bookshelf? Or would you be brave enough to peek?

Liam really wants some mail, so he writes a letter to his mailbox asking for something in return. His mailbox delivers, sending Liam more than he could have hoped for…and how! But as the mail starts to pile up, Liam realizes that the best packages and parcels are even better when shared with friends.

When Lucy, a young bear, discovers a boy in the woods, she's absolutely delighted. She brings him home and begs her mom to let her keep him, even though her mom warns, "Children make terrible pets." But mom relents, and Lucy gets to name her new pet Squeaker. Through a series of hilarious and surprising scenes, readers can join Lucy and Squeaker on their day of fun and decide for themselves whether or not children really do make terrible pets.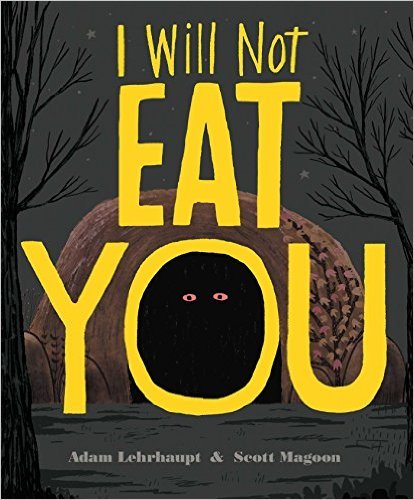 Theodore thinks everything is a potential meal. Lucky for the bird, wolf, and tiger, who pass by his cave, Theodore isn't hungry…yet. But then something new approaches. A boy. Has Theodore found a new favorite food? Or something more?