Our Elementary Summer Read Aloud Book List
For the last few years I have been creating a list of read aloud ideas for our summers (I don't know why I haven't been doing this for the winters as well, I need to start this).
I like to share our summer book list here because 1) others may enjoy it and 2) if I don't save it here I may lose it.
Unlike most of my book lists I create we haven't read all the books on the list so I cannot guarantee they will be spectacular but I have either heard good things about them and/or have read some good reviews so I hope they will mostly be awesome books.
For us the term "read aloud" almost exclusively means "audiobook" because for whatever reason I struggle with reading chapter books aloud. That being said, I couldn't find audiobooks for all the books I wanted to include here so I may end up trying to read one or two.
This year my kids are seven and nine and I've tried to make the list so it includes some lighter books as well as some heavier ones, so we can hit up both of their preferences.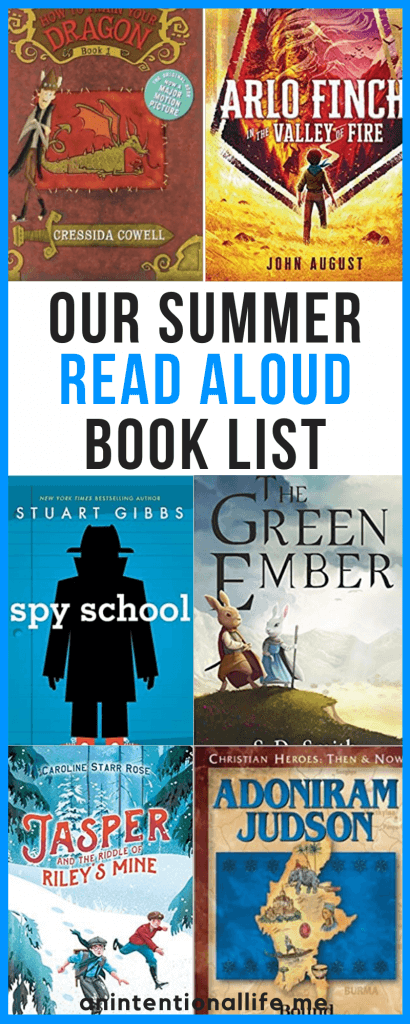 Our Elementary Summer Read Aloud Book List
Grades 1 – Grade 4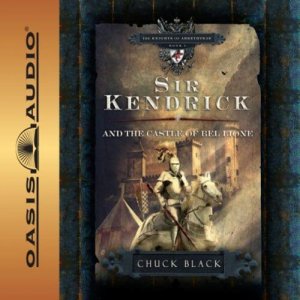 I had never even heard of this book until my friend Holly mentioned it and suggested I listen to it with the kid, it's currently next in our queue.
A dangerous new order threatens the mission of the Knights of Arrethtrae. Only loyalty to the prince can bring victory!
As the Knights of the Prince await His triumphant return, they are steadfast in their mission to take His story into the kingdom and recruit as many as are willing. But when a new and dangerous threat is revealed, their mission is jeopardized. Sir Kendrick and his young charge, the impetuous Sir Duncan, are sent on a mission to discover the identity and origin of a secretive new order known as the Conquistero Knights. They travel to the city of Bel Lione where Lord Ra has been enticing young people in the kingdom to join his festivals, after which many choose not to return home. Their families keep quiet for fear of repercussion. When Sir Duncan disappears while trying to discover the truth of Lord Ra's castle, Sir Kendrick attempts to find and enlist the help of a mysterious warrior. Time is short for he must save Duncan and call upon the knight of Chessington to join in the battle against the evil Lord Ra.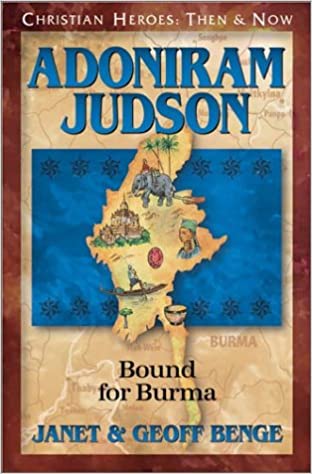 We absolutely love the Christian Heroes series! Raeca has listened to this one on her own before but we've never listened to it together and I'm excited this will be our next one in the series.
As America's first foreign missionary, Adoniram Judson thirsted to see the Good News brought to the shrouded land of Burma. His thirst would be quenched, but at an unimaginable price. Adoniram survived starvation, imprisonment, and torture both on land and at sea only to watch his family, coworkers, and friends succumb to death.
In spite of heartache and depression, Adoniram Judson translated the entire Bible into Burmese. To this day his work remains the only Burmese translation of the Bible available. Adoniram and his first wife Ann were the spark that spread the fire of the Gospel into Burma, and their evident love for the Burmese people is a compelling story of unswerving dedication and sacrifice.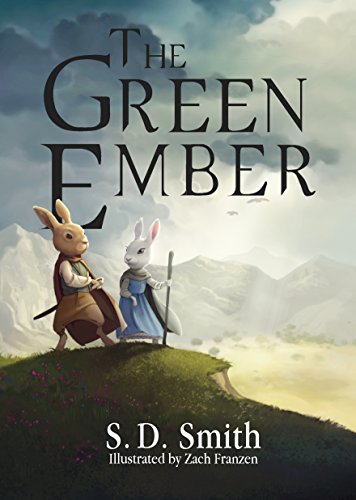 We've actually listened to this first book in the series before but Raeca has been re-listening to the whole series lately and keeps raving about them so I thought maybe since Jared was working from home right now we should listen to them with him.
Heather and Picket are extraordinary rabbits with ordinary lives until calamitous events overtake them, spilling them into a cauldron of misadventures. They discover that their own story is bound up in the tumult threatening to overwhelm the wider world.
Kings fall and kingdoms totter. Tyrants ascend and terrors threaten. Betrayal beckons, and loyalty is a broken road with peril around every bend.
Where will Heather and Picket land? How will they make their stand?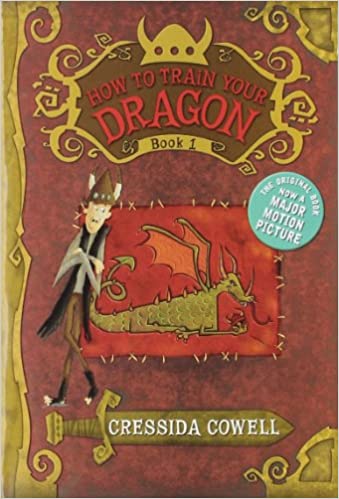 I think the movie is hilarious and I have heard the book is even better!
Hiccup Horrendous Haddock III, the quiet and thoughtful son of the Chief of the Hairy Hooligans, tries to pass the important initiation test of his Viking clan by catching and training a dragon. Can Hiccup do it without being torn limb from limb?
Join his adventures and misadventures as he finds a new way to train dragons–and becomes a hero.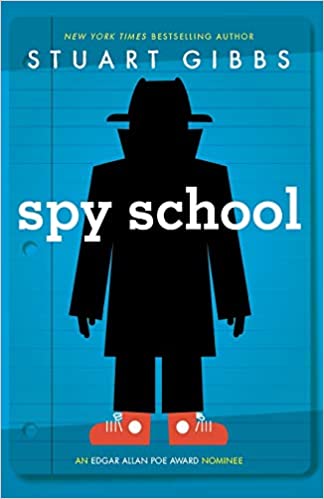 Can an undercover nerd become a superstar agent? Ben Ripley sure hopes so—and his life may depend on it!
Ben Ripley may only be in middle school, but he's already pegged his dream job: C.I.A. or bust. Unfortunately for him, his personality doesn't exactly scream "secret agent." In fact, Ben is so awkward, he can barely get to school and back without a mishap. Because of his innate nerdiness, Ben is not surprised when he is recruited for a magnet school with a focus on science—but he's entirely shocked to discover that the school is actually a front for a junior C.I.A. academy. Could the C.I.A. really want him?
Actually, no. There's been a case of mistaken identity—but that doesn't stop Ben from trying to morph into a supercool undercover agent, the kind that always gets the girl. And through a series of hilarious misadventures, Ben realizes he might actually be a halfway decent spy…if he can survive all the attempts being made on his life!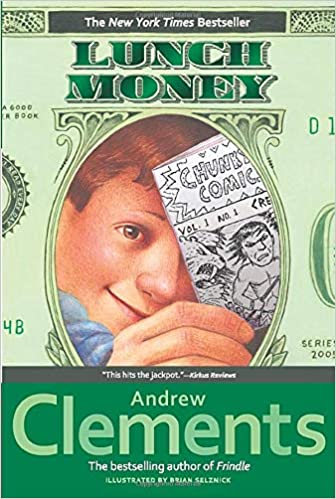 One of the few chapter books I've completely read aloud to the kids was Frindle by Andrew Clements so I thought we should try another one of his books this year.
Greg Kenton has two obsessions — making money and his long-standing competition with his annoying neighbor, Maura Shaw. So when Greg discovers that Maura is cutting into his booming Chunky Comics business with her own original illustrated minibooks, he's ready to declare war.
The problem is, Greg has to admit that Maura's books are good, and soon the longtime enemies become unlikely business partners. But their budding partnership is threatened when the principal bans the sale of their comics in school. Suddenly, the two former rivals find themselves united against an adversary tougher than they ever were to each other. Will their enterprise — and their friendship — prevail?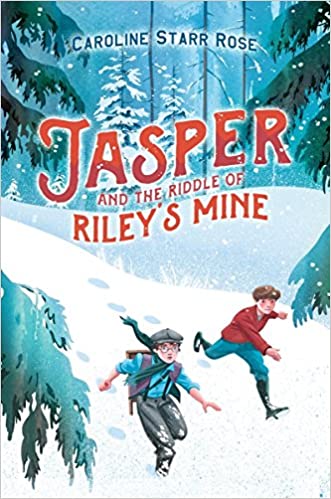 I have read the other to Caroline Starr Rose books I have read and would love to check out this one!
Desperate to get away from their drunkard of a father, eleven-year-old Jasper and his older brother Melvin often talk of running away, of heading north to Alaska to chase riches beyond their wildest dreams. The Klondike Gold Rush is calling, and Melvin has finally decided the time to go is now—even if that means leaving Jasper behind. But Jasper has other plans, and follows his brother aboard a steamer as a stowaway.
Onboard the ship, Jasper overhears a rumor about One-Eyed Riley, an old coot who's long since gone, but is said to have left clues to the location of his stake, which still has plenty of gold left. The first person to unravel the clues and find the mine can stake the claim and become filthy rich. Jasper is quick to catch gold fever and knows he and Melvin can find the mine—all they have to do is survive the rough Alaskan terrain, along with the steep competition from the unscrupulous and dangerous people they encounter along the way.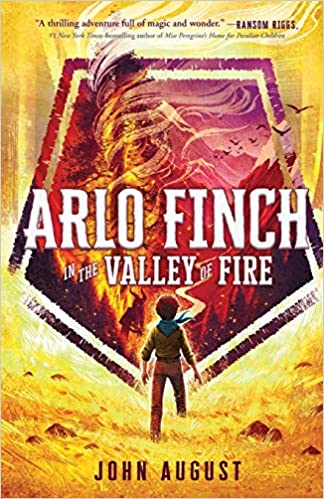 Some trails lead to magic. Some lead to danger.
As Arlo looked around, the walls of his room began to vanish, revealing a moonlit forest. Only his bed remained, and the frame of his window, through which he saw the girl. The world on her side of the glass was sparkling with silver and gold, like a palace made of autumn leaves.
She looked off to her right. Someone was coming. Her words came in an urgent whisper: "If I can see you, they can see you . . . Be careful, Arlo Finch."
Arlo Finch is a newcomer to Pine Mountain, Colorado, a tiny town of mystery and magic, but he's already attracted the attention of dark and ancient forces. At first he thinks these increasingly strange and frightening occurrences are just part of being in Rangers, the mountain scouting troop where he learns how to harness the wild magic seeping in from the mysterious Long Woods.
But soon Arlo finds himself at the center of a dangerous adventure, where he faces obstacles that test the foundations of the Ranger's Vow: Loyalty, Bravery, Kindness, and Truth.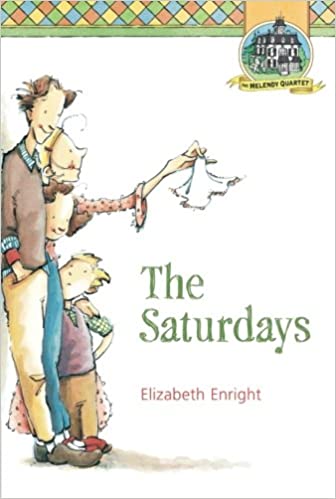 Meet the Melendys! The four Melendy children live with their father and Cuffy, their beloved housekeeper, in a worn but comfortable brownstone in New York City. There's thirteen-year-old Mona, who has decided to become an actress; twelve-year-old mischievous Rush; ten-and-a-half-year-old Randy, who loves to dance and paint; and thoughtful Oliver, who is just six.
Tired of wasting Saturdays doing nothing but wishing for larger allowances, the four Melendys jump at Randy's idea to start the Independent Saturday Afternoon Adventure Club (I.S.A.A.C.). If they pool their resources and take turns spending the whole amount, they can each have at least one memorable Saturday afternoon of their own. Before long, I.S.A.A.C. is in operation and every Saturday is definitely one to remember.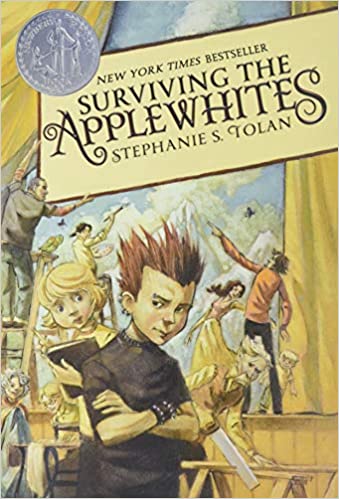 Jake Semple is notorious. Rumor has it he managed to get kicked out of every school in Rhode Island, and actually burned the last one down to the ground.
Only one place will take him now, and that's a home school run by the Applewhites, a chaotic and hilarious family of artists: poet Lucille, theater director Randolph, dancer Cordelia, and dreamy Destiny. The only one who doesn't fit the Applewhite mold is E.D.—a smart, sensible girl who immediately clashes with the defiant Jake.
Jake thinks surviving this new school will be a breeze . . . but is he really as tough or as bad as he seems?
Okay, that's our list right now! Do you have any suggestions on books we should add, ones you think we would like?
You can see previous summer read aloud book lists here and here.